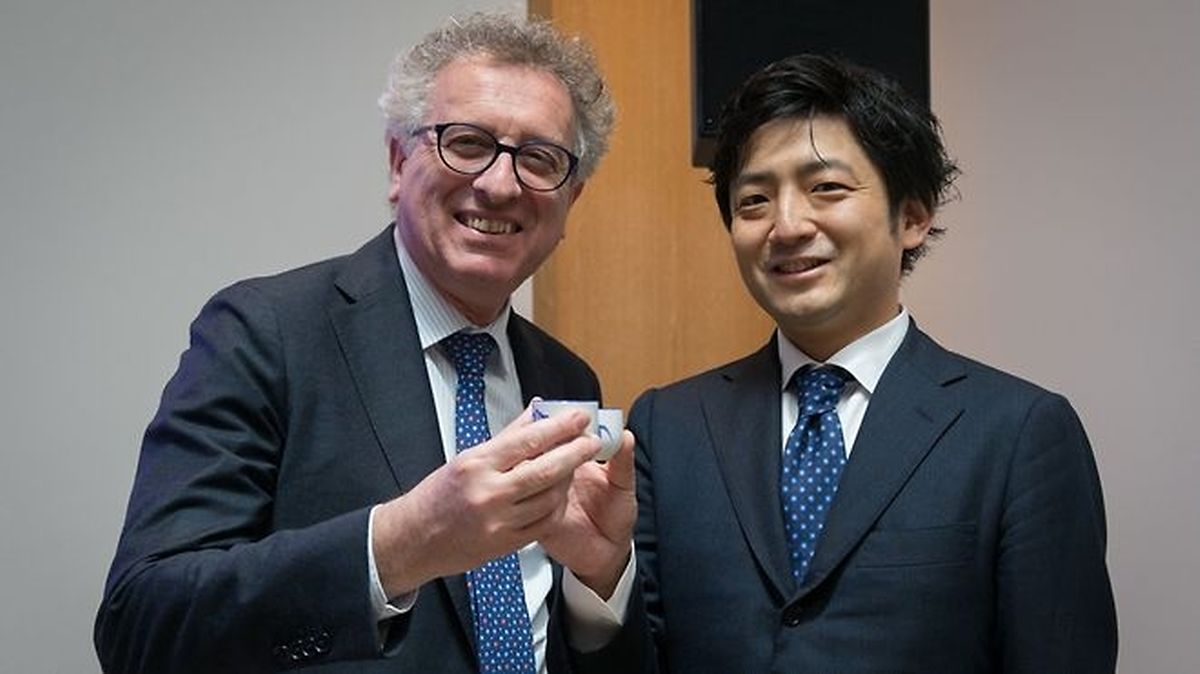 Finance minister Pierre Gramegna praised bitFlyer for being the safest bitcoin company in the world (Gerry Huberty)
Having been granted a payment institution license in Luxembourg on January 8, the world's bitcoin exchange is now ready to enter the European markets from the 'heart of Europe'.
''We want to provide a very good service in the fintech area in Luxembourg, Europe and all over the world, '' co-founder and CEO of bitFlyer, Yuzo Kano, said at an event hosted by Luxembourg House of Financial Technology (LHoFT) on Friday.
As the Tokyo-based operator bitFlyer is landing in Europe, its founder and CEO, Kano, talks about the beginning of a new adventure.
By receiving the licence to operate from the Luxembourg regulator for financial services, the CSSF, bitFlyer is now the first Bitcoin exchange to be regulated in Japan, the US and Europe.
A trader and an engineer
But the company that now operates on three continents and has offices in Tokyo, San Francisco and Luxembourg, started around four years ago as a small project, a vision shared by two former Goldman Sachs employees – trader Yuzo Kano and engineer Takafumi Komiyama.
"We decided to create a company based on bitcoin and blockchain [...] because we believed blockchain as a new technology has pure security and is decentralised," Kano said.
BitFlyer was founded in January 2014 by former trader, Kano, and Komiyama, who was previously employed by Sony before joining Goldman Sachs where he worked on the development of settlement systems.

"We believe the technology will change the world," Kano said, further adding that, at the beginning, the two co-founders did a lot of tests and analyed the protocols because nobody knew how to do a transaction of the bitcoin.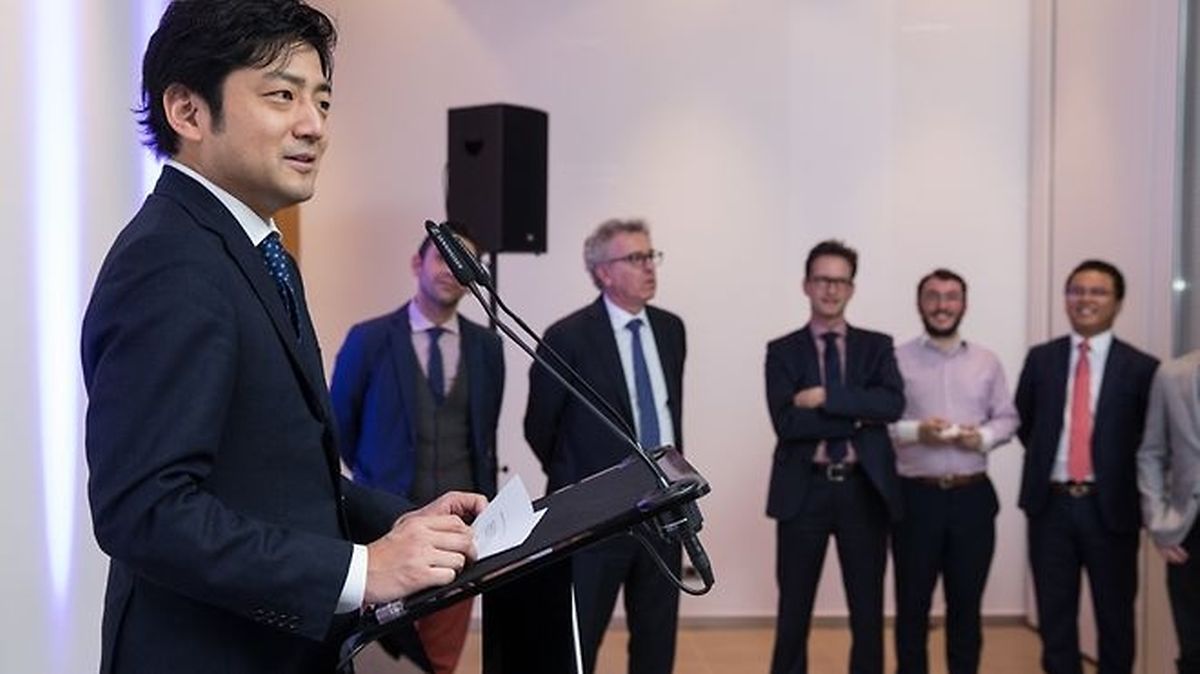 Yuzo Kano is a former trader (Gerry Huberty)
Addressing questions of trust and security, Kano created the Japan Blockchain Association and engaged for over three years with companies, the Japanese government and finance ministry, accountants and lawyers among others "to explain bitcoin is not that bad, it's not a scam, it's a new technology," he recalled on Friday.
"I want to change the world by the blockchain. I want to make the world simpler, easier and cheaper. That's the idea," Kano said.
Two years to get the licence
But getting the licence to operate in the Grand Duchy ''wasn't that easy'', according to the CEO, who explained the team initially thought it would take three months to get the aproval.
''We talked to the CSSF how long it would take, a couple of months, actually it took two years," Kano said, recalling a long process of consultations with the regulator on how the bitcoin exchange operator would implent Know-Your-Customer (KYC) securities and how the company would ultimately protect the consumers.
The world's largest bitcoing exchange operator had initially considered both London and Luxembourg as potential homes for their EU operations.
Kano told Luxembourg Times that although the London-based regulator was open to welcoming the Japanese company to the UK , in the context of Brexit, Luxembourg was the preferred choice, also due to its central position in Europe and its multilingual character, which is highly valuable for the company's customer service operations.
BitFlyer has been based in Luxembourg since early 2017, operating from the Kirchberg-based LhoFT premises where it employs eight people. The firm is now looking to hire a significant number of specialists, according to Kano.
BitFlyer expects to be fully operational in Europe as early as February.
Referring to the lengthy process of obtaining a payment licence in Luxembourg, finance minister Pierre Gramegna said on Friday that "we [authorities] were not slow", but "thorough."
"If we had been really slow, you would not have been happy and you would have chosen another place," he said, further arguing that "things that are revolutionising the world are never easy".
Revolutionising finance
Luxembourg authorities have come to the conclusion bitFlyer deserves to have a licence to operate in the Grand Duchy, Gramegna said on Friday, praising the company for being the safest bitcoin company in the world.
"Fintech is as much about technology as it is about finance," he added and explained that in some cases, including bitFlyer, the technology comes first and the finance after. "But they are both around," he argued.
BitFlyer, which is a leader in cryptocurrencies in Japan and Asia, are ''as much technical as they are financial, given the background of the two founders," Gramegna stated.
The finance minister further argued that fintech, cryptocurrencies and payment companies are revolutionising the world through digitalisation and blockchain.
And while fintech is changing the business models of traditional financial players, for Gramegna "there is always room for cooperation" between new and traditional market players.
Luxembourg has an attitude to be in a ''cooperative mood'' he said. "This is one of the recipes of success."
New value for consumers
Welcoming bitFlyer to Luxembourg, Gramegna argued it "is bringing services consumers value and are looking for, in terms of payments and speed, in terms of low-costs."
Nonetheless, the minister outlined that players active in the financial services "have to get adjusted to a world where anti-money laundering and KYC have become paramount issues that we have to look after".
Gramegna is well aware of the risks associated to virtual currencies. "Money laundering is possible through unregulated plaforms and permissive jurisdictions," he told Luxemburger Wort.
He further argued that virtual currencies are extremely volatile, especially as a result of market manipulation and insider trading.
"By doing the job very thoroughly like we have done", he said new players are in an environment which is "both well-regulated and business-friendly".
Gramegna also outlined that in the context of Brexit Luxembourg has been"extremely succesful in attracting new companies, including fintech companies".
"We are looking to the future with optimism and confidence," he concluded.