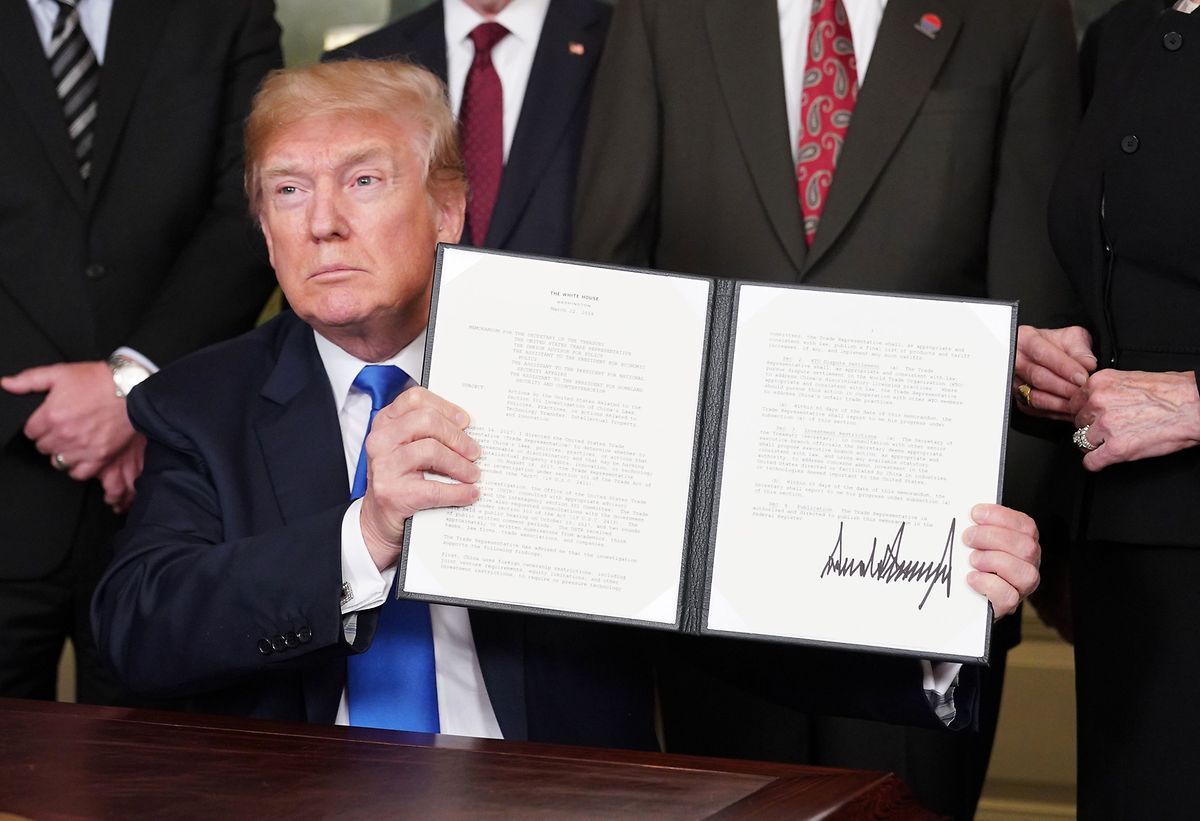 US President Donald Trump signs trade sanctions against China on 22 March (AFP)
On Friday, China unveiled tariffs on $3 billion of US imports in response to steel and aluminium duties ordered by Trump earlier this month. The White House then declared a temporary exemption for the European Union and other nations on those levies, making the focus on China clear. Though Beijing's actions so far are seen by analysts as measured, there may be more to come.
Equity indexes from Tokyo to Shanghai tumbled more than 3 percent and U.S. stock futures fell, signalling a further retreat for the S&P 500 Index after it fell 2.5%, on risks a further escalation in trade tensions will undermine an unusual phase of synchronised global economic growth.
"China's response is surprisingly modest in light of the US actions, suggesting there could be a good deal more to come," said Stephen Roach, a former non-executive chairman for Morgan Stanley in Asia and now a senior fellow at Yale University. "As America's third largest and most rapidly growing export market and as the largest foreign owner of Treasuries, China has considerably more leverage over the US than Washington politicians care to admit".
In a ramping up of his America First ethos, Trump Thursday said he had ordered tariffs on $50 billion of Chinese imports as recompense for alleged intellectual property abuses. Hours later, China announced planned tariffs on imports of US pork, recycled aluminium, steel pipes, fruit and wine, according to a Commerce Ministry statement on Friday.
China will also pursue legal action against the US at the World Trade Organization in response to the US planned tariffs on steel and aluminium imports, the statement said, and called for dialog to resolve the dispute. With Beijing's response to the tariffs aimed at intellectual-property abuses as yet unannounced, the relatively limited value of trade curbs may be just the first stage of its response.
The White House gave the European Union, Argentina, Australia, Brazil, Canada, Mexico, and South Korea, until 1 May to negotiate levies on steel and aluminium. The administration said the suspensions can be renewed or revoked then "pending discussions of satisfactory long-term alternative means to address the threatened impairment to US. national security".
"This has been long in the making," Trump said signing the intellectual-property order, adding that the tariffs could affect as much as $60 billion in goods. He told reporters, "This is the first of many".
What Our Economists Say...
"President Donald Trump's announcement of tariffs on $50 billion in Chinese goods markedly ratchets up the trade tensions," Bloomberg economist Tom Orlik wrote in a note. "Even so, it remains way short of his campaign pledges and -- at a maximum -- will shave a fraction of a percent off Chinese GDP over a number of years".
The US will impose 25% duties on targeted Chinese products to compensate for the harm caused to the American economy from China's policies, according to a fact sheet released by USTR. The proposed product list will include items in aerospace, information and communication technology and machinery. The USTR will announce the proposed list in the next "several days," according to the fact sheet.
Long in making
No tariffs have been collected yet, as measures in both China and the US are subject to further negotiation and public consultation.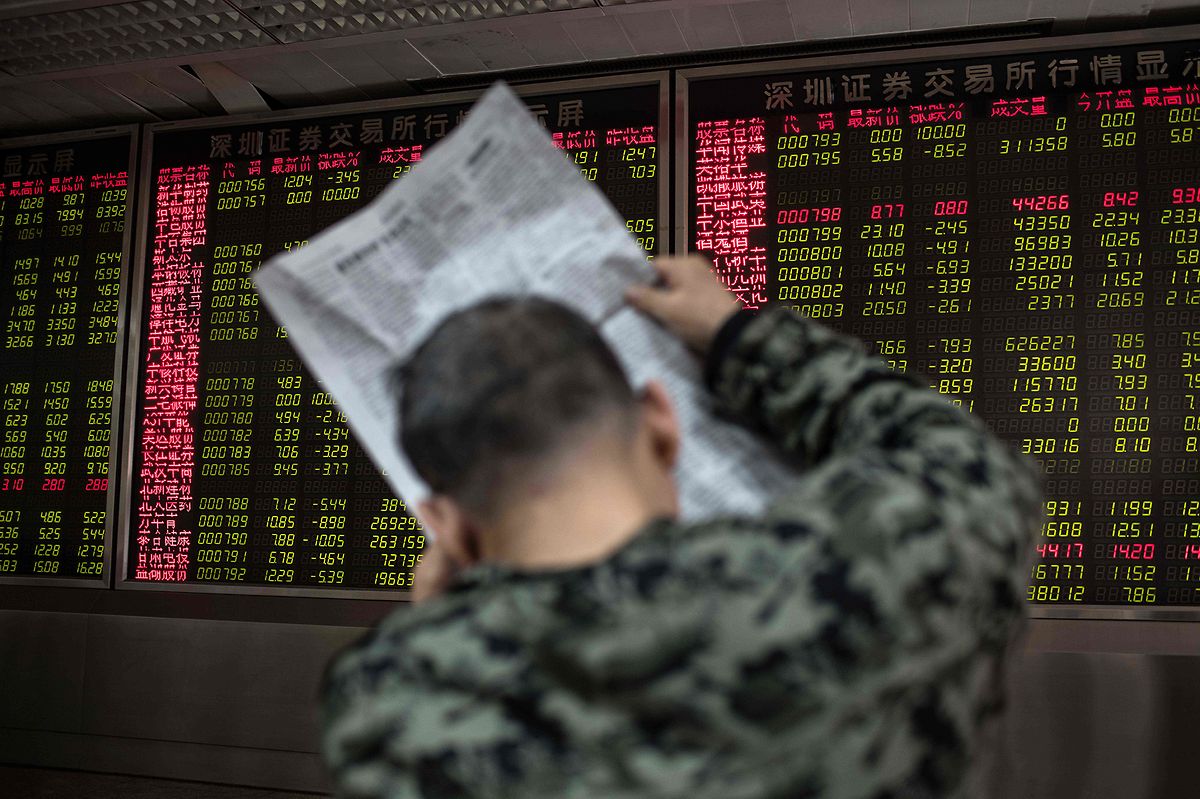 A man reads a newspaper while keeping an eye on stock price movements displayed on a screen at a securities company in Beijing (AFP)
If China and the US can't reach agreement on steel and aluminium trade, after a public consultation period which ends March 31, Beijing could begin collecting tariffs of 15% on imports worth $977 million including fresh fruit, nuts, wines, denatured alcohol, ginseng, and seamless steel tubes. After evaluation, China could then implement tariffs of 25% on around $2 billion worth of product imports including pork and aluminium.
"This is an opening gambit by China, signalling that the imposition of tariffs by the U.S. will elicit what Beijing views as a proportionate retaliatory response," said Eswar Prasad, a former chief of the International Monetary Fund's China division and now a professor at Cornell University in Ithaca, New York. "China has the ability to inflict significant economic harm on US exporters of certain goods and can also use other overt as well as covert actions such as supply chain disruptions to hurt US manufacturers".
Policy makers across the world are warning of a brewing trade war that could undermine the broadest global recovery in years. Meanwhile, business groups representing companies ranging from Walmart to Amazon.com are warning US tariffs could raise prices for consumers and sideswipe stock prices. Even central banks, which normally stay above the fray of trade spats, are weighing in.
"A number of participants reported about their conversations with business leaders around the country and reported that trade policy has become a concern," Federal Reserve Chairman Jerome Powell said this week, while cautioning that trade issues haven't changed the Fed's outlook. The Bank of England warned Thursday that increased protectionism could have a "significant negative impact" on global growth.
Trump also directed Treasury Secretary Steven Mnuchin to propose new investment restrictions on Chinese companies within 60 days to safeguard technologies the US views as strategic, said senior White House economic adviser Everett Eissenstat.
The Trump administration is framing the move as a major turning point in US-China relations. It followed a seven-month investigation by USTR into allegations China violates US intellectual property, under the seldom-used section 301 of the 1974 Trade Act. The US concluded China engages in a range of violations, including policies that force American companies to transfer technology and the accessing of trade secrets through hacking, said Eissenstat.