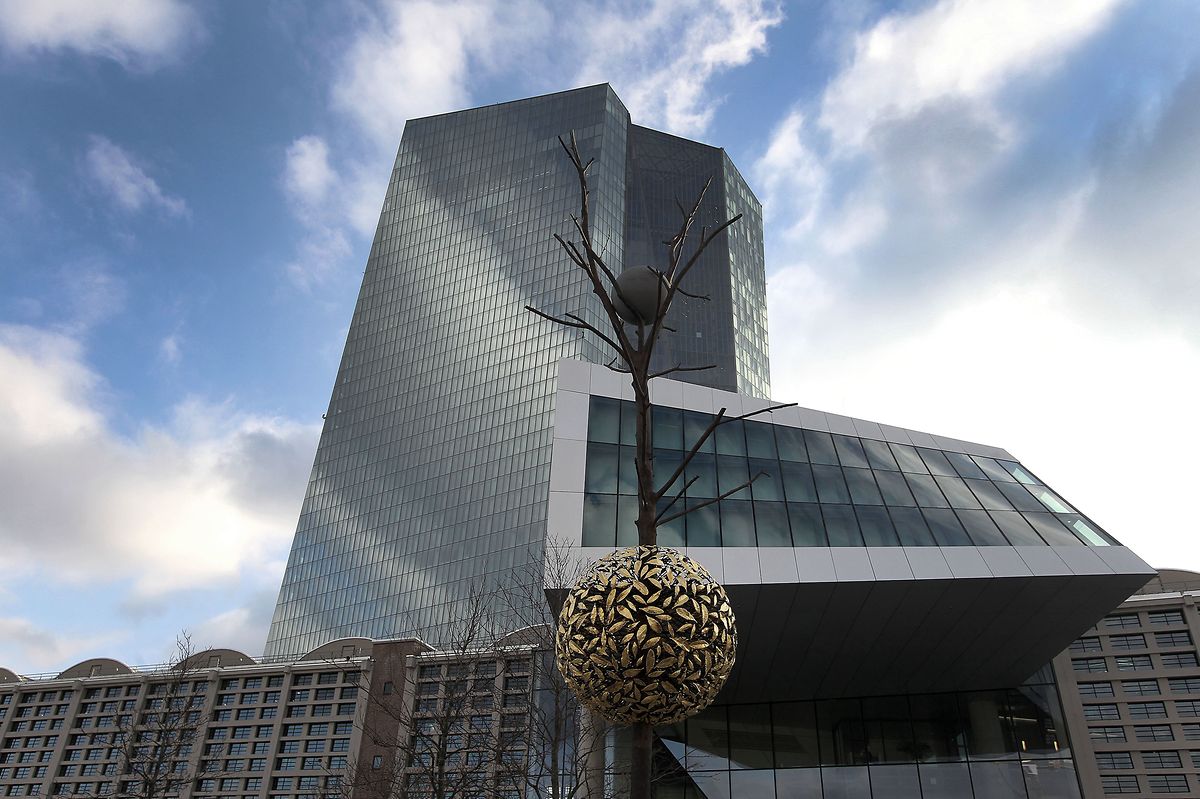 The headquarters of the European Central Bank (ECB). Photo: AFP
The euro could strengthen should European Central Bank President Mario Draghi stick this week to indications that monetary policy could be tightened next year, just as the Federal Reserve's interest-rate path is thrown into doubt.
The common currency is benefiting from broad dollar weakness as traders question whether the Fed will continue to raise rates next year.
The euro could rally if Draghi signals Thursday that at least one increase in 2019 is still on the ECB's radar. Still, money markets suggest that the first hike in the deposit rate since 2011 will not happen next year.
The ECB is set to cap its asset-purchase programme at €2.6 trillion by the end of this month, but has yet to announce how it will reinvest proceeds from maturing bonds.
With benchmark German bund yields hovering close to year-to-date lows, any signs of hawkishness could see them climb.
Here's what strategists have to say on the ECB's final meeting of the year on 13 December:
Credit Agricole: Euro to recover broadly
"The ECB will face a 'reality check' of its policy normalisation plans and forward guidance" amid weak data and low oil prices, write strategists including Valentin Marinov.
"That said, we expect the ECB to stick to its plans and keep its forward guidance little changed, given that it has reached the limits of its easing policy and that some of the economic and political risks should start to abate from here. "This could help EUR/USD recover," Marinov stated.

Mitsubishi UFJ Financial Group: ECB may open upside for the euro
"The strong wage data for 3Q should have provided comfort to the ECB that underlying inflation pressures are picking up and keep it on track to gradually normalise policy," says strategist Lee Hardman.
"Yield spread between the eurozone and US has recently narrowed in favour of the euro. If the ECB proves less dovish than expected, it could open up further upside for the euro." toward $1.15.
Toronto-Dominion Bank: New higher trading range
"A sharp, position-led squeeze higher in bund yields could push euro-dollar into a new, higher trading range ahead of year-end," said Ned Rumpeltin, head of foreign-exchange strategy. "Confirmation that Draghi is sticking to his plan would be euro positive".
Morgan Stanley: Short Schatz
"The possibility of a passive operation twist being announced, whereby the ECB would try to extend duration as much as possible in the reinvestment portfolio, could also send a message to markets about the ECB's intention to continue to anchor the term premium in the belly of the curve," writes strategist Elaine Lin.
Morgan Stanley holds the view that a 15bp hike in depo rate in October 2019 seems likely. We "like to be short 2y Schatz at -0.61% into 2019 as a low-cost option to position for rate renormalization," explained Lin.

Barclays: A lot of dovishness priced
"We expect the Governing Council to telegraph a cautiously confident tone," write strategists Cagdas Aksu and Max Kitson.
"While large reinvestment announcements on policy are less likely, we would not rule out relatively long-end curve-friendly indications."
Barcalys suggest remaining bearishly positioned into the meeting "at the belly of the curve via paying EUR 2s5s10s," while "favouring 10s30s flatteners in France".