Start seeding your radish now, and you may eat them at the end of the month
February is finally here! Celebrate by bingeing on fast food. It might not sound clean, but it's certainly green when vegetables are on the menu. Grow your own food, designed to get from your plot to your plate in a matter of weeks.
Microgreens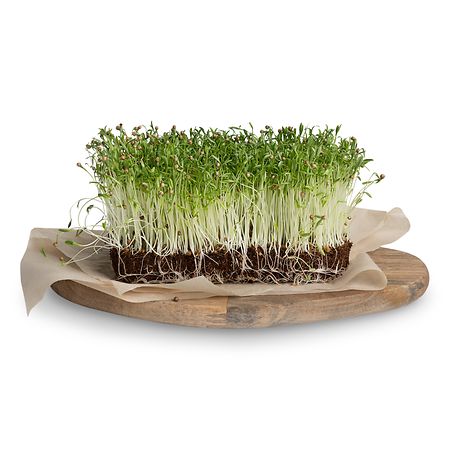 Microgreens go well with anything from sandwiches, soups to salads.
Shutterstock
The superfood for all seasons. Somewhere in the middle between a sprouted seedling and a baby plant exists the microgreen. They may be small, but they are full of flavour, and offer nutrition levels far higher than those found in mature plants. Micogreens are also super speedy grpwers, ready to harvest in 2 to 3 weeks. All you need is a little soil, a shallow container and some seeds, to grow a year-round garden. Keep sowing seeds successively in an evenly spaced row - ideally each week - to ensure a constant supply of greens.
This way, you should be able to harvest new seedlings just when you've eaten the previous crop. Place in a light and warm spot, like a kitchen windowsill, and keep soil damp with light watering. Pull microgreens up from the roots while still small, or snip off with scissors. Use to garnish salads, sandwiches, soups and just about anything else that comes to mind. Not a fan of tiny leaves? Try growing mustard greens, sunflower seeds or Amaranth for a change.
Spinach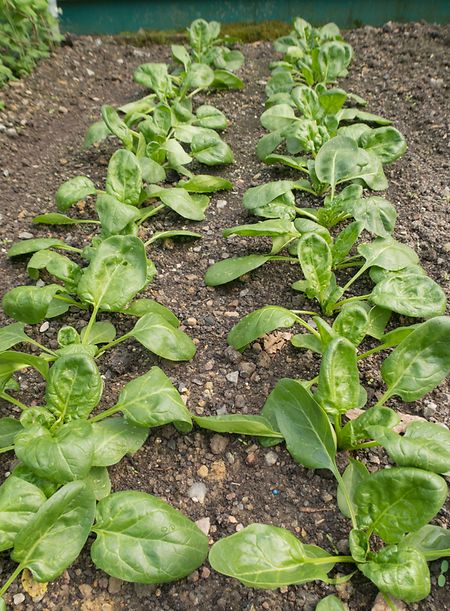 Spinach, the original superfood
Shutterstock
The original superfood. This is one plant you will want to grow in your garden this year. Spinach likes moist, well drained soil and partial shade. Sow seeds directly in rows or drills of pre-soaked soil as per your packet instructions. At this time of year, seeds benefit from warm soil and a little protection. Use something simple like a layer of straw mulch or a simple cloche to give them cover. This way they should mature safely through the final month of winter.
Baby leaf hybrid varieties, such as 'Amazon' or 'Missouri' are fast-growing and should be ready to eat in a mere 30 days or less. Keep sowing seeds every 3 weeks or so for a continuous crop. Harvest baby leaves for use in salads and sandwiches, or wait for mature leaves to use in soups and pasta dishes.
Radishes
Great balls of fire! Radishes can pack a peppery punch, though heirloom varieties such as 'French Breakfast' or 'German Giant' have a milder taste. Black Spanish radishes are a good choice for those sowing early in the season, but they will take longer to mature. Perfect to grow on a balcony or small space. These plants will tolerate a light frost and a little cold better than most.
Sow seeds in short rows, lightly water, and thin out once they start sprouting to avoid overcrowding. Most varieties will be ready to eat in less than a month.
Turnips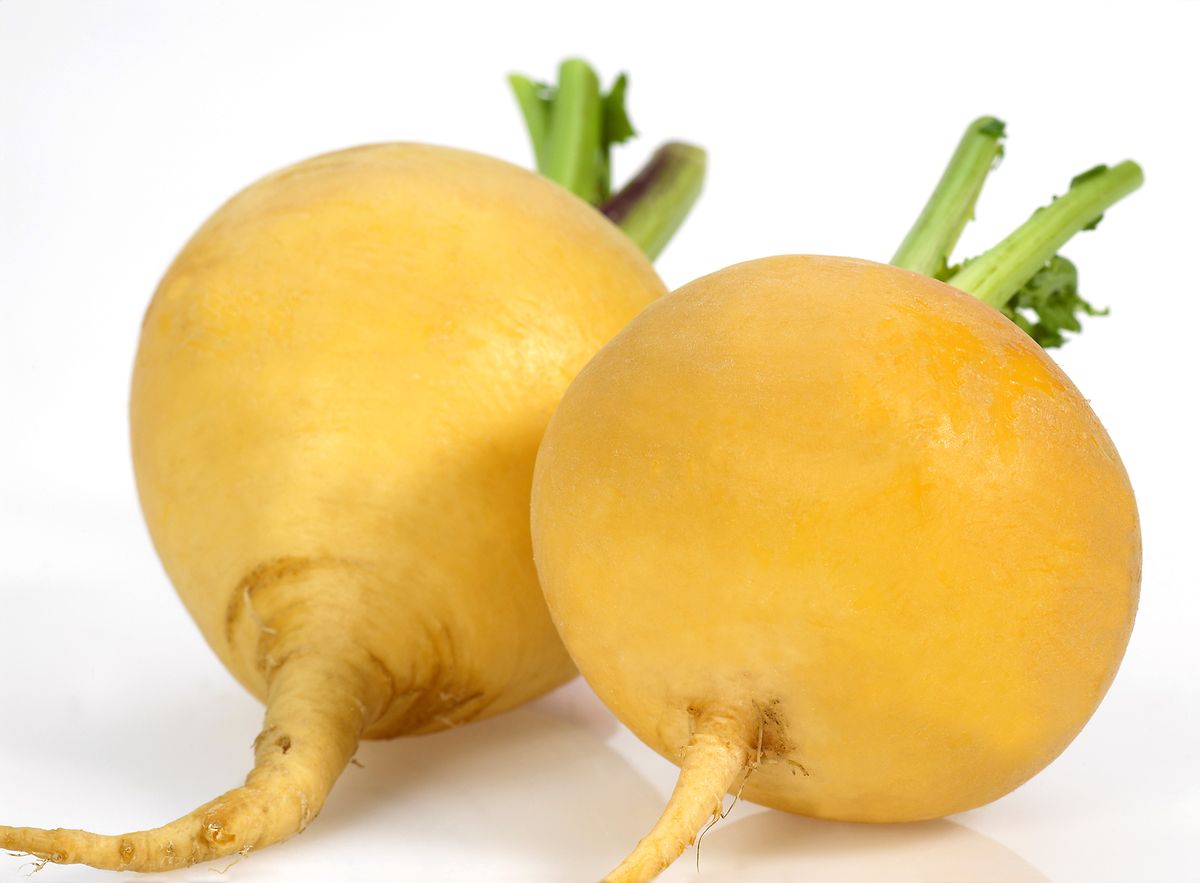 The aptly called Golden Ball is an early variety of the turnip
Shutterstock
Once the star of fairy tales and fables, the turnip is now overlooked - the ugly duckling of the vegetable plot. What this brassica lacks in looks, it makes up for in performance. Ready to harvest within 6 to 10 weeks and containing significant amounts of potassium and calcium, minerals that help maintain heart health and strong bones. Choose early varieties such as 'Milan Purple Top' or dwarf variety 'Golden Ball' to sow directly into the earth or a soil filled container now. Turnips appreciate good drainage and full sun and, at this time of year, a cover or cloche to protect from the biting wind and bitter cold.
Harvest when around the size of a ping pong ball, for a sweeter, nuttier flavour. Don't forget their leafy tops are edible too. Roast your turnips or add to stews and casseroles for depth of flavour.
See you next month in the garden!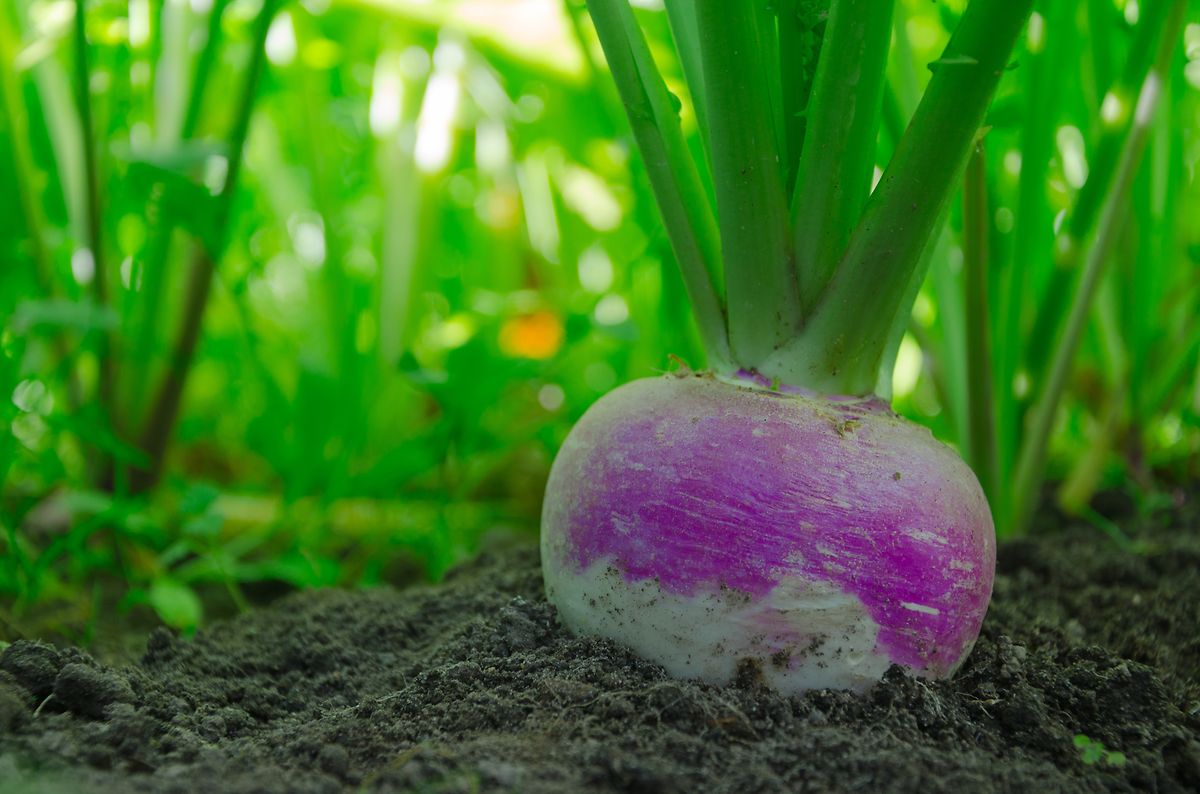 Turnip, the ugly duckling of the vegetable plot?
Shutterstock
---
The Luxembourg Times has a new mobile app, download here! Get the Luxembourg Times delivered to your inbox twice a day. Sign up for your free newsletters here.