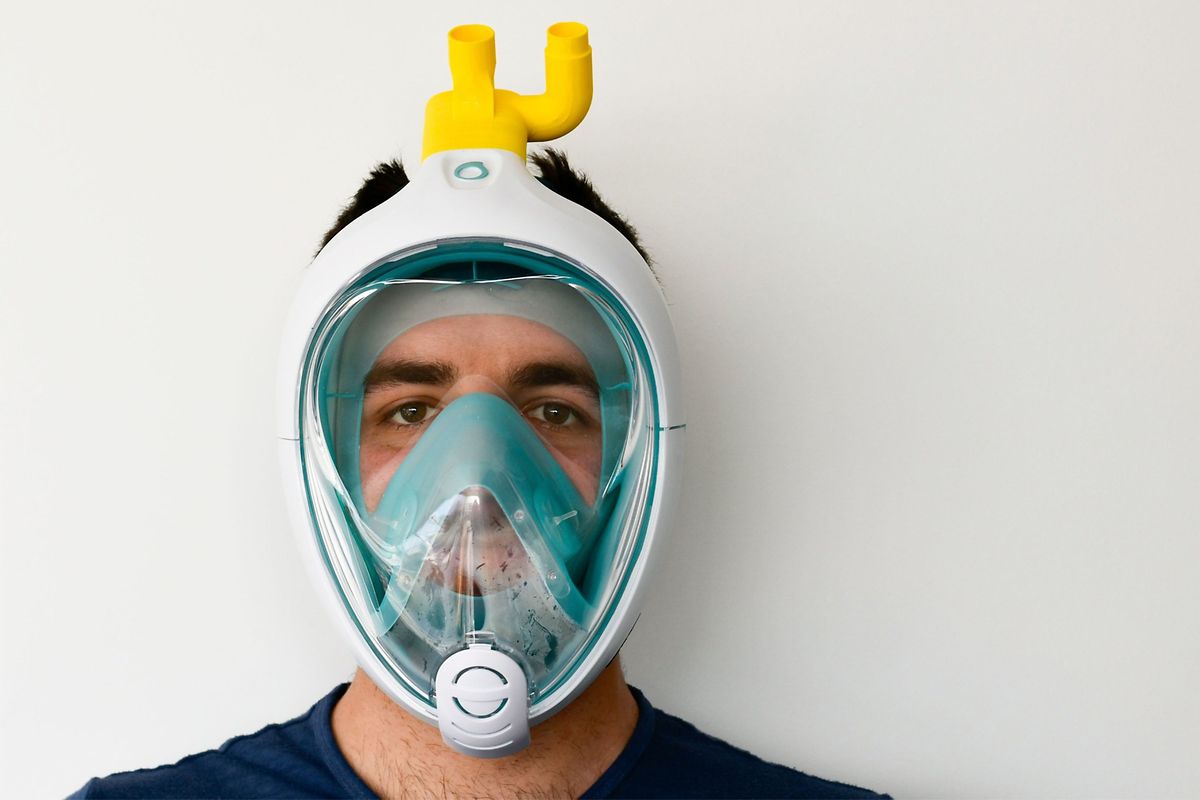 An Italian start-up transformed a snorkeling mask into an emergency respiratory mask Photo: AF/ISINNOVA
France is setting up a 4 billion-euro ($4.3 billion) package to help the country's startups survive the coronavirus pandemic and maintain cash levels between fundraising rounds.
"Our goal is for startups to pass that crisis and then continue with their growth," Digital Minister Cedric O told a radio station on Wednesday. "Startups represent between one-sixth and one-fifth of jobs created in France today, so it's extremely important," he said
The French finance ministry, together with state-backed investor and lender Bpifrance, said the plan will include 80 million euros for bridge funding, targeting startups whose fundraising plans were stymied by a contraction in venture capital activity.
The funds will be co-financed by private investors for a total of at least 160 million euros, the ministry said in a statement.
Another 2 billion euros will go toward providing state guarantees for loans so that borrowing will cost less. The rest of the package will come through in tax breaks.
France has a growing, but still relatively small startup scene. Funding for startups was trending upward until a few weeks ago when most business came to a standstill as the country battled the novel coronavirus.
President Emmanuel Macron presented a $5.5 billion plan last year to get investors to step up funding for French tech companies, with the goal of having 25 unicorns, companies valued at more than $1 billion, in the country by 2025. Today there are five, according to CB Insights.
Now, as the global economy teeters, Bpifrance Chief Executive Officer Nicolas Dufourcq said in a recent TV interview that French businesses are currently experiencing "a cash flow heart attack."
The Covid-19 lockdown has hit hard in France, where the entire country has been asked to go outside only for short exercise breaks or essential trips, and more than 800 people have died from the virus.
The plan for a startup cash injection comes as Finance Minister Bruno Le Maire, Bpifrance and the French Banking Federation are also set to launch 300 billion euros of state-guaranteed loans on Wednesday.
In Germany, the economy and finance ministries have proposed a rescue package for startups, Thomas Jarzombek, Commissioner for the Digital Industry and Startups tweeted on Wednesday. Companies with a value of more than 50 million euros will be eligible for financial aid, he said.
German state-owned development bank KfW had said it will lend as much as 550 billion euros to help get companies in Europe's biggest economy through the crisis, but the bailout initially didn't extend to startups.
©2020 Bloomberg L.P.
---
Get the Luxembourg Times delivered to your inbox twice a day. Sign up for your free newsletters here.