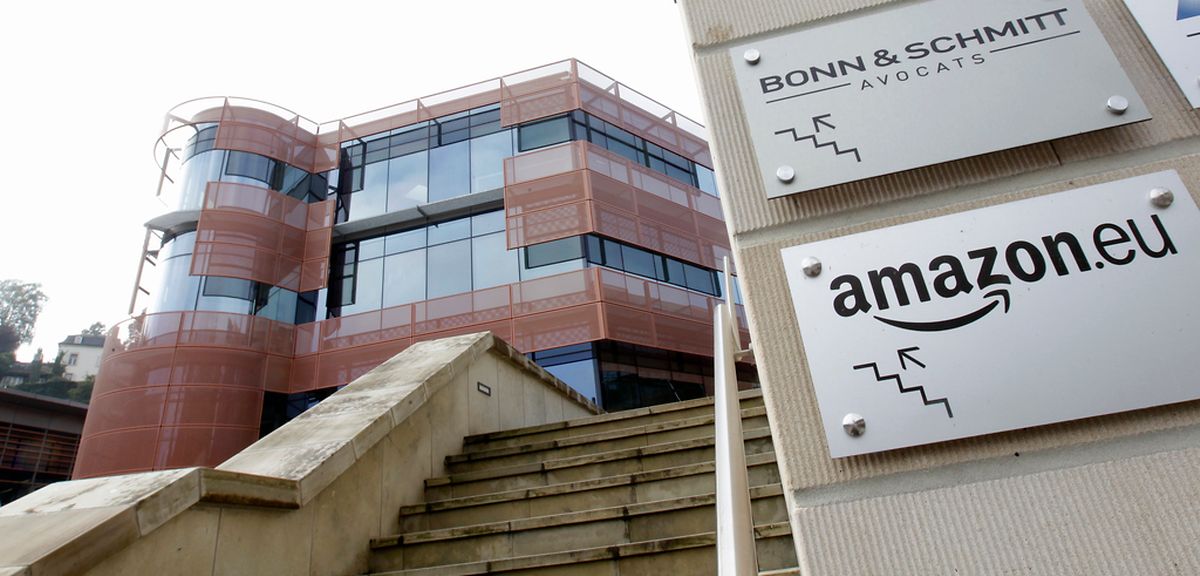 Amazon's European headquarters in Luxembourg. PHOTO: Marc Wilwert
Luxembourg's government and state-owned companies dwarfed staffing by any other business at the start of this year, the national statistics office said on Tuesday in its annual breakdown of top employers.
The state's payroll hit 29,320 civil servants, teachers and other education workers in January, a 15% increase over five years, statistics agency Statec reported. The employee count does not include the insurance regulator Commissariat aux Assurances, or CAA, Statec said.
The country's largest enterprise measured by employment was telecommunications and delivery company Post Luxembourg with 4,650 workers, Statec said. Post is state-owned, but its staff and that of other state-owned firms are not counted towards the public sector totals.
Post has been the country's largest employer for five years since overtaking Luxembourg-based ArcelorMittal. Since then, the world's largest steelmaker closed one plant in Bettembourg plant in 2016 and sold another in Dudelange to London-based Liberty Steel last year.
But despite last year's sale, ArcelorMittal added nearly 100 jobs over its 2019 total to move into fifth place on the Luxembourg list of top enterprises, with a reported 3,900 employees.
The data was provided before the steel giant and other Luxembourg companies put many employees on temporary unemployment in response to the worldwide economic slowdown caused by the pandemic.
Away from the rankings of enterprise employment, Luxembourg's city payroll of 4,181 alone would put it ahead of ArcelorMittal, Statec said.
Behind ArcelorMittal was BGL BNP Paribas, the Luxembourg unit of the French banking firm. BGL BNP Paribas reported a slight jobs drop compared to last year and started 2020 with 3,830 workers.
The country's top ten employers beyond the state itself included three state-owned enterprises: Post at the top; railroad operator CFL second with 4,510 employees; and national airline Luxair with 2,950 workers in the eighth spot. The state owns all of Post shares, 94% of CFL and - along with other state entities - almost three-quarters of Luxair.
The country's largest private employer remains the Cactus chain of supermarkets and home-improvement stores. The family-owned company headed by Max Leesch employed 4,420 in January, making it the third-largest enterprise after adding about 100 jobs in the past year.
Online retailer Amazon moved into the top 10 employers this year after reporting that it added more than 500 jobs in the past year, Statec said. The US-based company employs 2,760 people at its European headquarters in Luxembourg.
The tax breaks that led to Amazon choosing Luxembourg as its European base are now being disputed in court. Europe's second-highest court is expected to rule in the coming months on whether Amazon must pay Luxembourg €283 million in what the European Commission says were illegal tax breaks which short-changed fellow European states.
The rest of Luxembourg's top 10 enterprises include: security, cleaning and catering contractor Dussman in Contern at No. 4 with 4,280 workers; tire manufacturer Goodyear Dunlop in Colmar-Berg at No. 7 with 3,450 jobs and Big Four accounting company PricewaterhouseCoopers in Luxembourg with 2,930 employees at a ninth place.
---
Get the Luxembourg Times delivered to your inbox twice a day. Sign up for your free newsletters here.