BGT's first live performance since lockdown
BGT's first live performance since lockdown
BGT puts on its first live performance since lockdown. Producing and rehearsing David's Redhaired Death brought its own challenges during Covid-19 deconfinement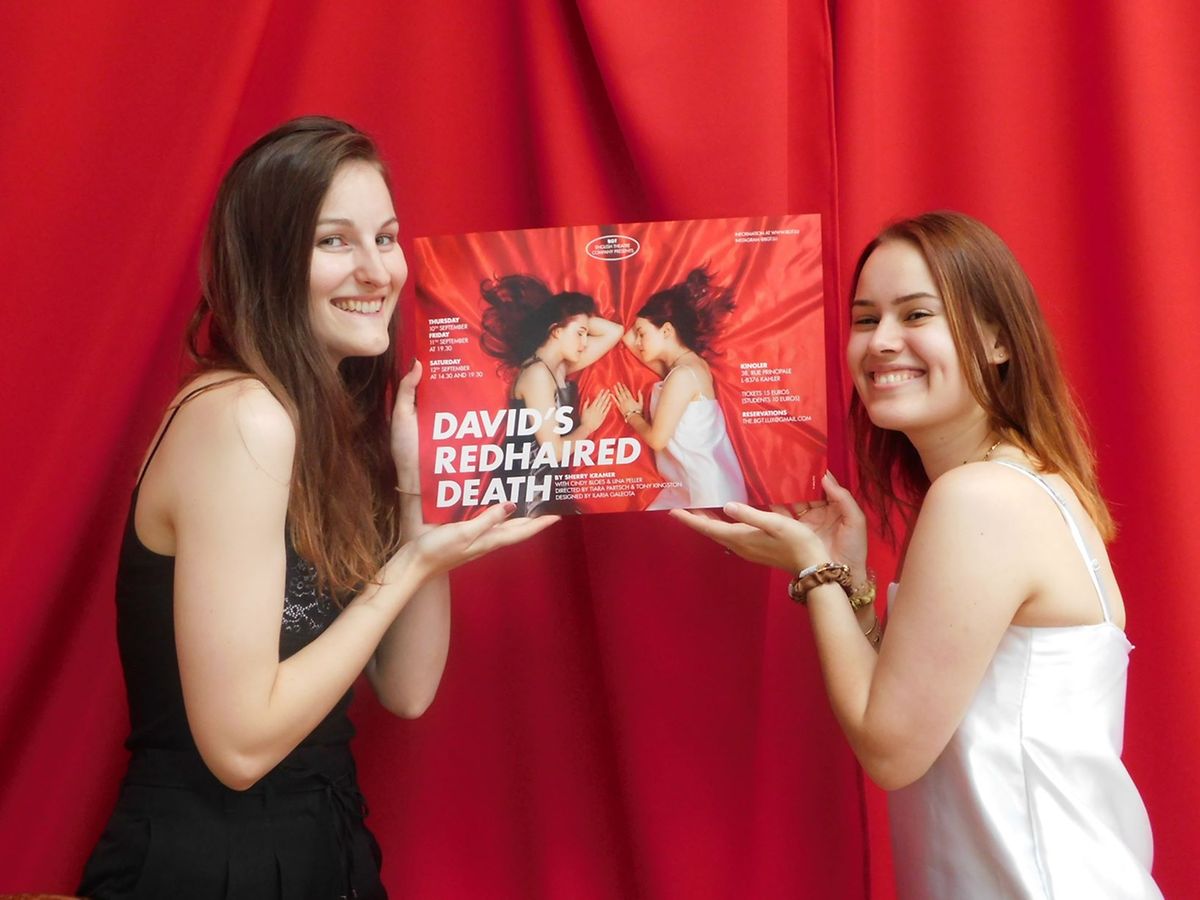 Cindy Bloes (left) and Lina Peller the two Luxembourgish actresses performing in English to a live audience Photo: Alfonso Salgueiro
Lockdown resulted in the closing of many of Luxembourg's theatres, but six months on, two local actresses will be performing David's Redhaired Death to a live audience in Kahler.
Producing and rehearsing took a very different direction, but Director Tony Kingston was determined that the BGT summer project to encourage young trainee performers in Luxembourg, would not get de-railed by Covid-19.
Safety a priority
"Safety and health is still our priority. We all tested negative before we started rehearsals in-person, and we will all take a test just before we perform in front of a live audience," says Kingston, who asked the two women acting the lead roles and the assistant director to limit their socialising for the duration of rehearsals to minimise the risk of infection.
"The first few meetings were on zoom and we just read through the play. You can't really rehearse on zoom or even work with masks on," says Cindy Bloes who plays Jean.
Assistant Director, Tiara Partsch, feels it was a relief to be involved in the project that was "an island of normalness" during deconfinement. Now in the USA studying at the University of Michigan, Partsch, a former ISL student, didn't meet with her friends before she left the continent, to protect the rest the cast in the play.
Finding a venue was also difficult, so Partsch asked her local mayor for help and the play is scheduled to be performed live at the Kinoler in Kahler. A love story between two woman, it deals with how a death affects the two redhaired characters in different ways.
Less prescriptive directing
"I learnt a lot about how to direct from an organic approach, and that you don't need to plan everything. Tony uses a discursive approach, working with the actors. The first few rehearsals were stressful because I wanted to be prescriptive," says Partsch.
Kingston points out that the Sherry Kramer script needed this organic rather than prescriptive approach, and the actors used a number of workshops to get under the skin of the characters.
Lina Peller, who plays Marilyn, studied theatre and drama in Munich. Like Bloes (who studied a Masters in theatre in Germany), she was born in Luxembourg and attended a local school but thinks that "English and French are much more melodic languages when it comes to theatre". Bloes says she watches a lot of movies in English and that has helped her to act in the language.
Character-led performance
Both women are in the 20s, the same age as the redheads they portray, but they had to work hard in the first three weeks to really understand the characters and what they wanted from their relationship because so much of the play hinges on the dialogue, emotions and acting of Bloes and Peller. With no certainty of venue when they started rehearsal, Partsch ensured that the minimal set she created could work in any environment.
"It's a complex and layered play that really comes to life through the characters rather than the plot. We needed time to explore their motivation. They are similar, almost like sisters or twins who find the person who matches them, but they have different ways of approaching loss. We spent a lot of time working on imitation and mirroring each other," says Peller.
Kingston specifically chose a play that not only has women in the main roles, but is also about women. "There is an imbalance in theatre with fewer lead roles for women despite the fact there are so many actresses going for those roles."
Supporting small-scale theatre in Luxembourg
He admits that the theatre world coped well with the pandemic by streaming online, but that smaller-scale local productions in Luxembourg cannot really compete with the National Theatre when it comes to the camera crew and lighting required to do this. "It's important that smaller scale, less profitable theatre survives this situation. We have capped the audience at 20 people, but we are lucky we will be able to perform live," he explains.
David's Redhaired Death is scheduled to be performed Thursday to Saturday 10-12 September at 19.30 with a matinee performance on Saturday at 14.30, at the Kinoler, 38 Rue Principale, Kahler.
Due to small audience numbers, there are only a handful of tickets remaining for performances so anyone interested in attending should reserve tickets at the.bgt.lux@gmail.com. Tickets cost €15 (€10 for students) and the performance will last approximately 1 hour and 45 minutes plus an interval.
---
Get the Luxembourg Times delivered to your inbox twice a day. Sign up for your free newsletters here.