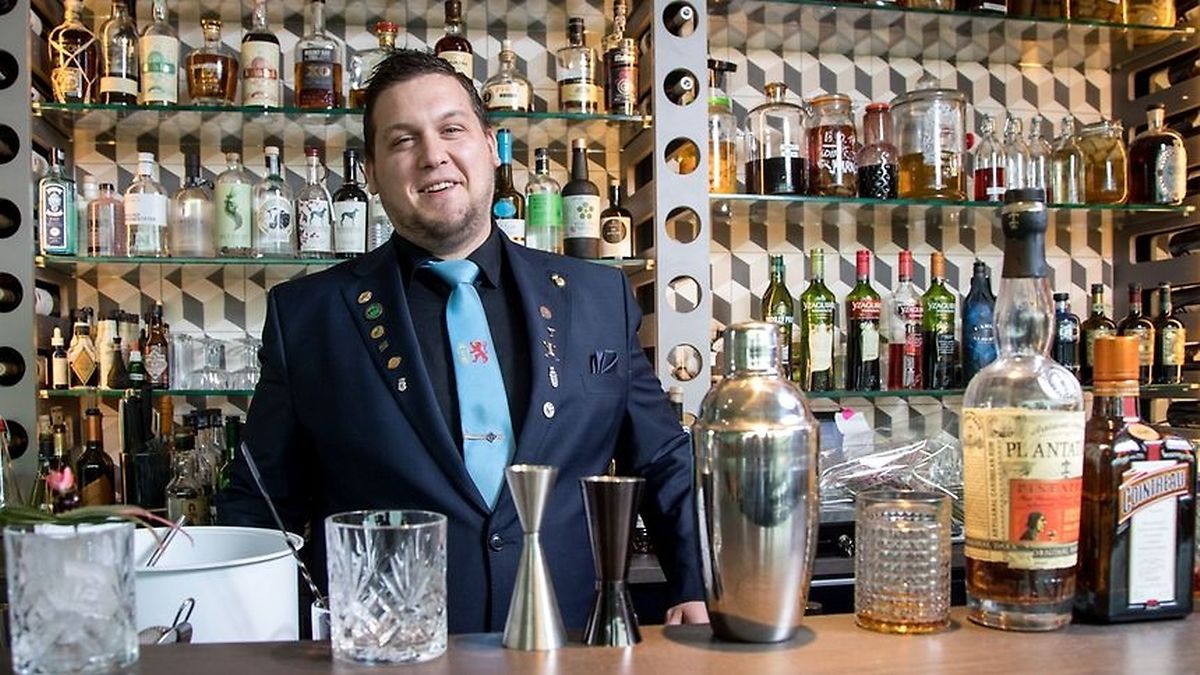 Kevin Wafflart trains regularly in a bar in Kehlen (Guy Jallay)
A 28-year-old barman from Luxembourg has won gold at an international cocktail competition in Taiwan for his creation dubbed 'OFTD' – Overproof Family Team Dudelange.
OFTD is a cocktail based on rum. But not just any kind of rum. Kevin Wafflart chose a very specific type in which a Victoria pineapple had been soaking. None of the products Wafflart chooses for his recipes are just ordinary products and some, non-alcoholic, can be very difficult to find.
For the International Bartenders Association (IBA) competition in Taiwan, Wafflart prepared his recipe in front of an international jury in exactly five minutes and 20 seconds. The maximum time allowed was seven minutes. Candidates had to develop a recipe based on a set theme, which they find out five months in advance. They then had to submit their recipe within six weeks and train to perfect their moves and magic potion.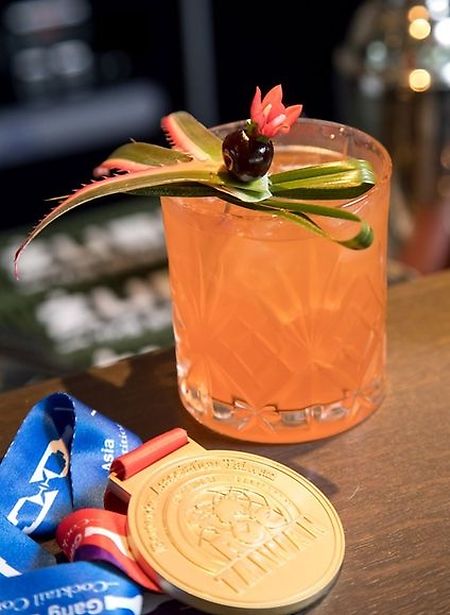 OFTD cocktail and the gold medal (Guy Jallay)
"The trickiest part of such a contest is concentration," Wafflart said. "I practised high-level swimming for 17 years and thanks to this experience, I can really focus on what I do."
He explained concentration is essential in front of a large audience when the pressure is on and forgetting an ingredient or shaking could be disastrous.
Judges give a score for the cocktail's appearance and taste – with and without decoration – the bartender's style, clothing, skill and hygiene.
"A zest of citrus used for decoration, which must be removed for tasting, will change the smell of the drink," Ludovic Frisoni, president of the Luxembourg association of bartenders (ALB) and international judge, said.
"The taste will be different. We must see if it remains balanced, if the harmony between sweet and sour, sweetness and acidity, is respected. If some liquid drips or if an ice cube falls, that's 10 points lost."
Overproof Family Team Dudelange recipe
4 cl rum Plantation Pineapple
1.5 cl of Vedrenne triple sec liqueur or Cointreau
0.5 cl of Monin Falernum syrup
1 cl of Monin Apérol Spritz syrup
2 cl of fresh lime juice
1 dash of aromatic Bitter Suze
Stir in shaker, serve with ice. And if in doubt about how to proceed...ask a good bartender for advice!
(By Anne Fourney, translated by Heledd Pritchard)