It's far from depressing, it is life-affirming, reminding us to live in the moment every minute we can
Insightful, deeply moving and hugely joyful, The Nature of Forgetting is an original performance that reminds us of how precious life is and the importance of our memories.
Precisely choreographed with original music and lighting, the play is a non-stop, physical and at times humorous performance.

Tom sits in a chair, whilst his daughter Sophie finishes tying his shoelaces. Behind them is a rack filled with coats, jackets, and dresses. She tells Tom to "put on the blue jacket with the red tie in the pocket", reminding him that "Grandma and Mike are coming to visit".
Alone, Tom tries to remember which jacket to wear. The audience hears the sound effects of Tom's brain searching through his mind for the instructions he has just been given, his hands shaking and tapping on his knees. That music becomes very much a part of the production, a cue to the audience that Tom is forgetting.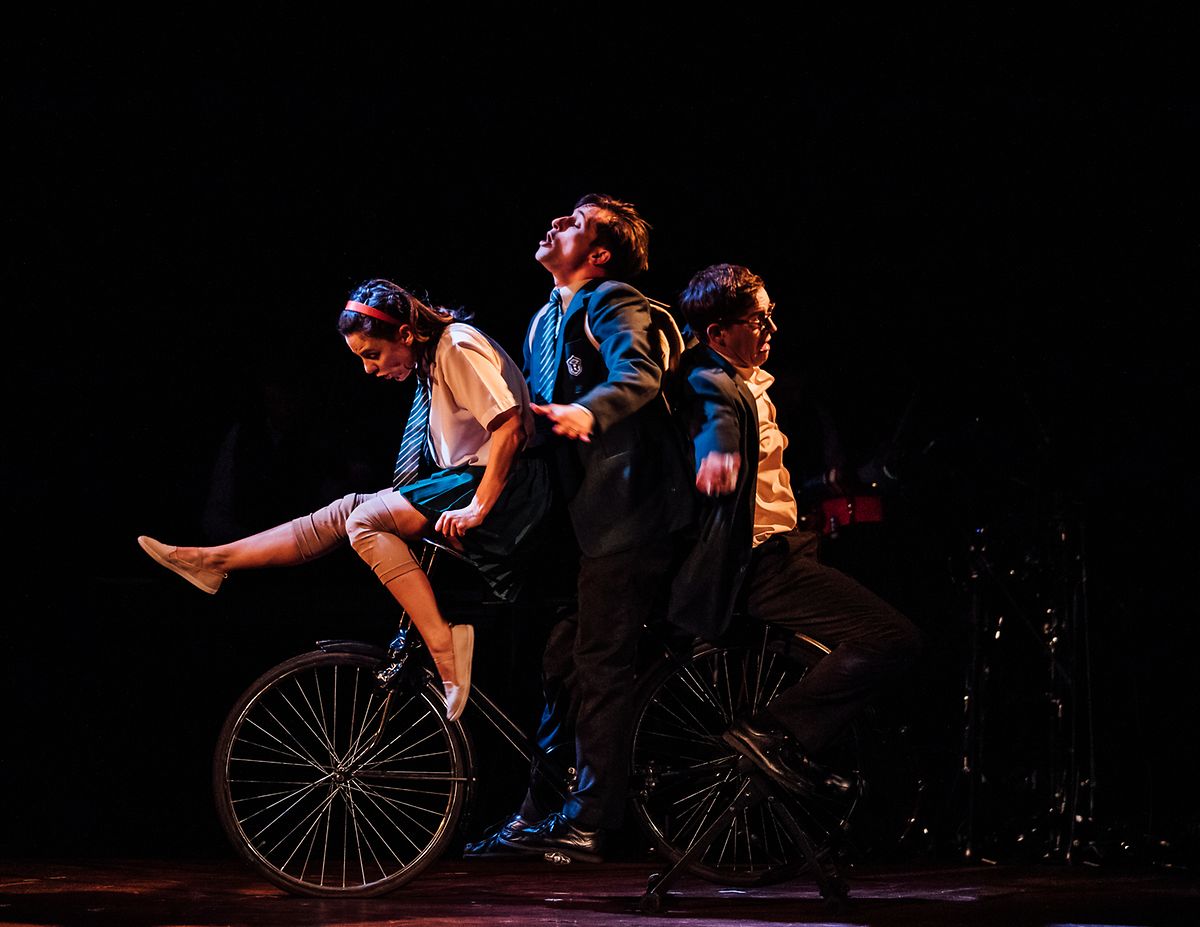 Fragmented but happy memories of school days
© National Taichung Theatre
When Tom finds an old school blazer instead, we are taken on a visual, non-verbal journey through his memories of childhood and school days. Desks which constantly shift and are rearranged so that he can't quite remember which way they were, teachers with canes, school photographs, mum brushing his hair, even his first crush in the classroom.
When memories disappear
Most of these memories are general and could belong to anyone. There is nothing specific, except a note he receives. Tom cannot find this memory in its filing system.
On stage the action continues through his memories of a graduation, marrying, having a daughter, his friend Michael, his first love and wife Isabella, and his mother. Each time he strains to recall a more detailed memory. At one point he remembers cycling, then cycling with Isabella on the back of his bike, then running beside her. The music is so uplifting that it creates an almost cinematic image charged with emotion.
Based on research
Theatre Re is known for combining original live music with striking visual theatre to create deeply moving, non-verbal productions about universal challenges and the fragility of life. Seven years ago, the company asked the question "What is left when memory is gone?" This is the result.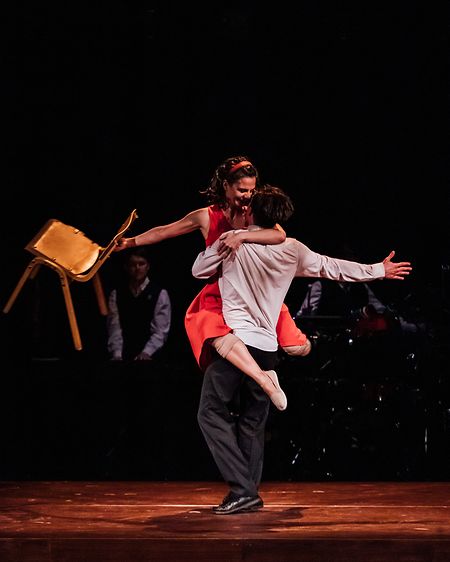 "What is left when memory is gone?" asks Theatre Re
© National Taichung Theatre
Collaborating with University College London Neuroscience Professor Kate Jeffery, and working in partnership with the Alzheimer's Society, the team interviewed older members of the community and people living with dementia to create a link between the science we know and the real human experience.
Exceptional performers, music and lighting
Director and lead actor Guillaume Pigé is exceptional in his portrayal of Tom, as he is today but also in his memories. Pigé moves around the stage with precision, his detailed movements synchronised so flawlessly with the other performers playing Mike (Calum Littley), his mother (Eygló Belafonte), and Isabella (Louise Wilcox).
At times they move in slow motion. Desks move or disappear, chairs are pulled from under Tom as he goes to sit down. We feel his frustration at not being able to recall a critical detail like the words to his wedding speech.
Henry Webster and Nathan Gregory perform the original score by Alex Judd on multiple instruments including a keyboard, violin, percussion, and the drums. Each sound or beat is timed to connect with a single movement from the performers. The lighting too, from Katherine Graham, is clever. The audience is at school, at the cinema, in a pub, or in a car.
Why you should go?
All the elements that make up this incredible performance meld together remarkably seamlessly. Whether you know someone with dementia or not, you will come away with a unique understanding of what might be going on inside their minds, and how those memories slowly disappear until all that you can remember are faces, and then even not these.
In the programme, Pigé says: "Ultimately, our piece is not about dementia, it is about the fragility of life and that eternal something we all share that is left when memory is gone."
It's far from depressing. It is life-affirming, reminding us to live in the moment every minute we can and to cherish our memories and the people that we made them with.
The Nature of Forgetting is being performed at the Théâtre des Capucins on 14 January at 20.00 and 15 January at 17.00.
---
The Luxembourg Times has a new mobile app, download here! Get the Luxembourg Times delivered to your inbox twice a day. Sign up for your free newsletters here.