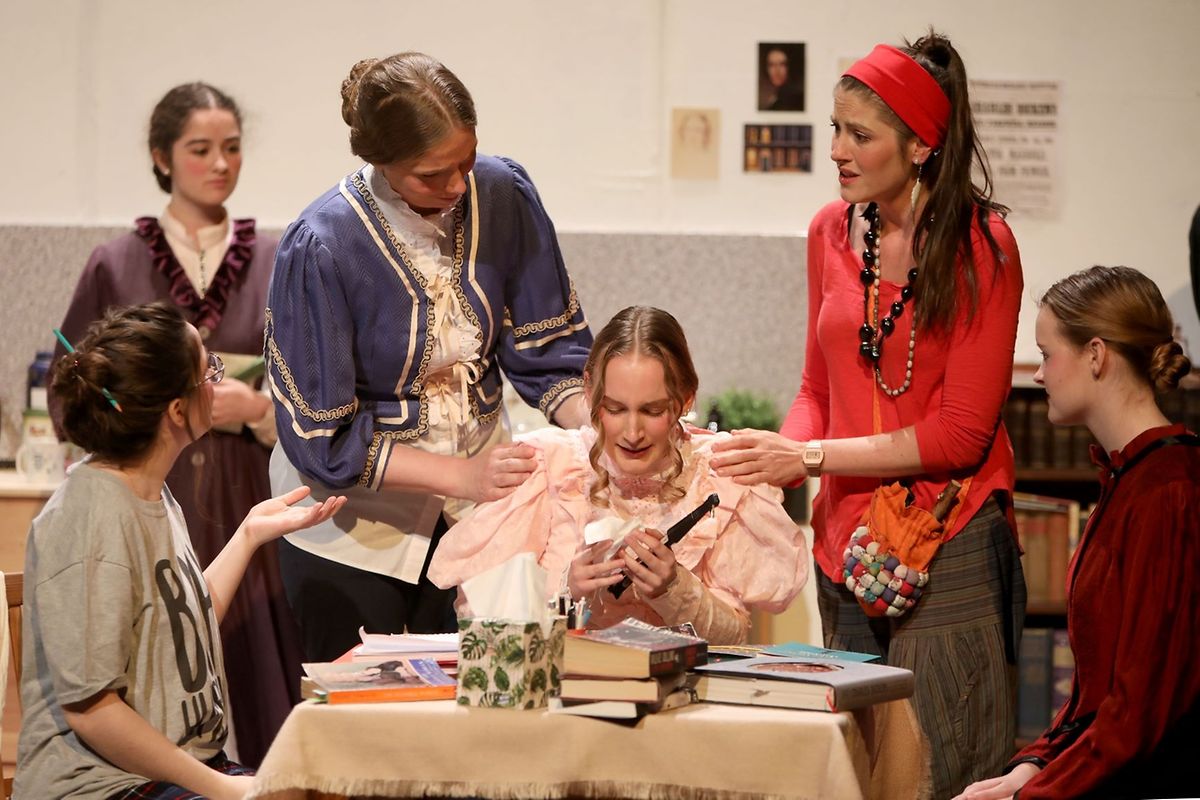 Dickens' women played by actors aged 15 to 60 years Photo: Steve Eastwood
BGT English Theatre Company's The best of men, the worst of men, written by local playwright June Lowery, shows world-famous author Charles Dickens in a very different light.
Shining a spotlight on one of the 19th century's most prolific writers, who penned amongst other novels Oliver Twist and A Tale of Two Cities, it looks at his complex relationships with the women in his life, depicted by a cast of local actresses aged 15 to 60 years old.
Modern-day setting
A present-day PhD student, Jane Hughes, portrayed authentically by Cassandra Koehler, is dithering over how to present her thesis defence on Dickens. A fan of his literature, her research has led her to believe he was a "controlling, dominating, social misogynist."
As she begins to get more anxious, first Dickens, then a whole host of his women, appear in her bedsit. So unfurls the story of his life in vignettes, recounted by the most important women in his life.
The device of using visiting spirits neatly recounts the visitations made upon Scrooge in A Christmas Carol (probably Dicken's most famous tale), but rather than messengers from God, these women represent a sisterhood, partly still in therapy, but firmly on the road to understanding and forgiving Mr Dickens for his misdemeanours.
Deep dive into Dickens's life
We hear from his grandmother, Elizabeth (played deftly by Betsy Adams, who also fittingly doubles as the maid), who was placed in service at the age of 12 years. Pregnant with her second child at 40 years, she tries but fails to prevent Dickens's father from going astray.
We also hear of Dickens's time working in a boot polish factory whilst his parents languished in a debtors' prison, and we discover that this period, together with his spurned youthful love for Maria Beadnell, may have ignited his distrust of the opposite sex.
The cast deals admirably with these scenes, giving insight into the true character of each woman in much more detail than Dickens himself afforded to the sweet, child-like heroines and dour, spiteful old matrons that populate his books.
It's also a tale of Victorian times, when women had no rights once married and were not allowed to make critical decisions or choices that greatly affected their lives.
Male lead, but strong female cast
Bjørn Clasen plays Dickens brilliantly – at times energetic and playful, at others, self-absorbed, hurtful and proud. It's interesting that a play which sets out to uncover his good and bad qualities from the eyes of the women in his life, should still have at its centre a male actor.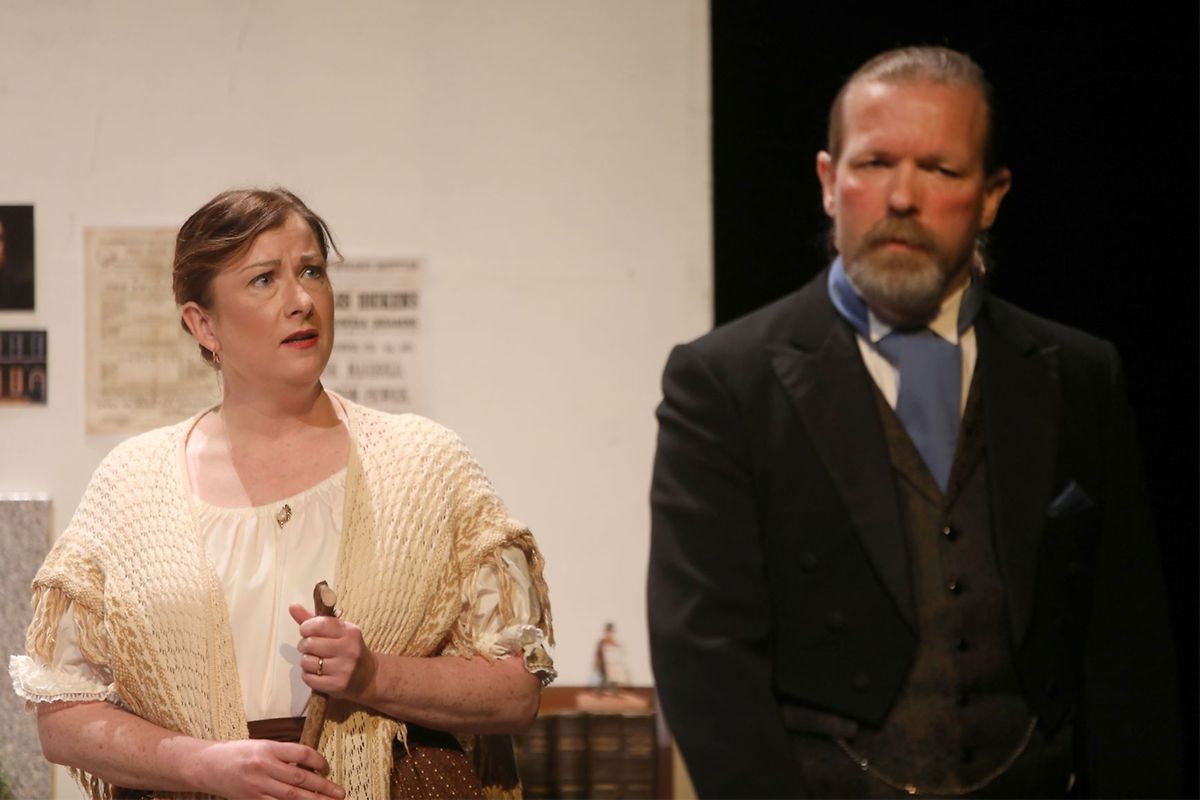 Bjørn Clasen as Dickens feels abandoned by his mother played by Helena O'Hare Photo: Steve Eastwood
Helena O'Hare plays Dickens's long-suffering mother and his astute Scottish mother-in-law, delivering emotional performances with gravitas and a great mastery of accents.

Eloïse Heger-Hedley is also wonderfully steely as the young muse and mistress, Ellen "Nelly" Turner, an actress looking to better her life.
But perhaps the most emotionally intense performances come from the actors who play Dickens's wife Catherine in younger and older years – Rachel Kathryn Lloyd and Jessica Whiteley.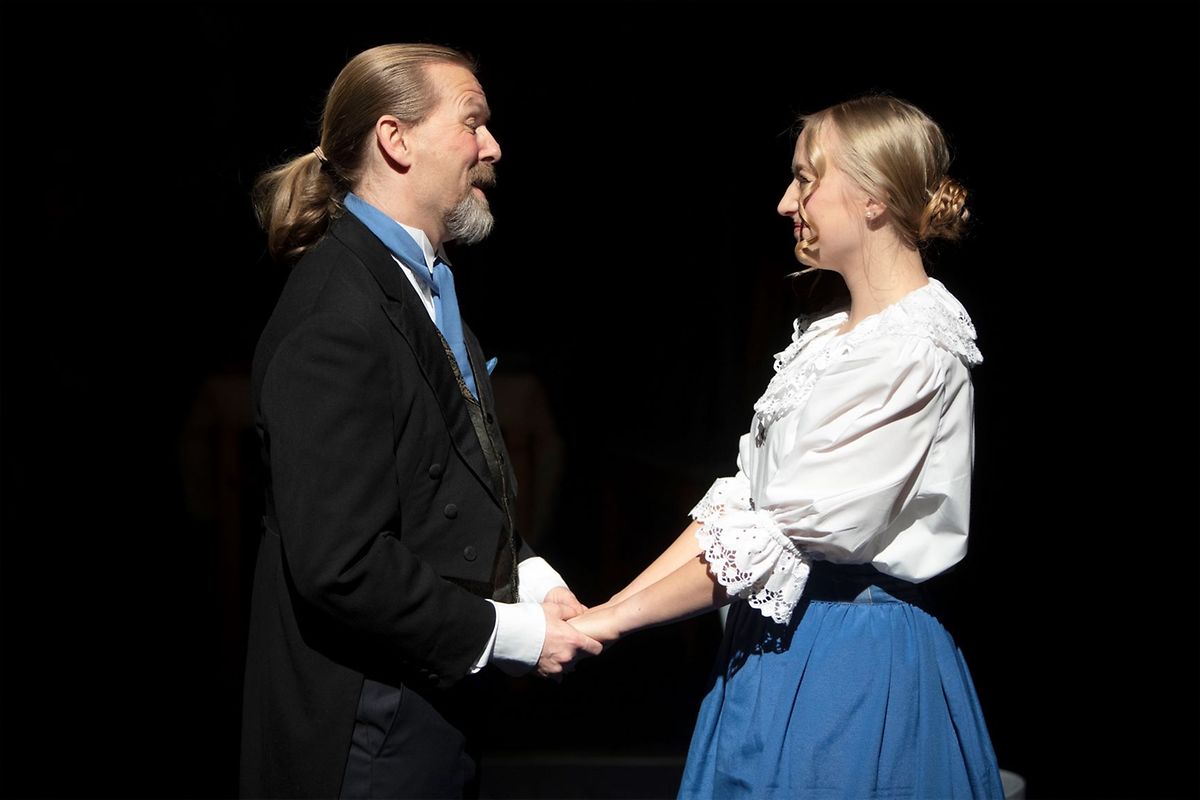 Rachel Kathryn Lloyd as Dickens fertile, young wife Photograph: Steve Eastwood
Throughout her life, Catherine puts her husband first, ignoring the needs of her children and her own physical and mental decline (not surprisingly after having 10 children and two miscarriages in almost as many years).
Whiteley and Lloyd convey this story of a stoic strong woman without over-acting, instead combining subtle facial gestures and an anxious tone of voice. They are helped enormously by the precise and sometimes acerbic script.
Humour, psychology and fake news
Indeed, it is Lowery's writing (and direction from Tony King), that make this production flow so smoothly. Sprinkled with little bits of humour, psychology, and a nod to today's desire to grasp fame, even by transmitting fake news, the dialogue makes you understand that the desire to be in the spotlight and the cult of self is not a 21st century phenomenon.
It's also a timely reminder of how far women's rights have come since the time of Dickens, but how youth and beauty are still the main attraction for many men.
Lowery never intends for us to judge, just to lift the veil a little on this author. Dickens was a great writer and a pioneer of social justice, but he was also a self-obsessed and self-promoting individual. "He would have been a brilliant person to meet, but not to live with," Lowery told the Luxembourg Times.
Where to see it
You can catch The best of men, the worst of men from 22 to 25 January at 20.00 at the Neumënster Abbey Cultural Centre, with a Saturday matinee at 15.00 and discounts for students.
---
Get the Luxembourg Times delivered to your inbox twice a day. Sign up for your free newsletters here.