Untitled work street artist PixelJuice on the wall of a school in Esch
The urban art movement started several decades ago, as artists, designers, and art collectives sought to bring a new dimension to the cityscapes across the world, adorning the sides of houses and buildings with murals, messages and graffiti art.
Thanks to Kufa's Urban Art Esch project (organised by the Kulturfabrik culture centre and the city), Esch-sur-Alzette has some 50 urban art works painted and sprayed onto buildings. Some are visible from the city's main arteries, others tucked away on railway arches or school walls.
As Esch prepares to be the European Capital of Culture in 2022, the Kulturfabrik is offering walking and cycling tours of the works, giving insights into the local and international artists behind the artworks.
Some may think these murals are design more than art – or socio-political statements - but the tours go a long way to explain the different themes, styles and methods the painters use. There is no doubt that these 50 buildings give Esch more of a vibe than other cities in the region.
The Urban Tours
The shorter tour of 1.5 hours covers some 14 works, starting with the city's best-known mural of a young woman reading a book – visible as you drive towards the city centre.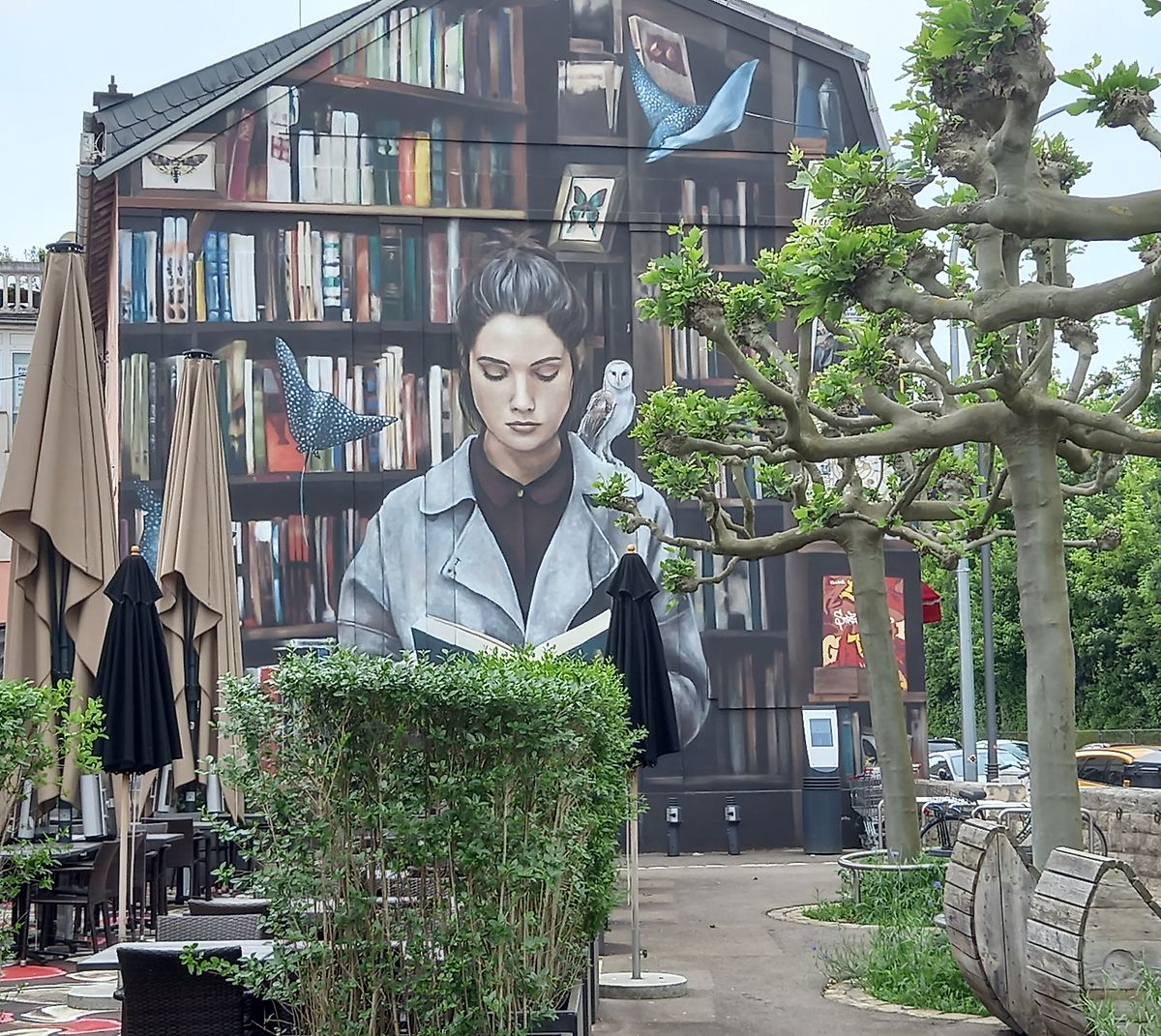 Curiosity feeds imagination, by Mantra
Photo: Sarita Rao/Asha Muldoon
Behind her, the bookshelves are dotted with preserved butterflies, while an owl sits on her shoulder and two spotted eagle rays glide past the books. The Lorraine artist Mantra, the work - "curiosity feeds imagination" - based on a photograph of a friend, was drawn freehand in 2016.
Some artists use grid systems they transfer onto buildings, others project their work and paint over it, while yet others again simply draw freehand onto their giant canvas. A debate still rages about whether the art belongs to the artist or the owner of the building. As yet, that remains a theoretical issue, as no buildings adorned with murals in Esch have been earmarked for destruction.
History and ideals
Works by many local artists adorn the premises of the Kulturfabrik, mostly painted from 2014 to 2018. In a corner at the entrance, Sumo (Christian Pearson) has created a little gallery of yellow and orange "bald" men, with the words "Free Emancipated Art" in recognition of Kulturfabrik's origins as a squat.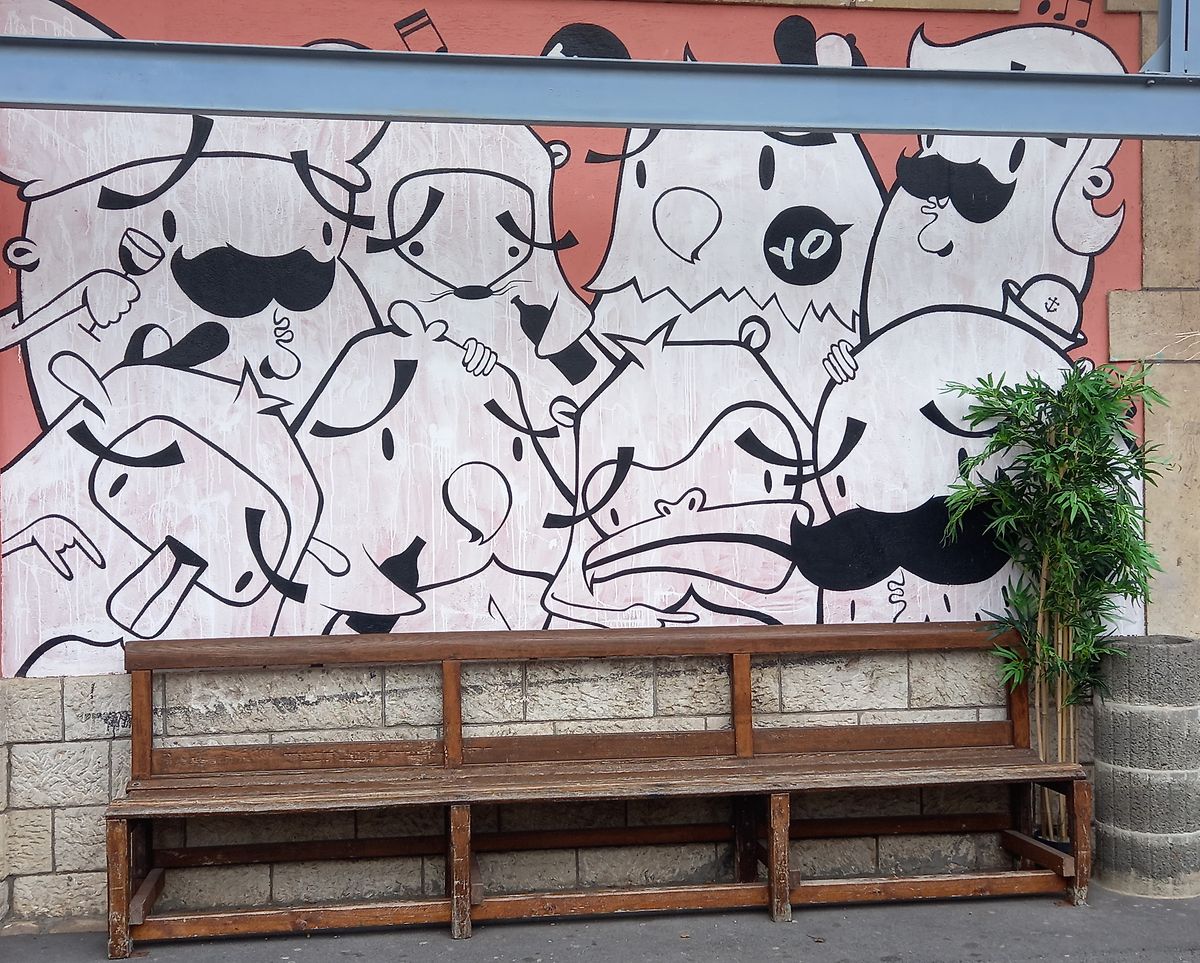 Yo by Franco
Photo: Sarita Rao/Asha Muldoon
By the bar, Franco has crafted strange cartoon characters in black and white. Some have moustaches, others whiskers, and there's even a monkey. They are drinking wine, and the little notes that float between them remind the viewer that this is a music venue.
And in the main hall, Eric Mangen produced Ipso Facto using sprays, chalks, glues and paint. The collection of words in boxes resonate with Kultufabrik's mottos such as "hide in plain sight", "stays outside the law" and "cosmopoetic".
Outside views
The Kulturfabrik also invited international artists to paint its exteriors.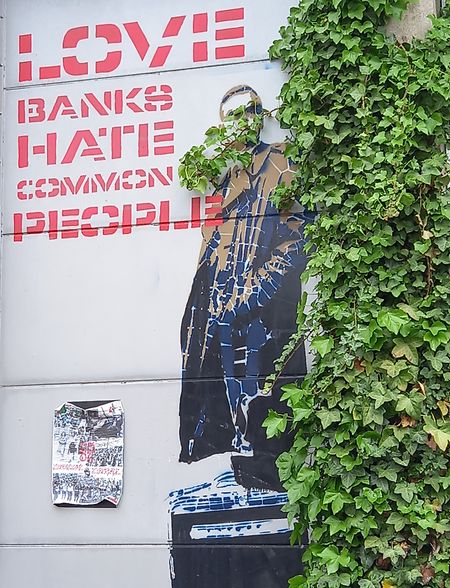 Dott Porka's view of Luxembourg
Photo: Sarita Rao/Asha Muldoon
Dott Porka, an art collective that uses murals, has portrayed Luxembourg in Banksy-style with what appears to be a stencil-sprayed image of a man in dark glasses, wearing a trench coat with a briefcase. Next to it are written the words "Love Banks, Hate Common People". Food for thought, Luxembourg!
Above the entrance to the main hall sits one of the first murals, painted in 2014 by Cheko's Art, founder of Street Art Southern Italy. The work was originally a collage, which you can still see in the splashes of pastel blues, yellows and pinks, interspersed with little triangles of bright pink and yellow. The face overlaid on this background is that of Luxembourgish actor and singer Thierry van Werveke, and his two identical likenesses are done as a negative in black. His face seems much more akin to a mafia boss from Naples. Perhaps the influence of Chekos' Art's southern Italian connections.
A wall on an adjacent building carries a tribute to Polish science fiction writer Stanislav Lem, by graphic designer Sepe and architect Chazme. It depicts a building, refracted, and two figures, coming out of it. Lem was a critic of both capitalism and totalitarian regimes in his works.
Drug rehab
Two works have as much symbolic reference as they are visually gratifying. The first, by Valencian artist Julieta XLF, is on the side of the FixerStuff (a drug rehabilitation centre). When she painted it, the building was not in use for that purpose, but she knew about the project and was inspired by it. The mural shows a girl flanked by an affectionate phoenix whose wings turn into the night sky. Below are two white horses and at the sides stand giant red poppies and a bird in a colourful tree with pink leaves. Vivid and bright, the poppies refer to opium, and the slang term "horse" to heroine. The phoenix symbolises rebirth and hope.
Helen Bur also painted her mural in 2018, hidden from the main road, close to an old people's home and a primary school. Entitled "Living together" it shows four people working in what seems to be a kitchen, although the scenes behind them suggest they might be images from different locations, brought together.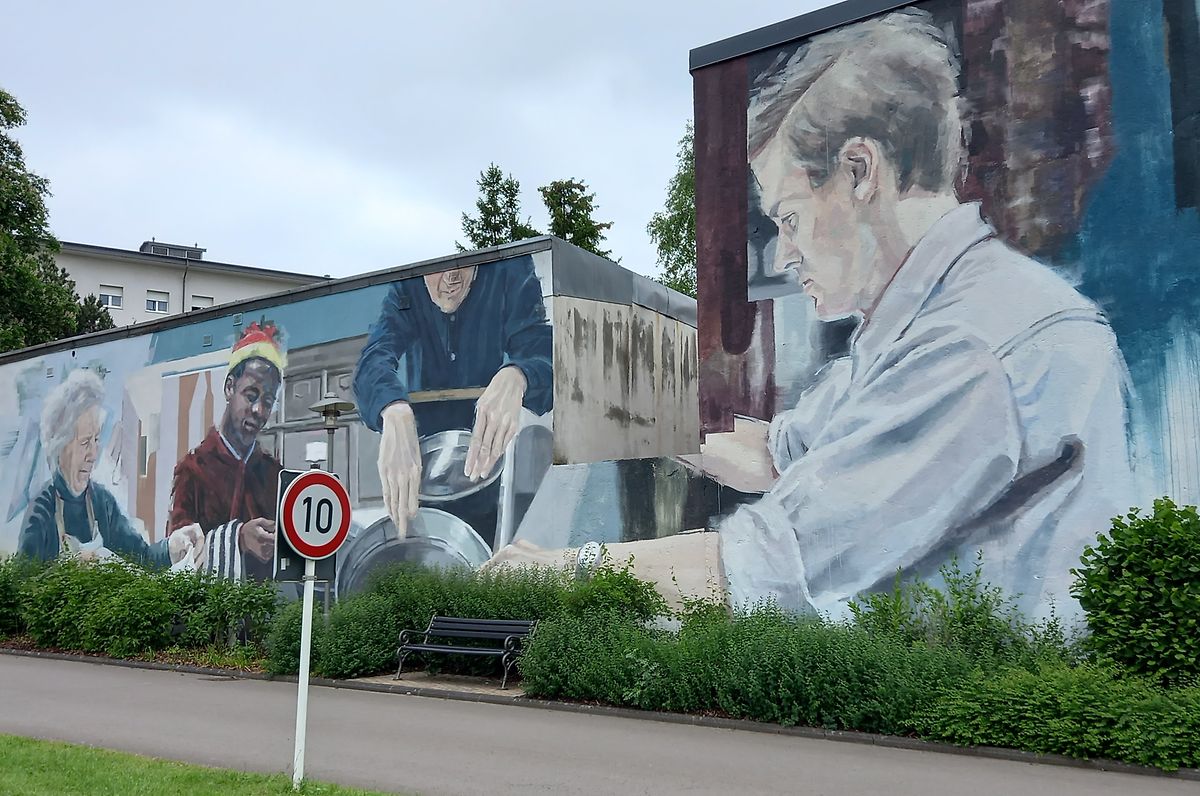 Helen Bur's mural entitled "Living Together"
Photo: Sarita Rao/Asha Muldoon
An old woman folds a table cloth, next to her is an African man in bright clothing. The different ages, genders and races provide a hopeful message that the people of Esch can live together regardless of such differences. The building itself is an awkward shape and the tour guide explains that the final version is different from the planned one. Bur used rollers and brushes to create an oil painting style on a grand scale and the work is stands out among the others.
Around the corner, on the wall of a school and in front of a basketball court, is a striking blue and white mural by local artist Lisa Junius. The dark blue background is covered in flowers and birds, stretching out into the sky from the hands of a kneeling girl with flowing hair.
Ipso Facto by Eric Mangen
Photo: Sarita Rao/Asha Muldoon
Nearby, German artist Pixeljuice has decorated a primary school with creatures such as an eight-legged cat and a legless flamingo. Perhaps a nod to Alice's Adventures in Wonderland and a child's imagination?
Getting ready for Esch 2022
The tour then heads into town showing works that were clearly designed for Esch 2022. Spanish group Boa Mistura worked with local CIGL Esch to decorate the front of the bus station with a colourful fresco reading Vers la terre de pourquoi (towards the land of why), a nod to Luxembourg poet Jean Portante.
The youth hostel arising above the station complex, is crowned with a mural by Italian artist Gola Hundun, with luscious leaves and flowers, entitled "Intimate Jungle". A reminder that Esch's large, leafy city park lies just across the railway tracks.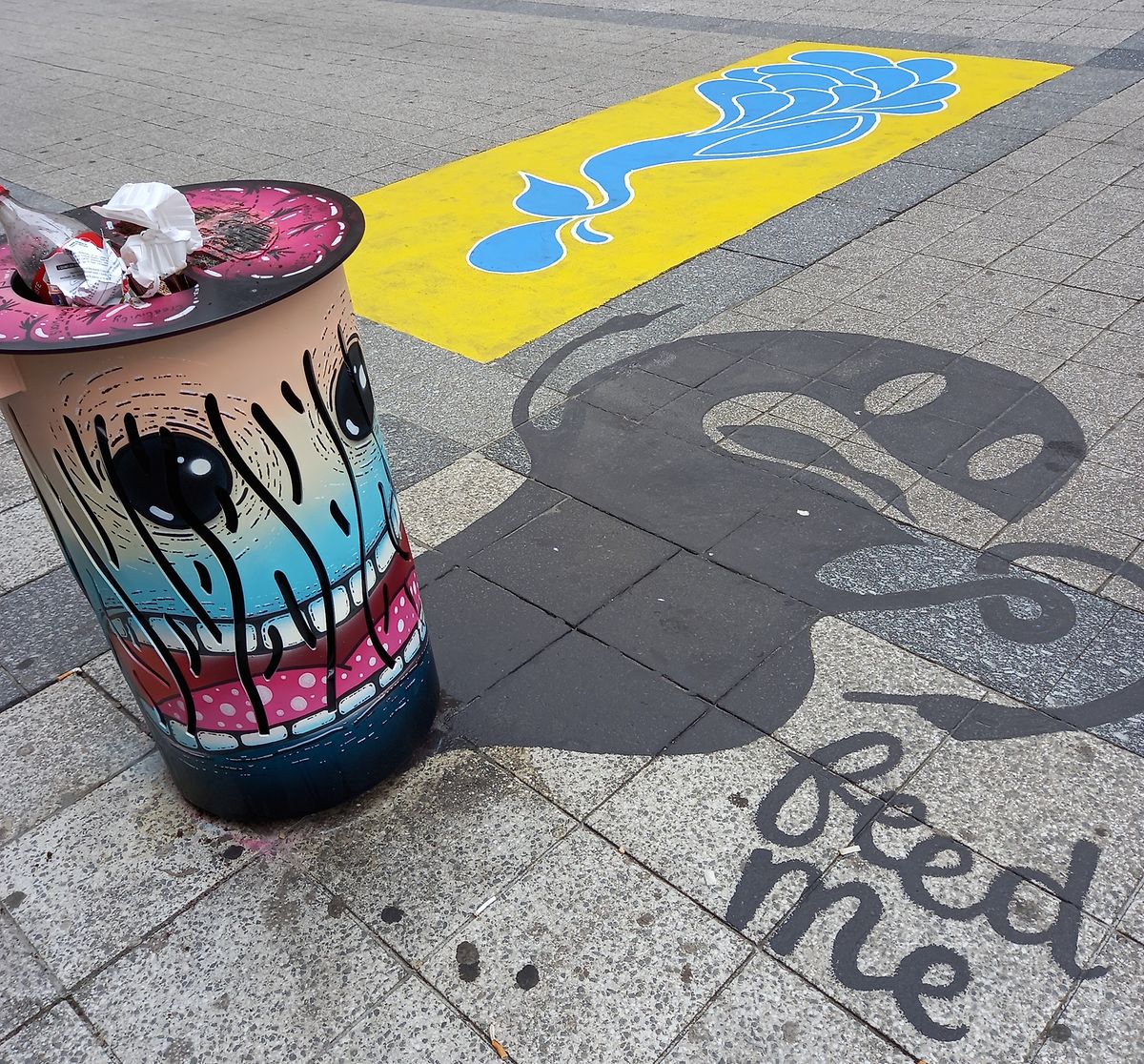 Latest additions to Rue d'Alzette for Esch 2022
Photo: Sarita Rao/Asha Muldoon
Looking up is a theme on the main shopping drag of Rue d'Alzette. Paintings on the ground link interactively to your smartphone and encourage you to look up at the various art nouveau and art deco buildings that line the street, providing more information on the facades and architects. Even the waste bins have been decorated to create hungry little monsters complete with shadows reminding you to feed them with your trash.
Kulturfabrik is running a number of tours, talks and workshops over the summer months on urban art in Esch, and you can find out more here. Booking on a tour is mandatory because of the pandemic.
---
The Luxembourg Times has a new mobile app, download here! Get the Luxembourg Times delivered to your inbox twice a day. Sign up for your free newsletters here.
---