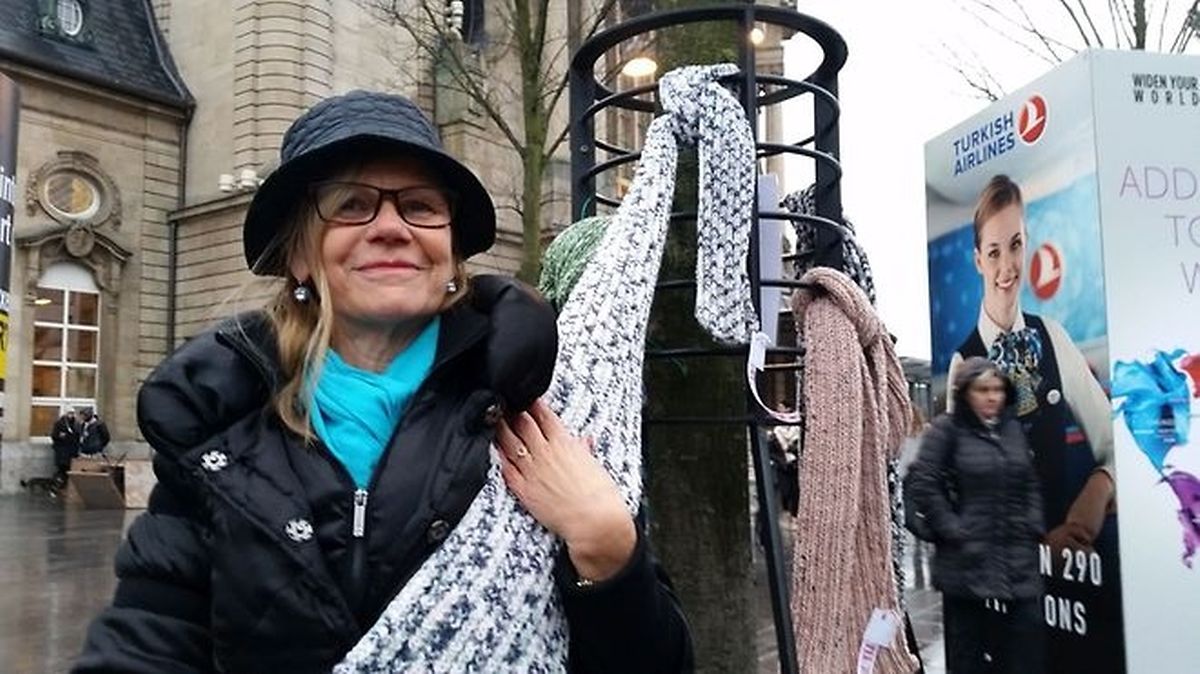 Luxembourg resident Marie-Rose Hary (Maurice Fick)
"I'm not lost, if you're cold take me!", reads a small label floating in the icy wind at Luxembourg's central station.
Whoever is cold can take one of the scarves or hats attached to the trees by Marie-Rose Hary, who always thinks about the less fortunate. Through her gesture, she wants to start a chain of sharing.
Bag full of scarves and matching hats in hand, she wades into the crowd of rushing travellers and the station's homeless to discretely hang presents on the trees.
These are accessories made of wool, hand-knitted by Mary-Rose Hary, and made 'with love', which she says is the key ingredient of her unique initiative.
Marie-Rose is always ready to write a new chapter of generosity and solidarity in a city where "no one pays attention to what's going on around them anymore".
She got the idea to knit scarves and hats during her "long illness" which kept her away from many activities during the year.

She would like to "create a chain", to inspire other people to "knit or rummage through their wardrobes" and donate.

For her, "nobody should be hungry, nor cold", especially in Luxembourg.
As soon as they are hung up, the scarves get the attention of a Bulgarian tourist not properly dressed for the cold weather. Straight away Marie-Rose offers her a scarf and hat - the result of 10 hours of work.

The smile and happiness of her guest is Marie-Rose's reward.
Very quickly, she learns that the demand at the station is much higher than what she can offer. It confirms the need to continue this initiative in Luxembourg.
Read the original article in French and watch a video with Marie-Rose Hary on Luxemburger Wort.
(Translated from French by Roxana Mironescu)