Miss Fontaine, played by Magaly Teixeira, argues with basement-bound censor, played by Max Thommes, about what is graphic pornography and what is art
Luxembourgish director Anne Simon's star continues to rise with her latest production, The Censor, on stage at Mamer's Kinneksbond.
The audience is seated around an eye-level square stage, and watches the interplay unfurl as a female film maker and a ratings censor argue about what is graphic pornography and what is art.
Miss Fontaine, played by Magaly Teixeira, attempts to convince the basement-bound censor, played by Max Thommes, to see past the graphic sex scenes in her film which she says is a story of love, and the rise and decline of a heterosexual relationship from courtship to eventual separation. She says it is told using the nuances of the language of sex – the only true language, according to Fontaine.
Along the way she challenges an established structure that feeds on taboos, guilt and shame, and the repressive regulations including censorship, that it relies upon. We also discover the censor's life, his unsatisfactory marriage, and his own secret fantasies – and let's be honest, spending your days in a dark basement categorising and timecoding unacceptable images is not a normal day job.
It's not all drama, although Teixeira and Thommes move about the stage and perform very convincing mimics of physical sexual acts, and the dialogue is a fast repartee with lots of dark humour. These are intelligent people, and the audience is left wondering how they ended up making or watching pornography for a living.
"In yer face" or "experimental" theatre?
Anthony Neilson's 1997 parable aimed to challenge the century old systems and narratives and was perhaps ahead of its time, because today, whilst we are exposing these patriarchal power structures, we have made freedom of expression and regulation more complex.
Accused of producing "in yer face" theatre, Neilsen at the time said he did not intend to repel the audience but to tap into their instinctive rather than cerebral morality. Her preferred the term "experimental" theatre, although it is graphic in nature and there is a shock at the end which validates its 16 years+ age rating.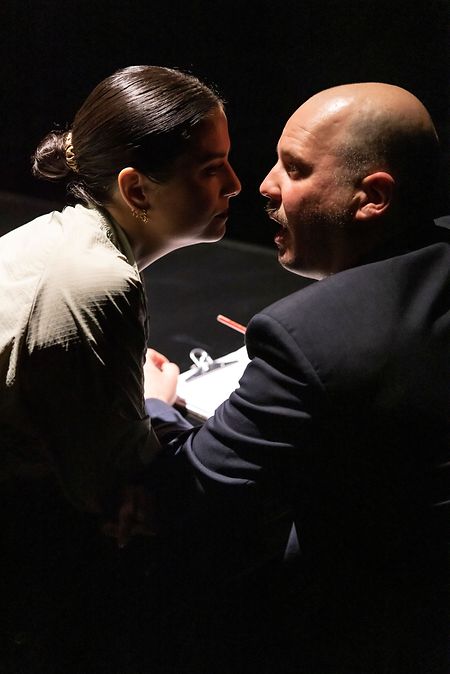 Actors Teixeira and Thommes have on-stage chemistry essential for this production to be convincing
Bohumil Kostohryz
Simon says in the programme that "The Censor reignited my fascination with the clarity displayed by the playwrights of the 1990s movement in portraying the dissociation and inherent impossibility of human closeness, brutally felt by Generation X and beyond."
She highlights that the pressure to conform by repressing the body and touch, together with the social media age of exhibitionism and constant self-expression, create a barrier to genuine connection. "Yet, in the end, isn't it true that our fundamental longing is to be desired, understood, and loved?"
I am not sure Neilson achieves the right balance however. We know far more about the censor – his childhood, marriage, and repressed desires – than we do about the female film maker, who appears more an enabler by the end of the play.
On-stage chemistry
The Censor does achieve its goal of keeping the audience free from having to make moral judgements, and more as voyeurs on sexual freedoms and taboos. I also don't agree with the playwright's view on the sexual life-cycle of a couple, nor that by casting a female as the pornographer, it somehow detracts from the fact the real-life industry is rife with female coercion and many dark sides that break human rights rules.
What you do get is an intense and a little shocking 60 minutes, with incredible chemistry between the two actors Teixeira and Thommes. You see both sides of censorship, and find yourself agreeing with both, and ultimately wonder at the sexual liberation on stage, and the final return of the censor to the moral norms he lived within before.
As ever, Simon challenges her audience, as she did in her version of the cross-dressing, reluctant king, Richard II. What you will take home will depend on how you digest it, but it's certainly food for thought on sexual taboos and society's two-faced morality on sexual expression.
You can catch The Censor on 23 and 24 May at 20.00 at Kinneksbond Cultural Centre at Mamer.
---
The Luxembourg Times has a new mobile app, download here! Get the Luxembourg Times delivered to your inbox twice a day. Sign up for your free newsletters here.