Join the Nowruz New Year celebrations
Join the Nowruz New Year celebrations
Find out how Azerbaijanis, Kazakhs, Afghans, Iranians and many other nationalities living in Luxembourg celebrate Nowruz and join in the planned festivities
Novruz, Nowruz, Nooruz, Navruz, NoRooz, Nevruz and Nauyrz is an ancient New Year tradition, celebrated by many countries along the former Silk Road
Mark your calendars, as 21 March is Nowruz, also known as the festival of fire. Find out too, how you can join these New Year the celebrations.
Zoroastrian origins
This celebration for the New Year, on and around the spring equinox, dates to the 6th century BCE.
Known as Novruz, Nowruz, Nooruz, Navruz, NoRooz, Nevruz and Nauryz, meaning new day in Persian, it is mainly celebrated in countries along the Silk Road such as Afghanistan, Azerbaijan, Iran, Iraq, Kyrgyzstan, Kazakhstan, Kurdistan, Tajikistan, Turkmenistan, Turkey, and Uzbekistan.
Its origins lie in Mithraism and Zoroastrianism and it marks the return of spring, the triumph of good over evil and joy over sorrow. The date is calculated using astronomical practises based on the solar calendar and was recognised in 2009 as a UN Intangible Cultural Heritage (like the Echternach Sprangpressessioun) and the date 21 March assigned to it internationally, although different cultures start their celebrations some weeks before.
Varying customs
Customs vary but most include symbolic acts relating the to the four elements of fire, water, wind and earth. Leaping over fires or streams is a common practice as is filling household vessels with water in the hope that this will bring abundance. It is also a time that families get together, visit cemeteries, light candles and leave offerings.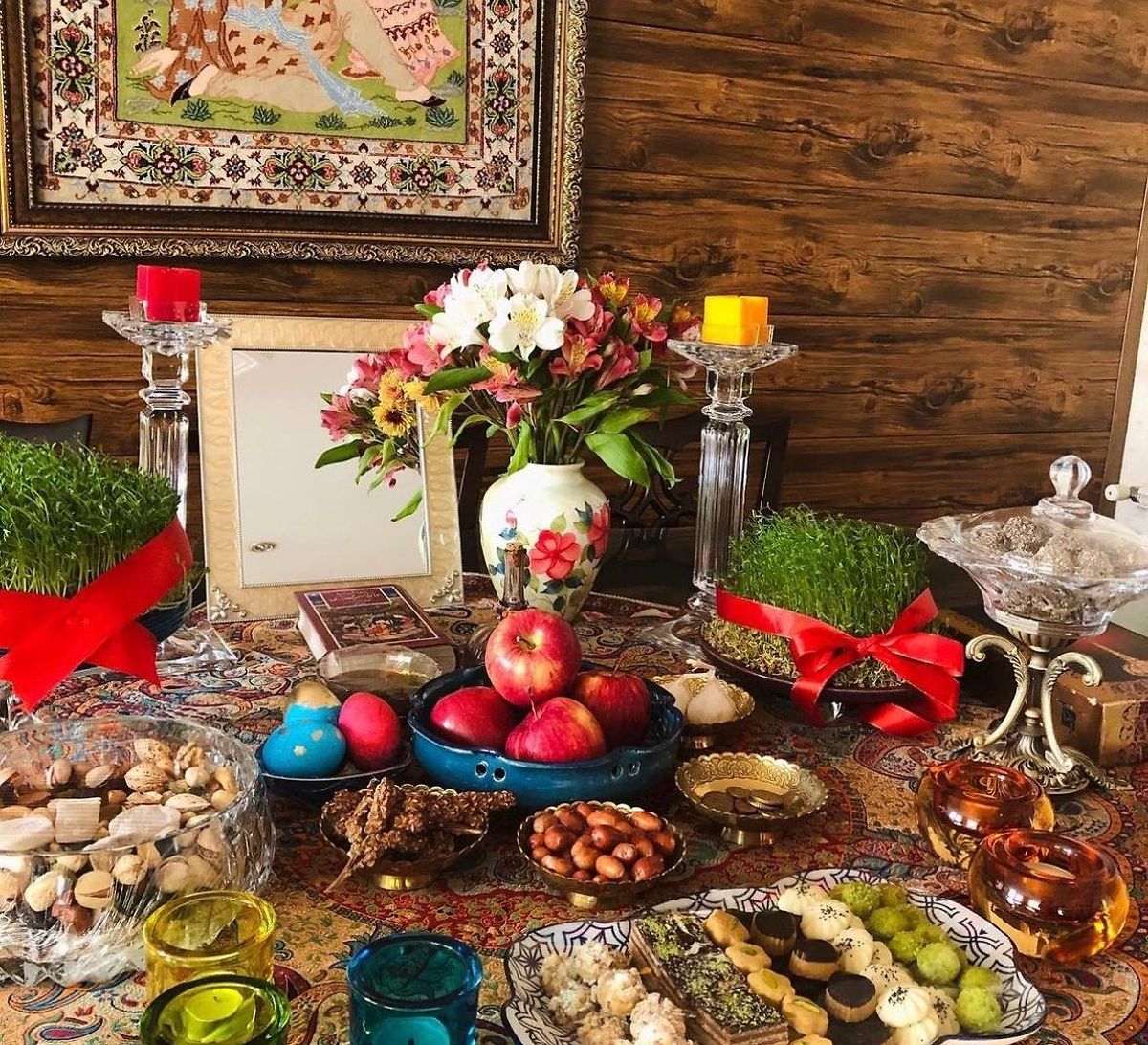 Haft Sin, the table set with symbols of the NoRooz celebration in Iran
Photo: Iranian Students Association of Luxembourg
On the day itself, in addition to traditional celebrations, there is a gift exchange, where children are given small toys or money, and it is a chance for the family to share a symbolic meal, for instance fish with vegetables and rice. Often communities will get together for a feast and dishes will be made using local fruit, eggs, and nuts.
Poetry reading is also a popular feature of Nowruz celebrations, with specific poems written and recited. There is also traditional music, song and dances, plus storytelling.
How are communities in Luxembourg celebrating?
Kazakh community
It is the main and oldest celebration in Kazakhstan, according to Nurgul Tursin, a Kazakh national living in Luxembourg: "It corresponds with the nomadic way of life and symbolises the start of spring. People follow the cycle of nature as a way of saying new life starts after a long winter."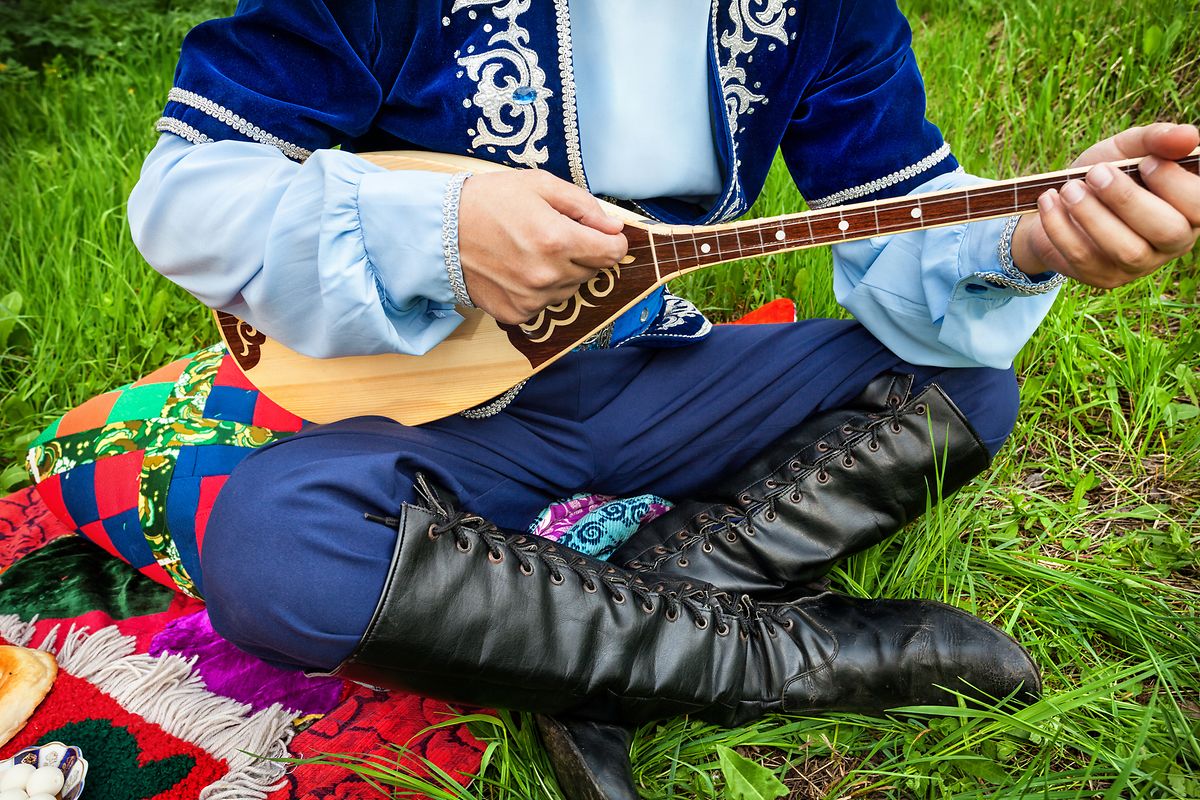 Dombra, a traditional stringed instrument from Kazakhstan, which will be played at the Philharmonie concert Welcome Spring!
Photo: Shutterstock
For the Kazakh community it is a time to visit friends and relatives and prepare a special dish called Nquryz Kozhe, white in colour with seven ingredients , including milk. "It's celebrated by all ethnicities in Kazakhstan, and unites people, teaching tolerance and gratitude."
During Soviet rule, Nauryz was forbidden in many countries that were formally part of the USSR: "I didn't know about it, but when we got independence, the power of this festivity returned in the 1990s. It was like we were waiting for it," Tursin said.
Kazakhs are known for being one of the first individuals to domesticate horses, and the country has a long history of equine knowledge. Nowruz festivities include lots of horse-related activities such as racing, and Kokpar, from which the game of horse polo is thought to originate.
"There is a lot of traditional music, poetry competitions, singing. We raise a yurt in the square to accommodate all of this, and the people and food," Tursin added.
The Kazakhstan-Luxembourg Coopération asbl (KazLuxC) has organised a Welcome Spring! event at the Philharmonie on 22 March, with musicians from Kazakhstan performing traditional music, dance and songs. The Dombra is a stringed instrument used to express and communicate. An even older instrument, the Kobyz, emits moody sounds "that tell of legends and wisdom".
Kazakhs start celebrating on 21 March and into the next day. In addition to the concert, the musicians will perform at Cloche d'Or on 21, 23 and 24 March, where there will also be Afghan food supplied by Restaurant Bamyan. On 24 March in the afternoon at 14.00, there will be storytelling via means of traditional musical compositions and a talk on the history of Kazakhstan within the frame of "The Roots" – an artistic and social platform initiated by KazLuxC and supported by the Ministry of Culture of Luxembourg.
Azerbaijani community
The Azerbaijani stand is always popular at the Bazar Internationale. The community celebrates Nowruz between 20-22 March, although festivities begin a month before the actual holiday, says Kazakh national Elmira Bayramova.
"On the four Tuesdays before Nowruz we celebrate the four elements – water, fire, wind and soil," she said. "These Tuesdays, called Charshanba, symbolise the awakening of nature and a time of rebirth. Before the main holiday, we clean houses, parks, and streets, to greet spring properly. During Charshanba, people make small bonfires and jump over them. Every yard, every neighbourhood, has its own bonfire, and people gather in the evening. It symbolises burning diseases and cleansing the aura."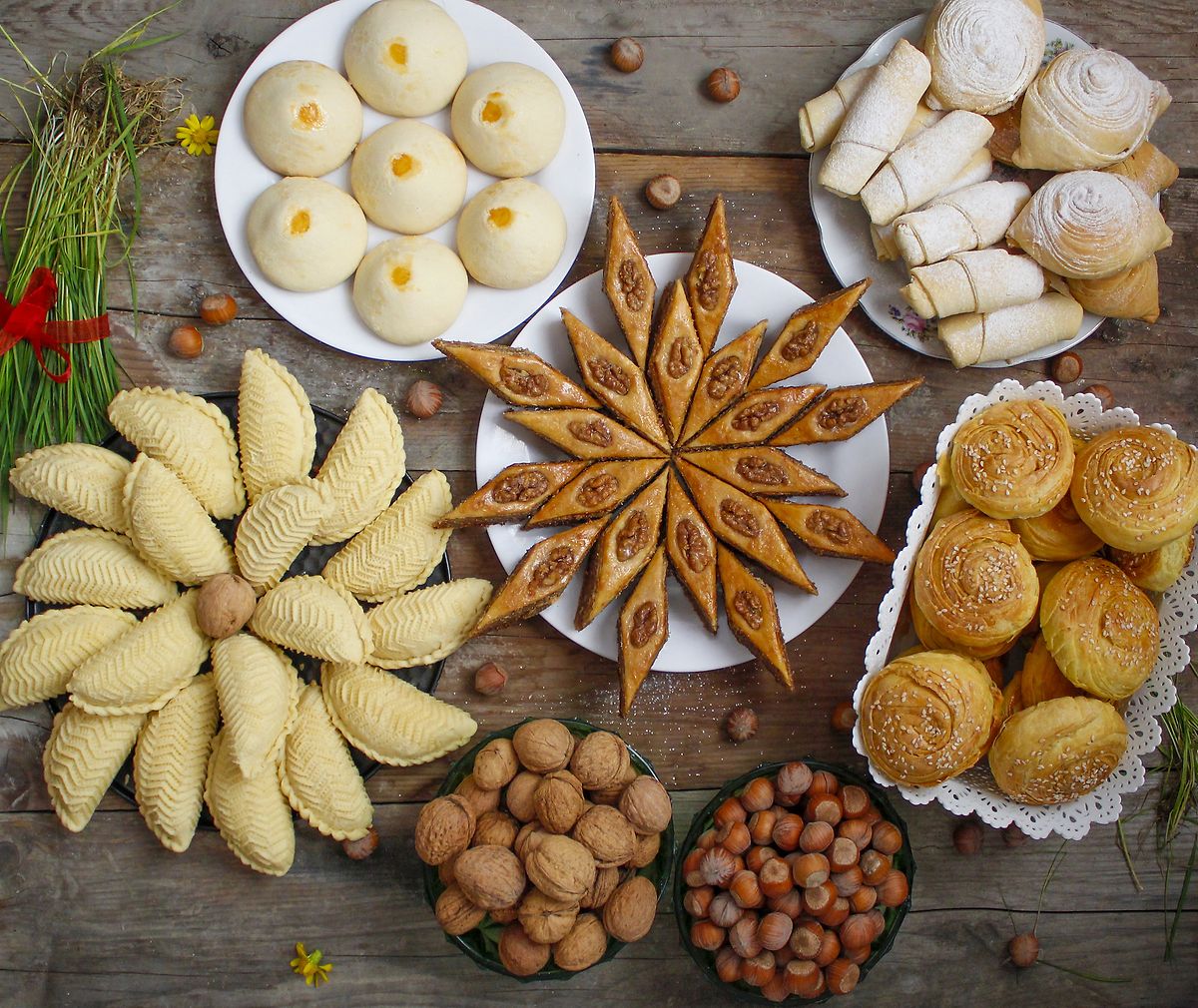 Traditional Azerbaijani pastries served for Nowruz
Photo: Shutterstock
Bayramova says that Nowruz is a holiday full of symbolism and magic: "People grow green shoots from wheat seeds – Samani – as a symbol of wealth and prosperity. We place them in the middle of a large silver tray decorated with candles, sweets, dyed eggs, and national pastries such as Shakarbura, a symbol of the moon, Pachlava, a symbol of the stars, and Gogal, a symbol of the sun."
Each region of Azerbaijan has specific traditions, dishes and pastries. Bayramova comes from an area of Georgia with mostly Azerbaijan residents. "My grandma would make cotton candles for each member of her family. Another local tradition is papagatdi, where children knock on neighbours' doors and leave behind their hats, secretly waiting for candies or nuts."
Celebrations in the country last a week and many Iranian tourists attend, says Bayramova. Fortune tellers, singing and dancing, fill the streets, and two characters – Kosa and Kechel, tell stories and jokes, and play games with children. In addition to horse-racing, there are rope-walking and egg-cracking competitions.
Iranian community
It is NoRooz to Iranians living in Luxembourg, or in Farsi نوروز. Of Iranian descent and living in Luxembourg, Neda Mosharaf's family keep the tradition every year by growing Sabzeh three weeks before, and continue with Charharshanbe Suri (meaning the scarlet Wednesday in Persian), a small fire or candle lit at home which people jump over. On the eve of NoRooz "the family eat together and read the poetry of Hafez Shirazi or The Book of Rumi and listen to our grandparents' and parents' stories. NoRooz continues for 14 days. On the last day, time is spent in nature having a family picnic, known as Sizdah Bedar."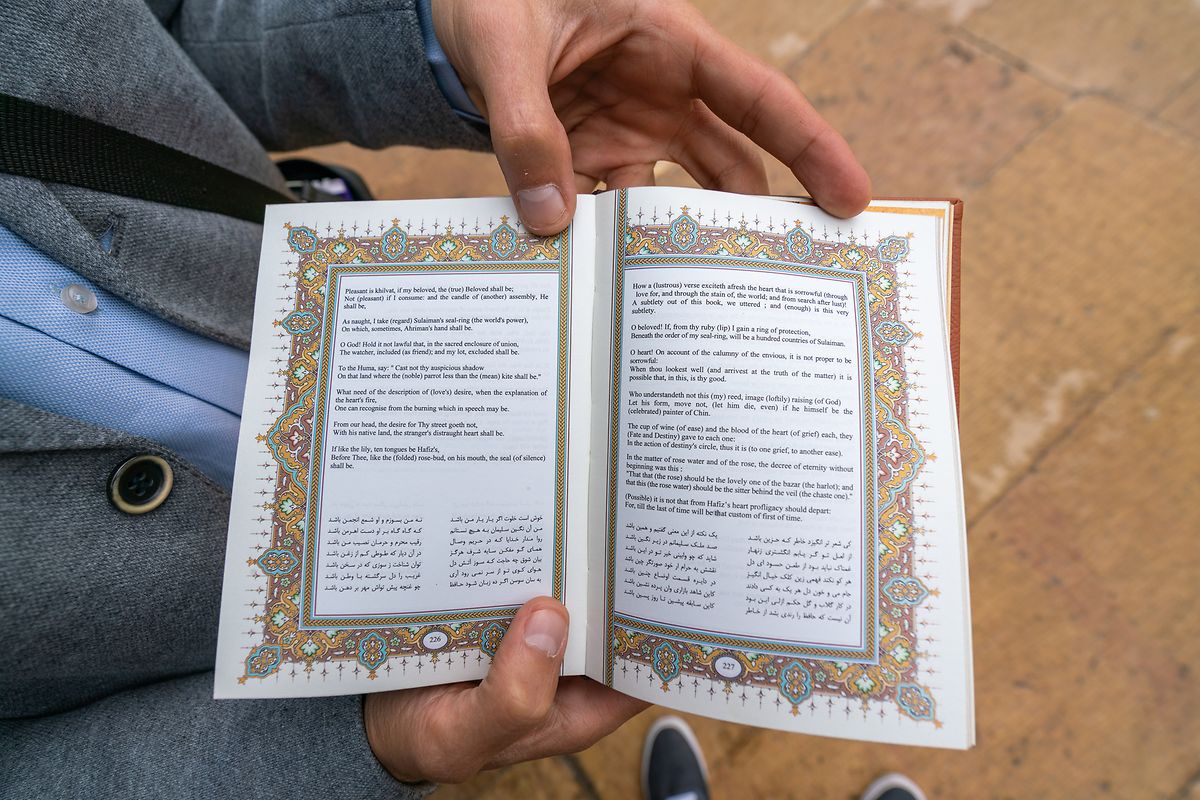 14th century Persian poet, Hafez Shiraz, whose poetry is read during family celebrations
Photo: Shutterstock
"I am happy that I have my family living in Europe and close to me. It's less about a single day, and more a general celebration to wipe away dust, grime, and sadness of the old, in order to start anew. It's about closing the door on one chapter and turning the page to the next one with excitement. It's about the endless possibilities that come with a clean slate. The hope of being able to start anew, and better," says Mosharaf.
As with Azerbaijan, Iranians also have two characters associated with the celebration – Amu Norooz (Norooz uncle in Persian) and Haji Firooz. The former appears every year, a few weeks before spring with his companion, singing and giving gifts to children.
Haft Sin is the set up on the table before the start of NoRooz. Seven items, all beginning with "s" are of particular significance.
Sabzeh or sprouting greens, is a symbol of rebirth and renewal in nature
Samanu, a wheat pudding represents fertility and sweetness in life
Senjed, or dried berries for love and affection
Serkeh, vinegar, symbolises patience and age
Seeb, an apple is for health and beauty
Seer, garlic, is for good health
Somaq, a crushed spice of berries symbolises the sunrise.
A mirror is often placed on the table to symbolise self-reflection, and goldfish in a bowl of water to represent movement and life. Candles bring light, and painted eggs, an emblem of fertility and prosperity.
"Bonfires are lit to keep the sun alive until the early morning. As we jump over them, we sing zardi-ye man az toh, sorkhi-ye toh az man, which literally translates into 'my yellow is yours, your red is mine' and is a purification rite. This means you want the fire to take your paleness, sickness, and problems, and give you warmth and energy," explains Mosharaf.
Afghan community
The Afghan community would normally "celebrate with a spring sports tournament of mostly volleyball, but also indoor football. Also people from all around Afghanistan go north to the province of Mazar e Sharif when it's the season of red flowers all over the mountains," says Jawid Modasir, who set up Luxembourg's first Afghan restaurant in the city.
Like their Iranian neighbours, Afghans also prepare a family Haft Sin table with seven symbols of spring: "Haft means seven and Sin means S."
This year, Afghans will be joining the Kazakhstan-Luxembourg Cooperation in their celebrations at Cloche d'Or and at the Philharmonie.
This article was first published on 9 March 2023.
---
The Luxembourg Times has a new mobile app, download here! Get the Luxembourg Times delivered to your inbox twice a day. Sign up for your free newsletters here.
---