Hess portrays the female stereotypes
A double bill from two Luxembourgish creators and performers has viewers contemplating what it means to be a woman, how far female stereotypes dominate our screens and why the ticking biological clock is a thinly veiled conspiracy of the world versus a woman in her 30s.
First up, Anne-Mareike Hess' Dreamer. It's the second solo from the contemporary dancer, following her previous dance solo Warrior which looked at male stereotypes and the archetypal warrior. Dreamer dives into femininity and the exploration of female stereotypes.
She "builds a character, that of a dreamer, to explore the vision that society sends back to women and to deconstruct the stereotypes associated with them", the programme states.
Open to audience interpretation
The audience sits on the stage and in the centre is a pile of gauze or netting, strips and fragments in different colours – turquoise, pink, white, and black. The mish mash of fabric starts to pulsate and move. Slowly a hand and an arm appear and eventually Hess' upper half appears.
Do the colours represent the stages in a woman's life? The white for a wedding veil, the black for a widow, the pink for a ballet tutu, and the red that she pulls from her leotard and hurriedly hides, a symbol of menstrual blood?
And that is about as much interpretation as I am willing to give, because the beauty of Hess' choreographed piece is that each member of the audience will see it differently, probably through the lens of their own experiences.
The movement on the stage centres around Hess' slow escape from the bondage of the strips of fabric. Her face is as expressive as her movements, sometimes sad and confused, sometimes joyous. She repeats movements and intertwines them with stereotypical female poses, some sexually evocative. Hess never stops moving and contorts herself into remarkable positions, so the viewer's eye never moves away from her.
The piece is short, intense and immensely physical. If it lasted any longer the audience would be exhausted because it is so emotionally charged.
Serious topic tinged with wit
By contrast, Larisa Faber's piece, stark bollock naked, is a funny yet serious look at the pressures of the biological clock that a women not only puts on herself but that is reinforced by female friends, family, and doctors.
Faber tells a very personal story at lightning speed with incredible honesty. The smugness of the private club of mothers is juxtaposed with the utter isolation of having a termination. Yet the humour is hard and fast, clever but with a simple message about the pressures to conform to a certain female identity.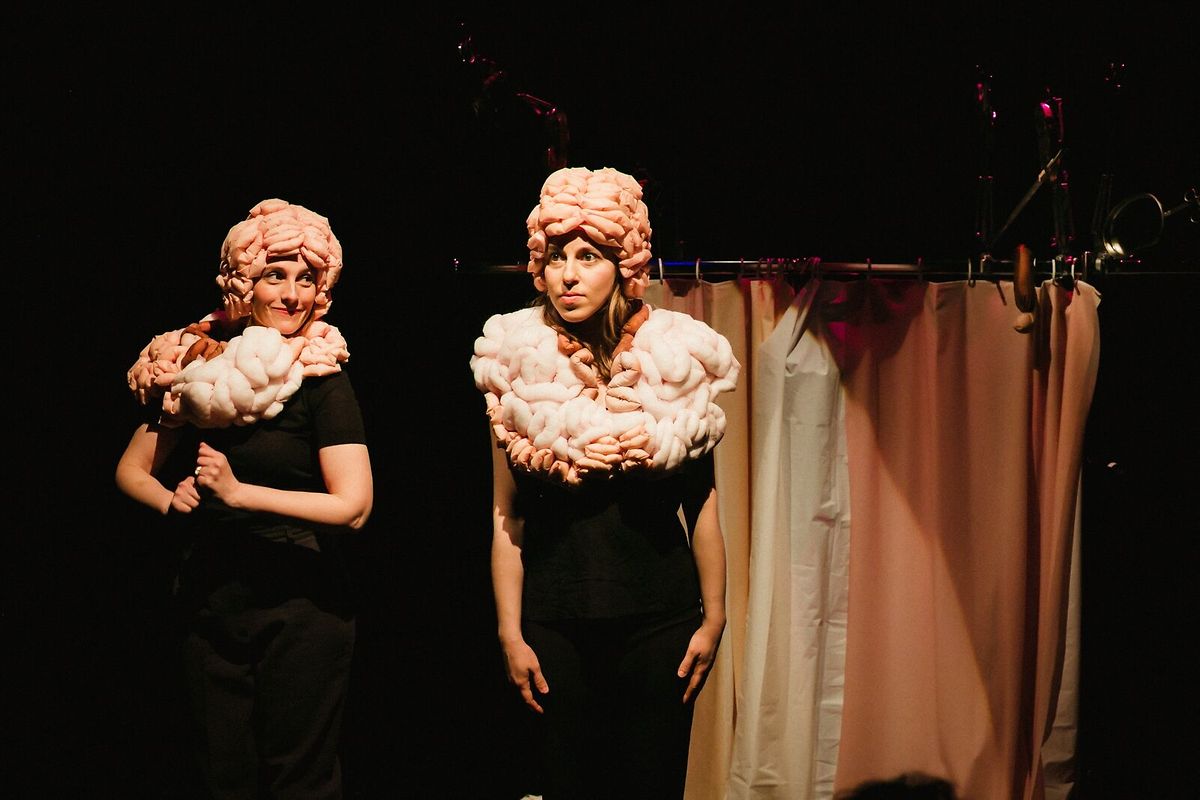 (L-R) Kohn and Faber have the on-stage chemistry for perfect comic timing
Photo: Neimënster
Faber, bravely on stage naked, has images projected on to her so she can recount her tale. Catherine Kontz, who sits behind a hospital screen with curtains open, joins her. Kontz is her accomplice but is also playing the role of doctor, gynaecologist and nurse.
She accompanies Faber drumming or snapping on what look like torture implements but it turns out are used in birth – forceps and surgical scissors. The on-stage chemistry between the two women is palpable and exactly what is needed to deliver their lines with perfect comic timing.
This would be depressing if it wasn't for the comic timing of the duo and Faber's finely honed script, which includes a satirical homage to eggs.
The show combines two very different performances that ultimately show the constraints of modern-day society on women, all in just under two hours. While the majority of the audience were women it was good to see a few men.
Dreamer and stark bollock naked will be performed again at Salle Robert Krieps at Neimënster Cultural Centre on 10 and 11 March.
---
The Luxembourg Times has a new mobile app, download here! Get the Luxembourg Times delivered to your inbox twice a day. Sign up for your free newsletters here.
---