Nomadic model behind success of duo's gallery
Nomadic model behind success of duo's gallery
Using a unique nomadic business model for their gallery Artscape, two Luxembourgish women have been showcasing emerging artists for seven years
Christine Kieffer (left) and Stefanie Zutter founders of Artscape, in front of artist Matthieu Gauthier's piece "bear soul" on display at Bistrot du Sommelier
When Stefanie Zutter and Christine Kieffer met by chance at the Swiss Club in 2015, they both agreed that it was hard to find the variety of artwork they wanted to buy in Luxembourg. "We realised that a lot of collectors in Luxembourg buy their art abroad," says Kieffer.
Together they browsed local galleries, and found the selection of artwork limited. "We did not find great photo exhibitions," says Kieffer, adding: "There are a lot of Luxembourgish professional photographers, but they are quite invisible."
This was one of the reasons to create their own gallery, and in the same year, Artscape was born. For its first exhibition, the gallery chose the work of Finnish-born, Luxembourg-based photographer Miikka Heinonen, twice winner of the Grand Prix Duke Adolphe, and the 2022 winner of the Pierre Werner prize. Since then, it has been staging a photography exhibition every year.
With Kieffer as business manager and Zutter as art historian, they envisaged a first market gallery that puts artists first, exhibiting both monographic and group shows in a variety of spaces without a permanent residence, as Zutter explains: "The nomadic way of working allows us to break down barriers between the gallery and the outside world."
No storefront approach
Unlike many galleries in Luxembourg, Artscape does not have a storefront approach, but instead has been presenting exhibitions at a variety of venues in Luxembourg that are publicly accessible locations, including restaurants, corporate working spaces, business centres, embassies and even law firms. "We look for easily accessible locations, where we can attract the most people to admire the work," says Kieffer.
Zutter highlights that since the pandemic, people are refraining from attending public events, and niche cultural ones have seen a drop in attendance of almost 50%. She admits that people will still go to big events like Art Week, but "they don't necessarily engage very strongly with what they see."
From the outset, Artscape sought to establish strong links with a range of business sectors in Luxembourg rather than opt for a traditional bricks and mortar gallery: "They have their own retail space, but after the opening party, there are not so many people coming to see the exhibitions," says Zutter.
Kieffer explains that they have very strict criteria for light, hanging, and for security, so that art work cannot be touched or stolen. They agree that not every work fits every space, and sculptures are much harder to exhibit in public spaces. "But there is much more freedom, and we are more mobile. With energy prices, it costs a lot of money to power a gallery space. Salaries and rental are expensive in Luxembourg".
Independent of funding
Both Kieffer and Zutter have full-time jobs, and "in that sense our business model is very simple, what comes in, goes out. We are not dependent on anyone's money, and we are not dependent on doing business on the second market, with investor money," says Zutter. She points out that it is interesting to see how galleries are financed. Does the money come from investors, or family, or does the gallery rely on public money? "We are 100% independent, we make our own choices and we do only what's best for the art work and the artist. That sets us apart from a lot of other galleries."
Staging an exhibition is "quite an engagement," says Zutter, adding: "We want to connect the art to audiences, and going into various sectors enables us to acquire new customers. We cross the barrier which people often have of going into galleries, and we connect with business."
The duo is often asked by organisations to curate a specific show. Zutter gives the example of companies who want staff to return to the office after the pandemic. Artscape creates an exhibition, so employees feel more inclined to go to the office.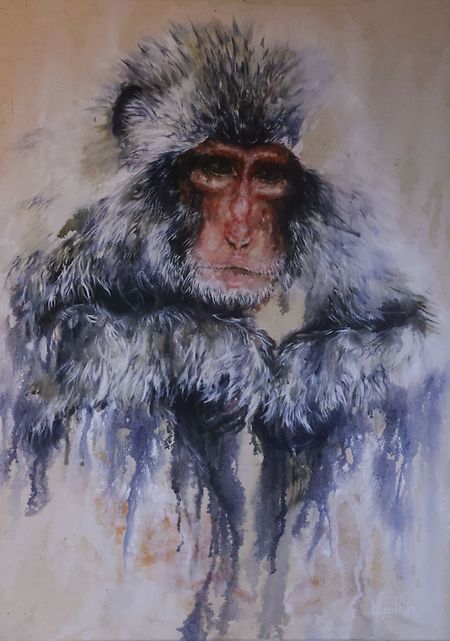 Matthieu Gauthier's "Japanese macaque", part of the gallery's Art Bites exhibition at Bistro du Sommelier
Photo: Anouk Antony
Over the past five years, the gallery has also been introducing emerging artists via a series called Art Bites. Staged at the Bistro du Sommelier at Limpertsberg it allows diners to discover the work of an artist in the timeframe of a meal.
The restaurant is currently exhibiting the second solo show with Artscape of a young French painter, Matthieu Gauthier. "He has been successful as an emerging artist. He's worked a lot on his approach and he is mastering that in a fantastic way. And like most of the work we sell, the prices are still very accessible," says Zutter.
Vintage shop for next art show
Artscape are constantly scouting for talent using a range of channels, from academy open days to art fairs, and even social media. Sometimes an artist sends a portfolio directly. "There are a lot of artists, and no shortage of good work, but we are very strict in terms of our selection criteria – owning their approach, mastering the technique are the basic criteria we apply. This allows us to work with the artist in the longer-term, not just for one show," says Zutter.
The gallery has 12 artists which they follow closely, working to promote them not just through exhibitions but other channels. Works include photography, painting, and other media. An artist needs to fit with the Artscape collective for group shows. "It's important that the works don't kill each other, but they enhance," says Zutter.
They source artwork and connect to artists in Luxembourg, Belgium, Germany, Switzerland and The Netherlands, but also through a niche connection Zutter made when she lived in Australia. "We often introduce artists from Australia to the European market. Luxembourg is on the very periphery of the art market, but to bring an artist to the market can sometimes work better from the periphery than the centre," says Zutter. Artscape has sold works to institutions such as the National Museum of History and Art.
On 25 February, the gallery will be trying a new public space to showcase the works of local and internationally-renowned female artist, Marina WitteMann. The venue will be a vintage furniture shop. "It's quite experimental. We will have one space for just the artworks, and then space where we will blend the artwork with the antique furniture. They sit very well in that environment," says Zutter.
---
The Luxembourg Times has a new mobile app, download here! Get the Luxembourg Times delivered to your inbox twice a day. Sign up for your free newsletters here.
---