Portrait of Adalbert Boros, a famous homeless man who frequented Gare in the 1970s, by local artist and Young Talent award winner, Raphael Tanios
Local artist Raphael Tanios has collaborated with Stëmm vun der Strooss by offering for sale a portrait from his recent Memento exhibition, for which he won the Young Talent 2023 award from the jury of the Cercle Artistique Luxembourg (CAL).
Memento, is a series of 32 oil on canvas portraits, in which Tanios connects the world of art with the world of the homeless, and people affected by precarious living conditions. His portrait of Adalbert (Albert) Boros, attempts to preserve the memory of a well-known homeless man.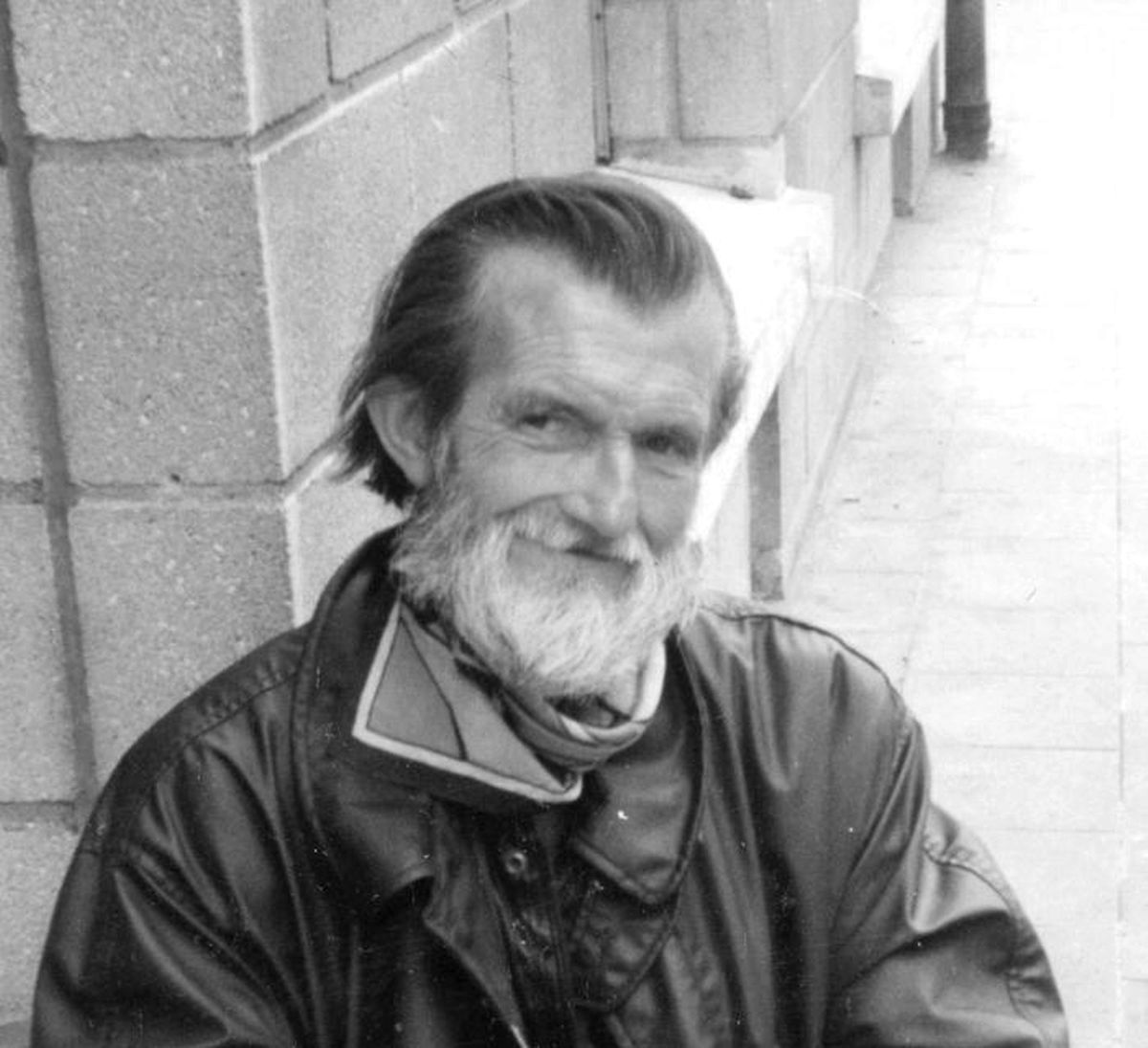 Known as "Boris", Adalbert helped students with maths homework in return for something to eat in the 1970s
Photo: LW Archives
Born in 1931, Boros was a young Hungarian engineer who came to work on the city's famous Grande-Duchesse Charlotte bridge, also known as the red bridge. It was completed in 1966, and urban legend suggests that Boros' wife committed suicide by jumping from "his" bridge. He subsequently withdrew from society and lived on the streets around Gare. Many knew him as Boris, and his skill at maths saw him help students with their homework in return for something to eat. He passed away aged 82 years in Echternach in 2013.
Inspired by the human condition
"My inspiration is the human being and human condition," says Tanios, explaining that he paints what people are going through and how they endure, persist, and build resilience. "At first sight, you may only see broken or hopeless people, but those are the survivors, the people who made it through hard times."
Tanios usually starts with a photo or life model, but the finished product does not always look like the subject. "Paul Klee said that art does not reproduce the visible, art makes visible. I don't have a precise idea what it will look like in the end. I do research and sketches on shapes, colours, and composition, but I don't project or transfer my subject for example with a grid. There is always a transformation, distortion or deformation happening while I work."
For the theme Memento, the 32 oil paintings were created in just a few weeks, an "exhausting but rewarding" process, helped immensely by the support of his wife and fellow artist Diane Demanet.
He says he was surprised to receive the CAL art prize. Not only did his work show a certain degree of skill, but it exhibited a magnitude of research, the jury commented. Soon after this award, he contacted Bob Ritz at Stëmm through a mutual friend to suggest this charitable project.
"Albert's story and urban legend fascinated and inspired me on a human and artistic level. I wanted to touch figuratively the soul in distress and explore its hidden depths. Indeed, my subjects are mainly focused on the human body and the most intimate feelings of being," he says.
The path to resilience
Tanios also draws on his anatomical knowledge to create deformations that sometimes accentuate very crude details. Often facial expression, gestures and body language heighten the expressive distortion of his subjects.
"My aim is not to show or represent weak and broken people, but fighters who are going through or have survived hardship. One of my main themes is resilience, and the path to it," he explains, recollecting that he first got the idea to plunge into Boros' urban legend after working with Nadia Masri on her film A Place to Be.
250 people in reintegration programme
Money raised from the portrait of Boros will support nine employees in the charity's professional reintegration programme. "Many are older and because of their age, lack of qualifications or bad health, have found it difficult to get a job," says Alexandra Oxacelay, Director at Stëmm vun der Strooss.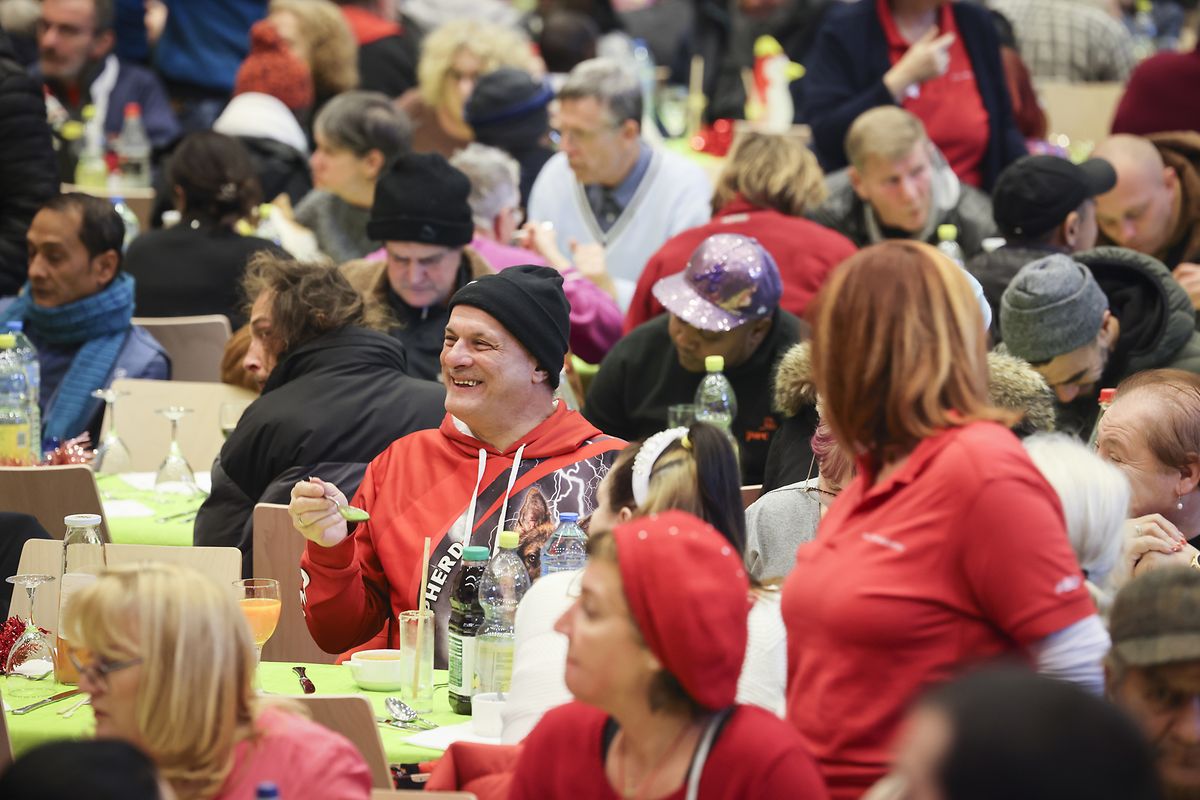 Stemm's three social restaurants are busy as poverty is on the rise in Luxembourg
Photo: Gerry Huberty
Some 250 people work for the charity's reintegration programme. They cook meals, work in the free laundries and wardrobes, and clean 4,000 kits from sports clubs every week. They also help communes to clean green spaces and at Sanem, they sort through and redistribute 140 tonnes of food collected from Auchan which is redistributed via social services like Café Courage, Kontakt 28 and Jugend an Drogenhellef.
Poverty on the rise
A report published in April by the Chambre des Salaries revealed that almost one in seven workers – 13.5% - is at risk of poverty in Luxembourg, putting the country at the bottom of the Eurozone, which has an average risk of 8.9%.
"Poverty is rising like never before, and we need money to fight it and be able to react quickly. It's not normal for a rich country like Luxembourg to have more and more people sleeping on the street," Oxacelay says.
Stëmm serves 500 meals per day at its social restaurants in Hollerich, Esch-sur-Alzette and Ettelbruck. Last year, more than 123,000 meals were served and almost 7,000 people were registered at the charity's eight different structures.
Where to see the painting?
Tanios' painting of Boros will be on exhibition at the Cloche d'Or shopping centre for the month of May. His next exhibition Fuelbox VII will be at on Place du Marché at Remich from 11-28 May. Some artworks on display will also be sold for charity.
---
The Luxembourg Times has a new mobile app, download here! Get the Luxembourg Times delivered to your inbox twice a day. Sign up for your free newsletters here.
---