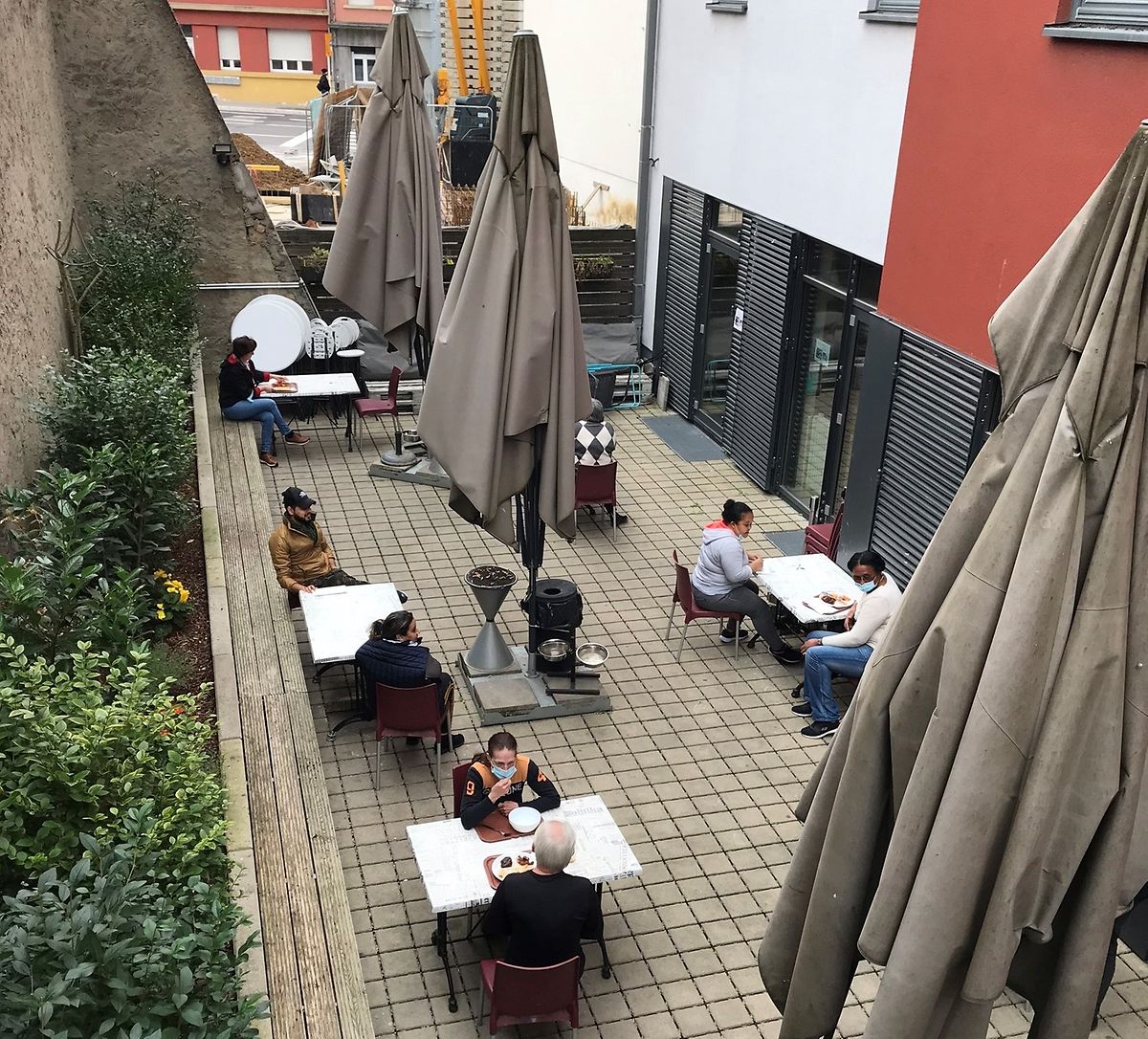 A heated terrace will allow the charity to feed more groups of people under the current pandemic sanitary requirements Photo: Stëmm vun der Strooss
Like any other restaurant, the Stëmm vun der Strooss charity has had to adapt its offering of meals to poor and homeless people - and services such as providing a shower - during the pandemic.
Despite a growing number of people in need of hot meals, it can only accomodate half of the 300 people it could feed before March 2020.
Groups of just 15 people can spend half an hour eating, said the charity's director Alexandra Oxacelay. After that, they must make way for another. Queues for a meal or a shower can take up to 1.5 hours.
The restaurant served almost 9,000 meals in March 2020, when Luxembourg first went into lockdown, dishing up almost 56,000 meals from then until November.
"The health crisis has hit people much harder," said Oxacelay, whose charity helps the long-term unemployed, young people in a difficult spot, the homeless, undocumented migrants and people suffering from mental illness or dependent on drugs, alcohol and medication.
Six have died
The restaurant will now build an outside terrace at a cost of €30,000, which the charity hopes to raise through crowdfunding. To begin with, the terrace will seat groups of 15, doubling the restaurant's capacity.
Oxacelay says the heated and sheltered space will provide more space now, but will also give much-needed additional space in future winters.
"We see new faces and new people every day. Many of the people who came regularly before the lockdown to take a shower, wash their clothes or have some social contact, don't come anymore," said Oxacelay.
"We don't know where they are going, but we know that since lockdown at least six of them have died," she said.
"It's harder too for those seeking help to see a doctor or get new clothes," she explained, adding: "Now they must make an appointment and return the next day ... which doesn't work if they are not in a mental condition to remember or keep these appointments."
Stëmm vun der Strooss is run by people reintegrating into society after a spot of trouble. If they work for the charity, they also receive social help.
It also employs young adults who work 30 hours a week in return for €800 per month. These have usually stopped school or cannot find a job. They can work for the charity for a year.
Doctors also help on a voluntary basis.
More donations
An upside to the pandemic has been that the charity receives plenty of food. So much, that at times its been difficult to store it. "People have become more aware and sensitive to social problems during the pandemic. We've had more donations, which has enabled us to buy trucks and to modernise work spaces. People also call us now if they see someone who might need help."
The charity is constructing new facilities at Sanem that will allow it to increase the volumes of unwanted food it processes from 100 to 500 tons.
A solidarity fridge was opened in front of the Naturwelten shop in Bonnevoie late last year. You can read more about efforts of foodsharing.lu to reduce and re-use household food waste here.
---
The Luxembourg Times has a new LinkedIn page, follow us here! Get the Luxembourg Times delivered to your inbox twice a day. Sign up for your free newsletters here.