9 ways to liven up your Corona Christmas
9 ways to liven up your Corona Christmas
From making cut-out relatives, to a game of telepathy or a family Corona awards ceremony – columnist Sarita Rao has some unusual suggestions for a Covid Christmas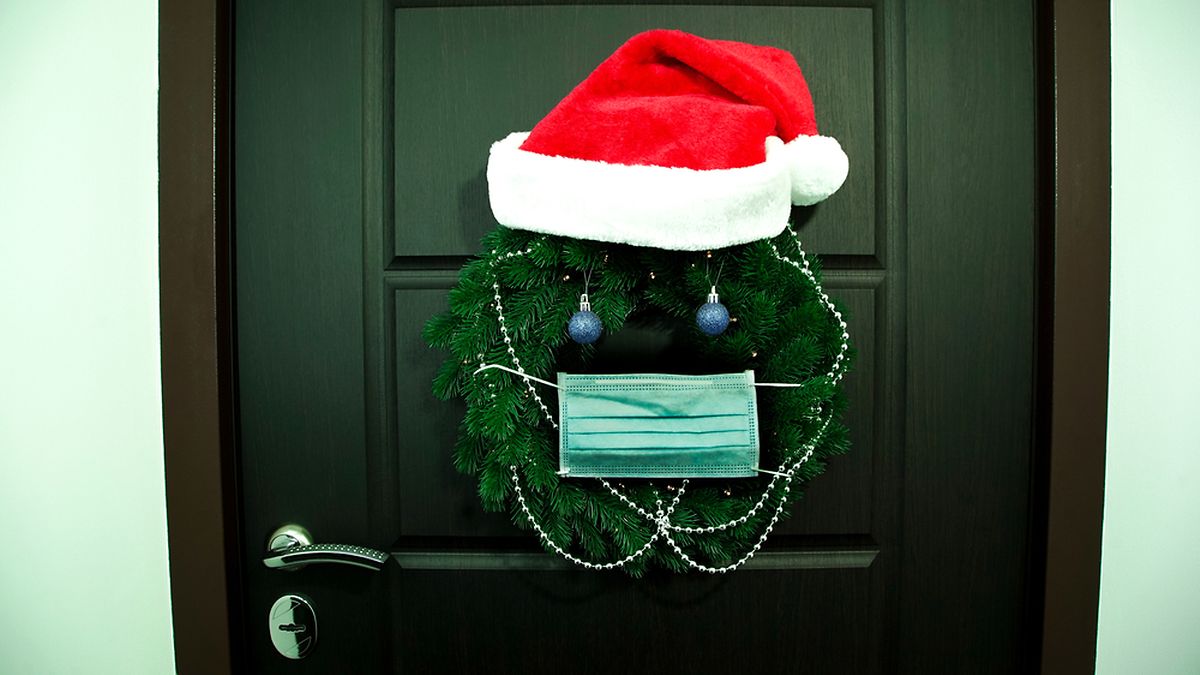 Make a new seasonal door wreath from old (washed) masks, peppered with mini hand sanitizers Photo: Shutterstock
For many of us foreign residents in Luxembourg there'll be no driving home for Christmas (or flying, or hot air ballooning, or sledding – if home is Lapland). The safest option will be to stay Home Alone.
Anticipating a quiet festive holiday as restrictions continue into the New Year, with no Christmas markets and no guests to entertain, here's a few topical, "tongue-in-cheek" suggestions to spruce up your seasonal break.
1. Make cut-out relatives
Yep, if you can't be with loved ones in person, there's no reason you can't make cardboard cut-outs of them which you can strategically place next to the tree or at the dining table.
This should be an inspirational crafting activity, in which the kids get to paint grandma's or auntie's face Picasso-style with plenty of extra eyes and earlobes. Use split pins for additional animation possibilities.
2. Swap Pictionary for telepathy
Your family has been in each other's company relentlessly, so you should be able to read each other's minds. Swap traditional board games like Pictionary for a game of family telepathy, in which you try to guess what your spouse or children are thinking. If you need a bit of help, use charades to act out "I'd rather be down the pub". Remember to wear face masks so that no one cheats by mouthing the words.
Alternatively create your own game of Covid Bingo, in which a full house requires you to have the words and phrases "unprecedented times", "deconfinement", "lockdown", "key workers", "quarantine" and "Covidiot".
3. Create a door wreath from old (clean) masks
Got loads of old cloth masks that are too worn or torn to use? Don't throw them out. You can create a topical festive wreath (wash them first at 90⁰ of course). Dot your mask wreath with small hand sanitizers and throat and nose swabs. Just be aware that this will put off any prospective callers, apart from that one person who thinks you've set up a temporary testing centre.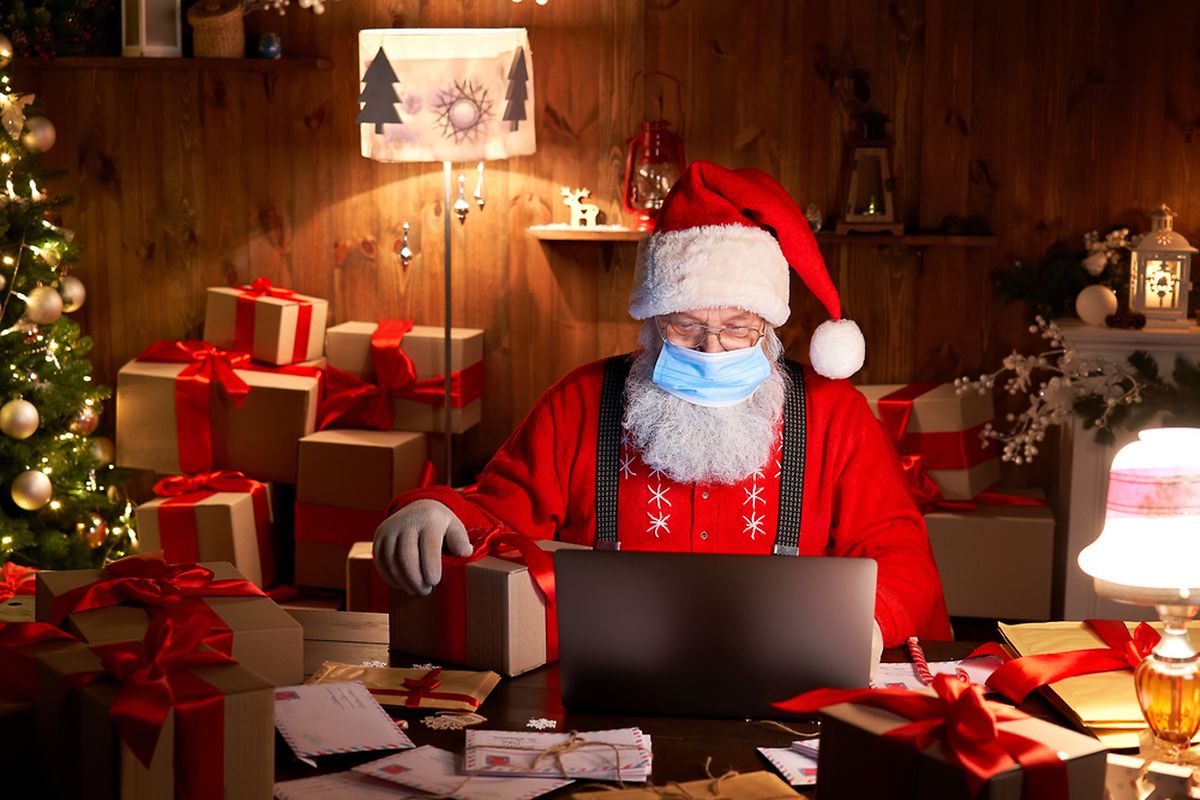 Dress up as Santa and set up Zoom calls entitled "You have one minute to convince me why you shouldn't be on the naughty list" Photo: Shutterstock
4. Recognise your family's efforts in an awards ceremony
Hold a Corona awards ceremony complete with red carpet. Categories can include "person who has taken the most tests", "person who misplaced the most masks", "person who washed their hands the most", and "person who worked the hardest during home-schooling" (the latter can be won by a parent).
Prizes can include a hamper of antibacterial soap, the chance to choose the next Netflix series to binge watch, or a month's supply of face masks (which must be taken from the wreath on the door).
5. Try a Victorian Christmas
Harkening back to pre-Covid times? Why not try a Victorian Christmas where you replace overused gadgets such as mobiles and TVs with reading aloud by the fire, embroidery and carol singing. Those wanting complete Dickens' authenticity should pretend they're spending the week in a Debtor's Prison or the Workhouse.
The latter will solve any need for meal planning (gruel will be the only thing on the menu) and washing (of bodies or clothes). Remember to wear your face mask if the smell gets too bad.
6. Give your Glühwäin an extra kick
Need something a bit stronger than the usual mulled wine concoction you normally sip at the Christmas markets? Liberally pour some 80% proof alcohol sanitiser into your simmering pot of Glühwäin to give it an extra kick. If you don't have it in bottle form, buy alcohol wipes and throw them in with the orange peel.
For that genuine Christmas market feel, grab your mug and stand outside your front door until you and it are freezing.
7. It's not the destination it's the journey
If you feel cheated of the excitement of going somewhere, just pack a few suitcases, jump in the car and drive to Troisvierges. Don't get out at your destination, just drive back again. (If you live in or near Troisvierges, head south to Esch.) When you return home, unpack and settle in. It's optional to pretend you are returning to a different home, just remember to make cut-outs of the people you are visiting (see suggestion 1).
8. A use for the supplies you overstocked during lockdown
Still got a million toilet rolls? If there's no snow, you can shred them and place bits in your garden or on window ledges for that winter look. Alternatively build a giant loo roll man with a carrot nose, or create a dry ski-run from the roof of your house down to street level.
Who needs Lego when you can use old packets of macaroni or spaghetti to build a miniature Eiffel Tower, Statue of Liberty, or better still, an entire dry pasta model of Luxembourg city.
9. Surprise friends with a Zoom call from Santa
We've been relying on technology from Teams to Zoom since the start of the pandemic, so why should Christmas be any different. Rate your friends social media posts of decorated trees and Christmas lights from 1 to 10. Watch the documentary The Social Dilemma and then play spot the fake news, extremist propaganda and psychologically manipulating adverts on your feeds (Facebook, Insta and TikTok will all do).
If you're feeling particularly festive, dress up as Santa and set up Zoom calls with friends entitled "You have 1 minute to convince me why you shouldn't be on the naughty list".
Wishing everyone a safe, healthy and Covid-free Christmas.
---
The Luxembourg Times has a brand-new LinkedIn page, follow us here! Get the Luxembourg Times delivered to your inbox twice a day. Sign up for your free newsletters here.