A year on from Covid
A year on from Covid
We hate our own cooking, have visited every town in Luxembourg, adopted pets, and still haven't cleaned the oven, says columnist Sarita Rao
All roads lead to Vianden, Echternach, Clervaux or a pretty cobblestoned town with a castle or river
If I had told you 13 months ago that you would be wearing a mask whenever you ventured out of the house, you'd probably have laughed in my face. Yet here we are, still in the throes of a world pandemic, with restrictions on what we do and where we go.
We've changed for sure over that year (if not for good), and here's how:
Fed up with our own cooking
We're sick to death of our own cooking. Who can't wait for restaurants to open again? Sympathy for those in the Horesca sector might be the excuse we give our friends, but let's be honest, who longs to eat something they have not cooked, at a table they have not set, and which they will not have to clear? Who doesn't stare blankly into the fridge at all those bio veggies and wish someone else would whip up a culinary delight?
Yes, we all enjoyed trying out new recipes, cooking as a family or as flatmates, experimenting with seasonal produce – six months ago. Now we've tried every recipe known to man with pasta in it, and have repetitive strain injury from loading and unloading the dishwasher ten times a day.
Visited everywhere in Luxembourg
For such a small country, Luxembourg is filled with a surprising amount of historical towns and landscape diversity. Visited them all? Me too. Okay well not every small village, but it can feel like Groundhog Day as you head along the same stretch of road, just a bit further, to visit yet another picturesque cobblestone town with a castle or a river, or both. I'm convinced that all those posts asking if we can go to IKEA or head to Germany to stock up on toilet cleaner is just everyone going a bit stir crazy and needing to set foot in another country.
We'll never do certain chores
We've had more than 365 days since the start of the pandemic to clean our ovens and sort out those cupboards, cellars and sheds full of junk. That's plenty of time to dust off and recycle all those unloved toys, or get a cloth and clean out the kitchen cupboards. But amazingly, we can always find something else to do, like watch paint dry (except if we're too lazy to paint any walls). If the pandemic has taught us anything, it's that there are some tasks that can always wait (possibly forever).
Home is not an office or a classroom
There probably isn't anyone who wishes to get on a packed bus or sit in traffic snaking to work, but commute aside, who isn't fed up of working at the kitchen table, the bedroom dresser or on the sofa?
Boundaries between work and play have been blurred for good, and children now watch videos about how to swim instead of getting in the pool. Lunch means clearing away laptops and school books to get to the dining table.
And whilst rolling out of bed into your office chair makes the commute a matter of minutes, the proximity of work and relaxation isn't great for our mental health. We are all longing for our home to be just that.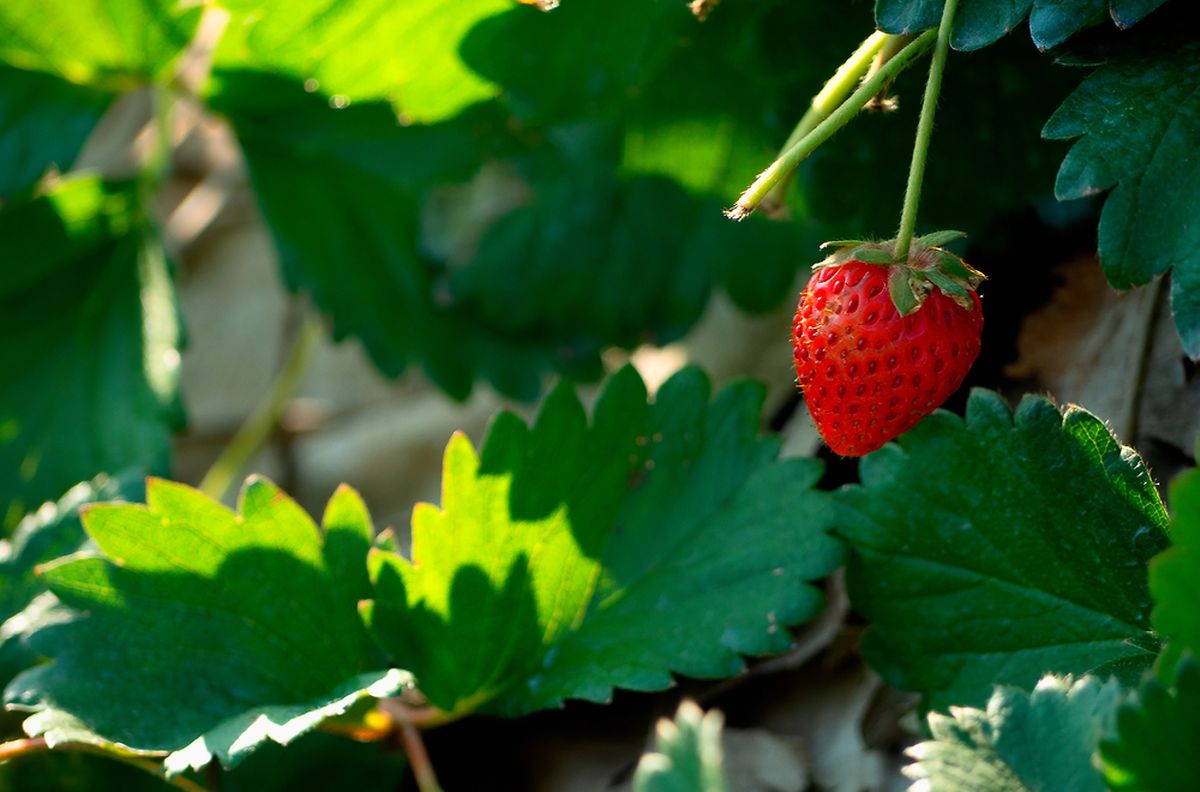 Lost enthusiasm for growing our own, when all that effort in lockdown yielded seven strawberries
Shutterstock
Adopted a pet
Well maybe it's just me and most of my friends, but the pandemic does seem to have caused a sharp rise in pet adoption. In our case two kittens, who have brought joy and laughter (and a seriously steep learning curve on how to get them into transport boxes). This past year, many of us have realised that creature comforts can make all the difference, and that having a four-legged friend to walk with, cuddle, and talk to, can do wonders for our sanity.
Forgotten how to hold a proper conversation
Yep, Zoom calls aside, we've forgotten how to have normal conversations. Stuck inside our little work, family, and friend bubbles, we've learned how to communicate without actually really having to communicate. "Grunt" means pass me the TV remote, "Can you…." is shorthand for "set the table/take out the recycling/clean your bedroom".
We can finish each other's sentences, and even a look is sometimes enough to say "shouldn't you be doing your homework rather than watching YouTube?" When we do suddenly meet someone we haven't seen in months, we're stuck for what to talk about. Inevitably the conversation turns to all things pandemic from tests and vaccines, to home schooling or how fed up we are with Covid. Which brings me on to the next point…
Divided between those who never stop complaining and those who are annoyingly upbeat
That's right. A year on, and we've either become one of those people who like to moan about Covid and how we can't have any holidays, haven't seen our second cousin, twice removed, for 18 months, and hate wearing masks.
Or, we are one of those people who post pictures of every tree we passed on our daily walk, feel overjoyed that lockdown led us to bake our own bread, and have decided to take all our holidays in a Luxembourgish campsite from now to eternity.
Random about Covid rules
No one wants to admit they have broken any rules, but let's be honest, we've all bent them a bit. Met with more than one friend (not in the same family) - yep. Gone on a walk with eleven people – yep. It's not like we've met 100 other people in the forest for an impromptu party (well not most of us over 30 years), but we've interpreted the word "bubble" loosely enough to include quite a few friends. We don't want to be seeing the same people over and over again. Oh, and who is still singing Happy Birthday when they wash their hands?
Less enthusiastic about our gardens
Who did not become an amateur market gardener in those first sunny months of lockdown? Who didn't lovingly tend tomato plants and strawberry patches? And who wasn't hugely disappointed that all that hard work yielded seven strawberries, ten tomatoes and one very tiny pepper (in my case)? So hands up, who, other than those ardent gardeners amongst us, rushed out this month to dig up the soil or start sowing seeds? Yep, thought so.
Still missing loved ones (and lost ones)
A year on, and many of us still haven't seen our parents or grown up children, our brothers, sisters or grandparents. Some of us have lost family members and not been able to attend funerals or services. As the vaccination rolls out, we all know that the end is in sight, but we're impatient to be wrapping our arms around the family and friends we haven't seen for so long.
---
The Luxembourg Times has a new LinkedIn page, follow us here! Get the Luxembourg Times delivered to your inbox twice a day. Sign up for your free newsletters here.
---