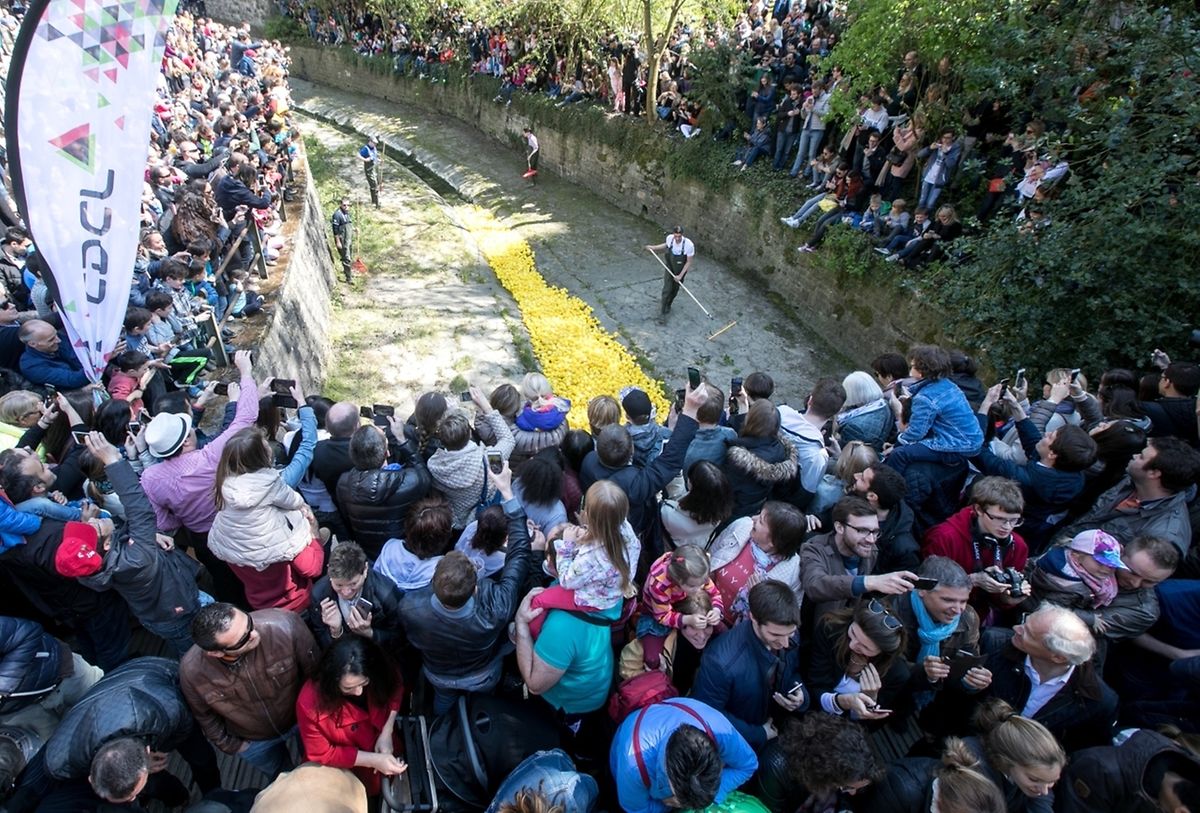 Last year, a record 16,000 ducks poured down the River Alzette (photo: Luxemburger Wort)
Don't worry, this is not about rain. It's about how a small and landlocked country loves its water. OK, so Luxembourg is not Venice. Its rugged, hilly landscape doesn't lend itself to artificial waterways brimming with gondolas. Yet, on 28 April, thousands of little yellow ducks will go down the River Alzette in Pétrusse in what is fast becoming a tradition – the Duck Race.
Like all Luxembourg traditions, it's completely unique. Last year, a record 16,000 ducks poured down the river. It had been a dry year, so fire fighters had to nudge them along with water jets, which sounds just like the sort of job I'd love to do with my Kärcher spray wand.
Watery history
If you haven't entered, you can do your own duck race at home in the bath – just remember to lock the door and block the keyhole. Melusina forgot to do this when she performed her weekend ablutions. Her mermaid shape was spied by Count Siegfried, and she was swallowed up by the rocks beneath her and sent back to the River Alzette from whence she hailed. Yet another bit of watery Luxembourg history, but don't worry, things have moved on quite a bit since 963 AD. Today, you are unlikely to get swallowed up by your bath if someone spies you playing with your rubber duck.
Natural water havens
If you don't have a bath, why not try out one of the many natural bathing spots dotted around the Upper Sure Lake including Liefrange, Insenborn and Lultzhausen. For a more Club Tropicana feel, there's the Remerschen Lakes, and for the 'help, I might drown, this is deeper than I thought' adventure, Echternach Lake hits the spot.
Having no coastline doesn't stop Luxembourg from enjoying the life aquatic. You can canoe or kayak down the main rivers, dine alfresco whilst cruising down the Moselle and even go Scuba diving.
Despite the ban on swimming in the Upper Sure Lake in 2016 due to an algae invasion, Luxembourg water is among the cleanest in Europe, having gained an 'excellent' rating for its lake water quality from the European Environmental Agency in 2017.
Should you drink?
Just remember not to open your mouth too much. I can't find anything conclusive, as experts are pretty divided on the quality of drinking water in the Grand Duchy. But I do know that, in the past four years, my commune has sent a request to residents to drink bottled water for a week or two at least twice.
I live in the rural deep west, so it is probably all those farming pesticides, which might account for why nitrates in water are on the increase here and in many parts of Europe. Don't worry if you live in the city, though, you have the cleanest water – 84% clean to be exact and 9% above the country-wide average. If you don't want to take the risk, substitute tap water for Rosport or Beckerich spring water.
Above all else
The collection of water has resulted in another unique affect on the landscape – a sprinkling of landmark water towers, the subject of a photography collection by Lithuanian born Gediminas Karbauskis. These space-age-looking wonders are not just an architectural feat, they still capture precious water. Admittedly, some have moved on to higher claims – the old water tower in Dudelange now houses Edward Steichen's collection 'The Bitter Years'.
You can dive into the fascinating world of the wet stuff at the Aqua Tower Berdorf, to discover where drinking water comes from and how the Luxembourgers found their water in the days of yore. It also offers splendid views of the Mullerthal region.
Water towers, apart from housing art and history, can be a work of art in their own right. The new 500m3 metal-panelled water tower in Gasperich is designed to pay homage to the steel industry (or so I read somewhere).
So if you're planning to put your yellow duck on the river later this month, think not of the Volkswagen you might win if your duck comes first but marvel instead that water is everywhere in Luxembourg and an intrinsic part of life here.