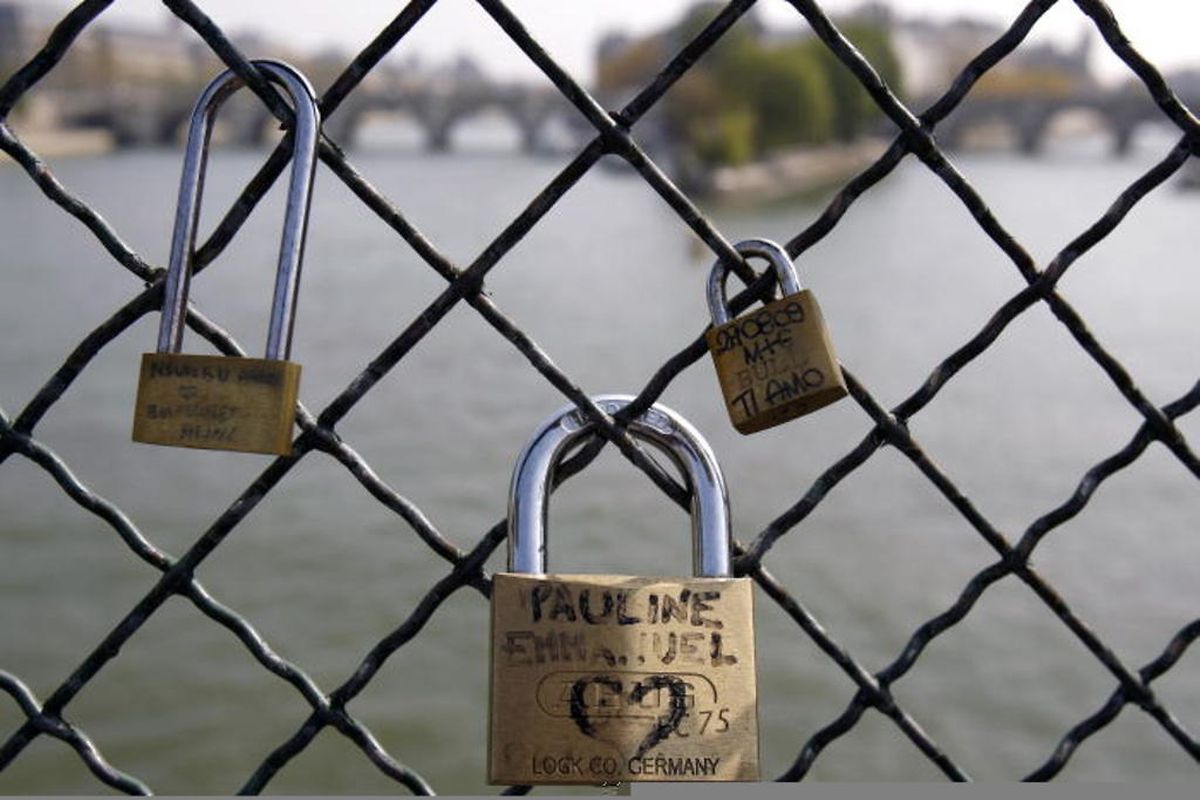 Padlocks attached to the Pont des Arts in Paris Photo: AFP
After moving to a new country and sorting out the basic, yet super tedious necessities, finding love sits pretty near the top of the to-do list of every single.
But what happens in a melting pot of a country like Luxembourg with its 170 nationalities, with different ideas about what is desirable, romantic or even polite behaviour?
Turning to a network of hopeful singles from different generations who have tried their luck in the Grand Duchy, it turns out the general consensus is rather bleak. "Unsatisfying", "disappointing" and "slim pickings" aren't going to be music to your ears when you want to see what's out there. Fortunately, it is not all doom and gloom.
Part of what makes dating in Luxembourg so challenging, according to Judy, 30, isn't actually meeting people, rather it's meeting new people.
"They are likely to know someone you do too and the chances of bumping into the same people over and over again are pretty high," she said while recalling a couple of underwhelming dates with men that seemed to be carbon copies of each other.
Anna, a 44-year old mum of one, can relate: "After a date with a guy, I met up with one of my girlfriends to talk about him. He just happened to be sitting at the next table with a male friend of his. They were probably dissecting our date too and it was pretty awkward".
For others, like 35 year-old Alex, Luxembourg's small size is part of its charm. Meeting new people just requires a bit more organisation. "We organise nights out with my friends from work, they bring along people we've not yet met and so chances are you'll get introduced to someone new, which is a lot of fun," he said.
On-line dating is widespread – perhaps logical given the recent tightening of the rules for social distancing. Gone are the days that online dating was a young adult's sport – but opinions are mixed. "I exclusively date online," Anna said, which makes perfect sense for a busy single mum. "Finding a sitter isn't easy, so even though it's often quantity over quality when dating online, it does take some of the stress out of the whole thing," she said.
The frivolity of the apps does not sit well with 24 year-old Ines. "There are decent people on there, though sometimes intentions aren't clear," she said, adding you are more likely to find people interested in a casual relationship rather than forming a stronger bond. "Spontaneous meetings in bars or otherwise have become rare, and online dating makes the process of getting to know new people almost mechanical".
And Alex - who grew up in Luxembourg – has used Tinder mainly for a laugh: "I downloaded Tinder and kept swiping people I went to school with all grown up and on the prowl," he said. "It was pretty awkward but got a few laughs out of it, for sure".
For those looking for an old-timey holiday fling, Farly's story offers hope. The 32-year old told how things began at the Christmas Market. "A few years back, I visited the market with some friends," she said. "I spotted a handsome guy at the Canadian stand and after the traditional round of bratwursts I decided to go check out the maple syrup candy."
"We flirted a little, exchanged numbers, agreed to go on a date and did just that for about a week, no pressure and no strings attached," she said. "Sure, he lied about his age - he was much younger - and that wasn't someone I could see myself with in the long run but I got a fun story out of it!". Come to think of it - that's what dating is really all about. Whether you're in picturesque Luxembourg or in one of the world's more bustling cities.
---
The Luxembourg Times has a brand-new LinkedIn page, follow us here! Get the Luxembourg Times delivered to your inbox twice a day. Sign up for your free newsletters here.