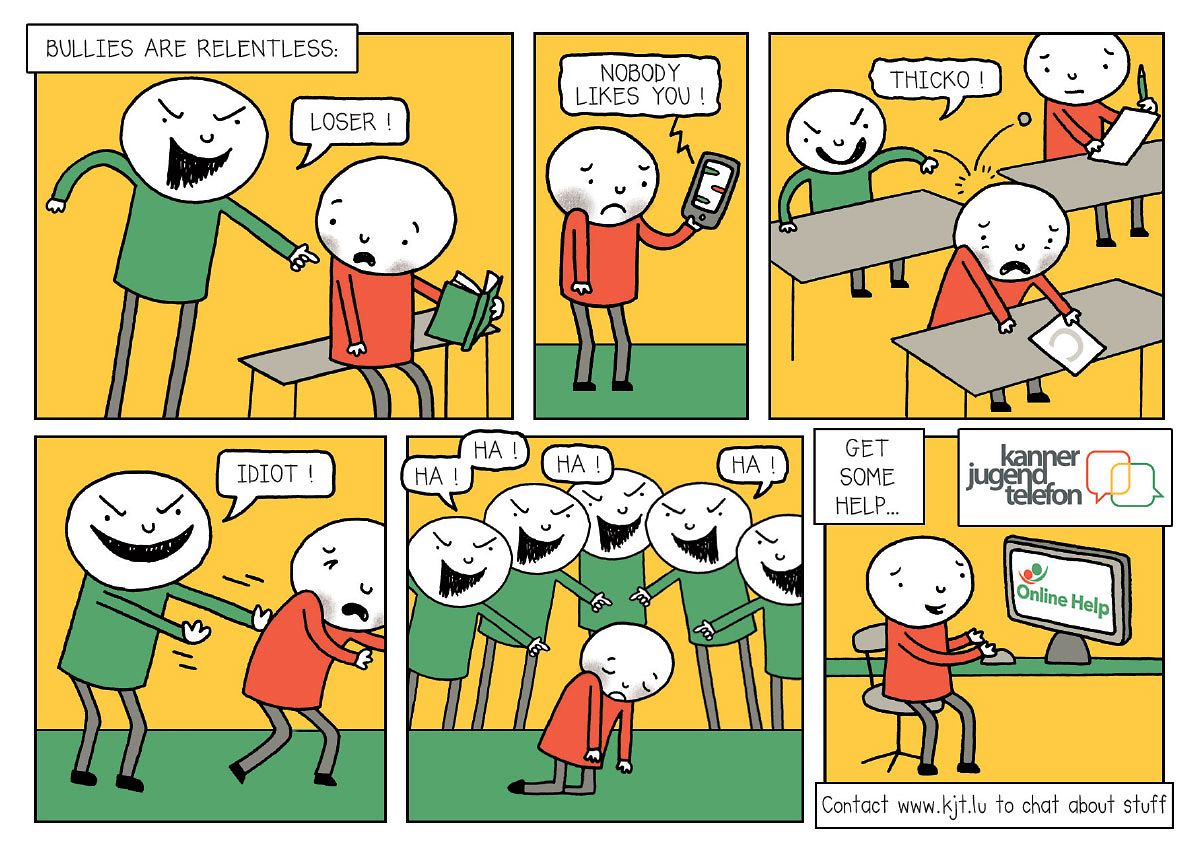 KJT helps children and young people overcome bullying Photo: KJT
KJT (Kanner-Jungendtelefon) is holding an information evening on Monday 10 December at 7pm to provide an overview of the services it offers to young people in Luxembourg and recruit new volunteer counsellors for its Online Help unit.
The English-speaking Online Help unit was launched in 2015, and offers support to children, young people and parents. Counsellors are fully trained to deal with requests with openness and respect in a non-judgmental way.
"Sometimes children and teens experience difficult situations and are ashamed or find it difficult to speak about something. At these times, it is helpful and easier for them to contact an anonymous service, especially in smaller communities like Luxembourg," says Barbara Gorges-Wagner from KJT.
"Counsellors listen and can provide advice. Often we are the first glimmer of hope in what can feel like a desperate situation, and sometimes we motivate youngsters to make a second step, maybe ask for help from their family or friends or at school," Gorges-Wagner adds.
Training provided
Anyone interested in child welfare, psychological or pedagogical topics can become a volunteer counsellor, particularly those who want to learn something new and are happy to develop personally. Volunteers should be psychologically resilient and open-minded.
A total of 70 hours of training will take place on Wednesday evenings from 7pm to 10pm, and three times a year at weekends (Friday 7pm to 10pm and Saturday 9am to 5pm). The training focuses on family dynamics, conversational skills, and crisis intervention.
"The most common messages we receive are related to bullying, family relationships, physical and sexual abuse, in addition to drugs and peer related worries," says Gorges-Wagner, who explains that the essential principles governing the work of KJT include confidentiality, no intervention, availability, respect and tolerance.
"Much of the content of the training can be of benefit professionally and privately too. Our volunteers make an important contribution to society by giving their time and engagement to children, young people and parents. They support us in the implementation of our slogan 'No child should be left unheard'," explains Gorges-Wagner.
More information
Would-be volunteers who would like to attend the information evening on 10 December can register or send queries to contact@kjt.lu and find more information about KJT's Online Help services at www.kjt.lu and the training here.