What dreams will your Bedtime Story give you? NDT2 portray our subconscious in dance format with energy and precision
Dance theatre lovers were in for a treat at the weekend, when the Nederlands Dans Theater (NDT) performed pieces by three different choreographers.
The evening showcased some of the best talent to grace the stage in Luxembourg this season, after some imposing names including German choreographer Pina Bausch at the Grand Théâtre earlier in the season.
Such energy, precision timing and synchronisation, and a seemingly effortless combination of classical dance with modern moves, made for a captivating performance, particularly from the NDT2 young performers.
The opening Bedtime Story immediately awakened the audience through the fast-paced movement of the dancers. Solo, in couples, in groups, the movements were both co-ordinated but also taking place all over the stage.
Arabian and North African sounds and beats from Andre Hajj and Ensemble were as energetic as the dancers, who dressed in black, sometimes looking like shadow puppets enacting an ancient tale from 1001 Arabian Nights.
This was a piece to capture the fast-moving fragments of your dreams. I was disappointed like a child when Bedtime Story, choreographed by Israeli Nadav Zelner, finished so quickly, as if the 20 minutes evaporated like a dream.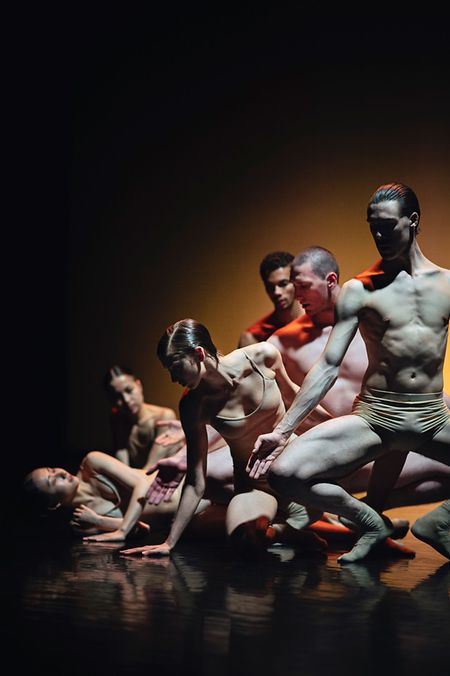 Remarkable synchronisation of moves makes you wonder if Cluster is performed by humans
Rahi Rezvani
Romanian-born Edward Clug is well known on the European ballet scene, having created works for the Stuttgart, Zurich and Flanders Ballet troupes. He delivered something very daring and different in his piece Cluster, in which six dancers were clad only in flesh coloured under wear. Cluster is what they form, their movements precise and mirroring, almost clockwork. Milko Lazar's electronic music reminds us of a clock ticking or the cogs and wheels of a complex mechanism all working together in unison. And so in this performance, the dancers do the same, but occasionally one or two break off to introduce a new dynamism. Again, it was magnetic, drawing in the audience in with its hypnotic movements. And again, over too soon.
The finale came from Wuppertal's Marco Goecke. The Big Crying opened with a fire torch and a soundtrack that mirrored the dancers who seemed like machines on a production line. A solo dancer repeated movements whilst others in turn joined him on stage for a few seconds, imitating his moves or adding quick leg lifts. Like Cluster, there was something almost mechanical and non-human about the moves. Then the mood softened and the dancers created a symmetry in their movements. The music (from Tori Amos) and dance were both soothing and jarring. There was something both sad and joyful in their movements, as if to say that life must go on despite the woes we must overcome. There were also some wonderful dance duets, filled with passion, and it is in this performance you really see the muscles each of the performers has that enables them to move in such a controlled yet effortless way.
In all three pieces there seemed to be a thread, a symmetry to movements, which is hard to believe given they were probably created in isolation.
NDT2 packed the culmination of all dance that has ever come before into one night, with three short performances, so cleverly put together for a post-pandemic world. It was beautiful, captivating, and emotionally charged. Unsurprisingly it received a standing ovation from the youthful audience.
---
The Luxembourg Times has a new mobile app, download here! Get the Luxembourg Times delivered to your inbox twice a day. Sign up for your free newsletters here.
---