A fun exposé on corporate integrity with 'Big Boys'
A fun exposé on corporate integrity with 'Big Boys'
A tale of corporate greed and corruption is at the heart of New Yorker Richard Orloff's play "Big Boys", deftly brought to life by Actors Rep in the suitably corporate setting of Arendt House in Kirchberg.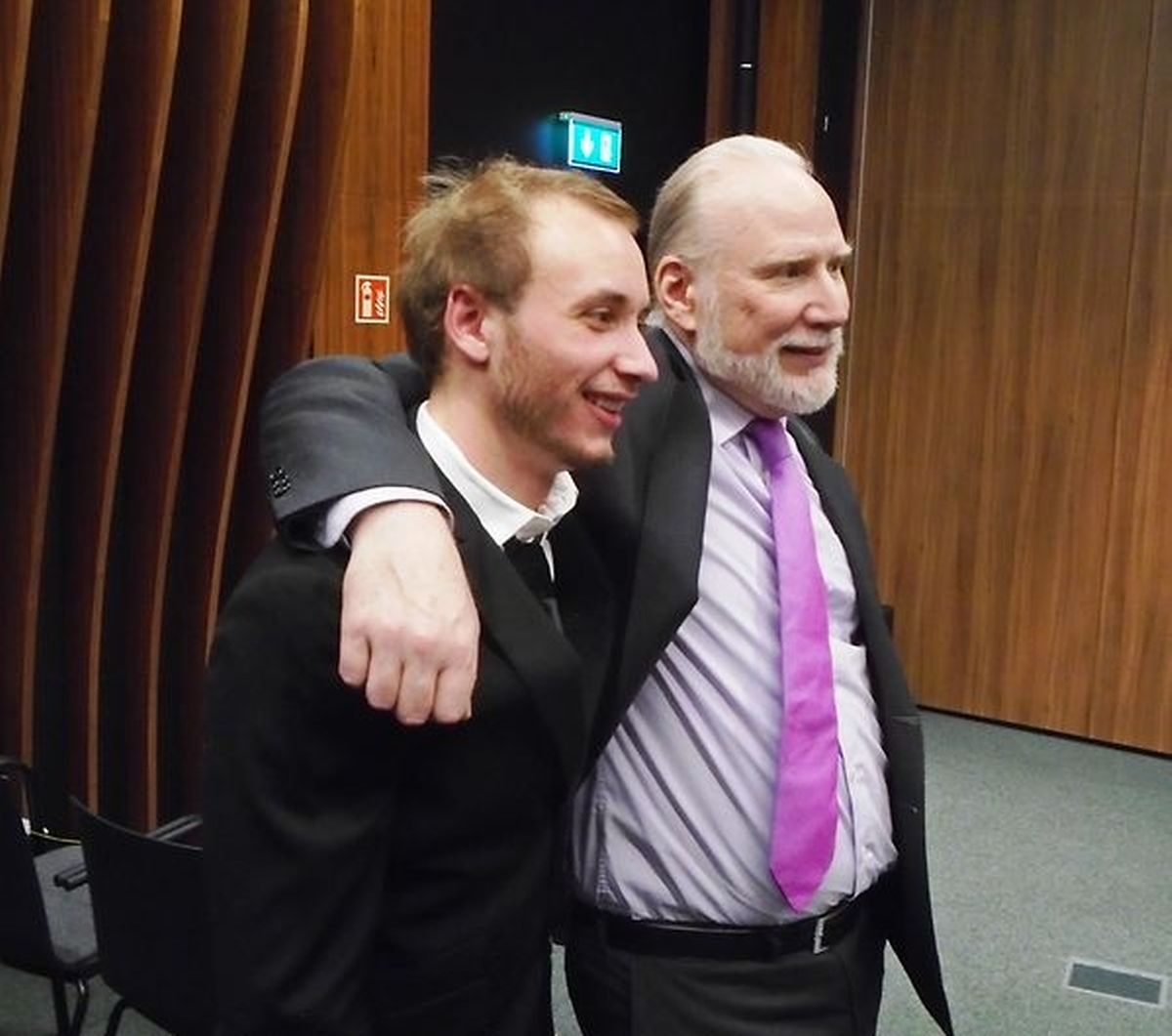 Erik Abbott and Maximillien Jadin, the stars of Actors Rep new play 'Big Boys'
Photo: Sarita Rao
The play opens with the song "Highway to Hell" as Victor, played by Erik Abbott, swaggers onto the stage in his expensive suit. A self-adoring, manipulative, megalomaniac CEO, he is interviewing for an underling.
Along comes the insecure, upstanding and eager-to-please Norman, played by Luxembourgish actor Maximillien Jadin. Yet this is no ordinary interview and Victor is not only more ruthless than Gordon Gecko but bordering on the psychopathic.
"Why should I hire you?" he asks the snivelling Norman. And so the comedy begins. If not for his experience, skills and knowledge then perhaps because he is not dead, replies Norman.
In the first act the audience watches Victor slowly break Norman, who he first calls Gustav, then Gu, then G. He bamboozles him at work, asks him personal questions about his sexuality and sex life, gives him hopeless projects and constantly undermines him with a mad intensity.
Intense but witty dialogue
But this is not a tragedy. The dialogue is hilarious, the physical interplay between the two characters almost vaudeville. "When I want integrity I'll hire a public relations person," says Victor of Norman's innately sensible and nice nature.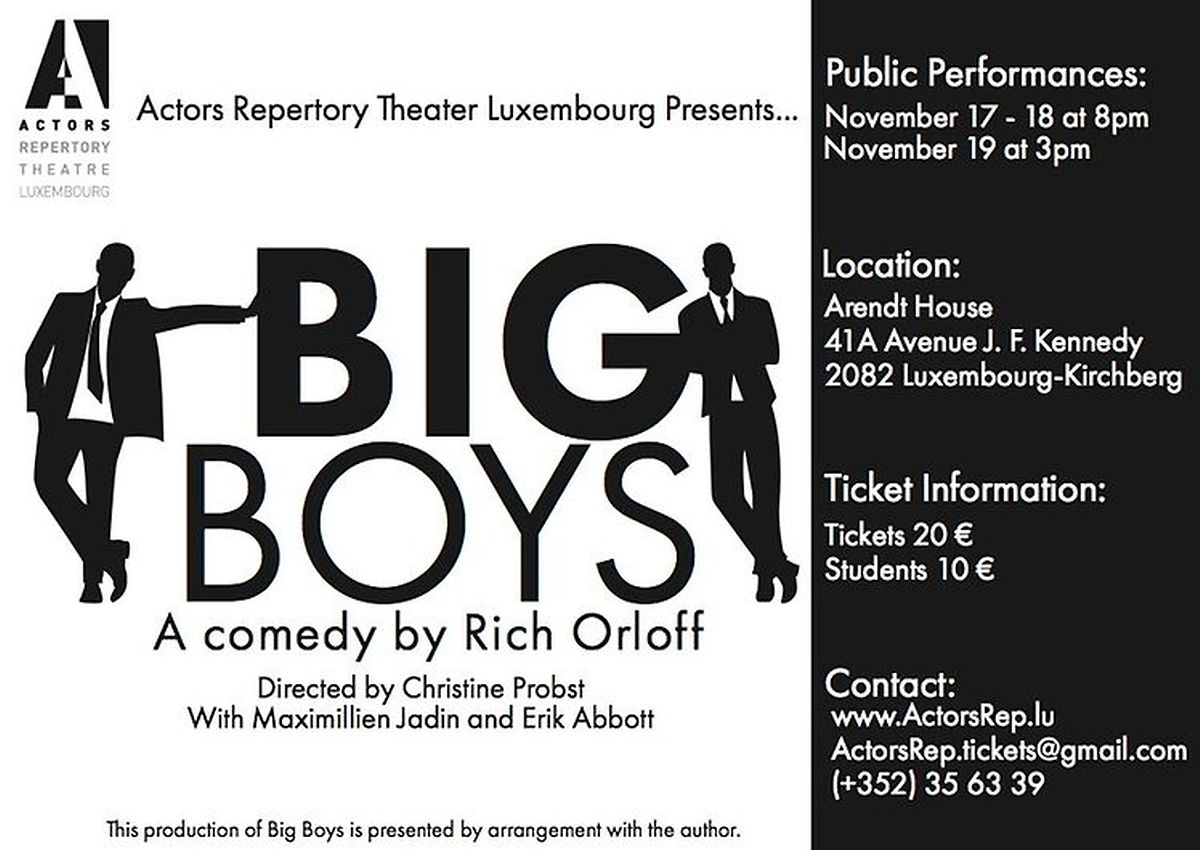 There's also an element of truth. The descriptions of boardroom bravado feel a little too true, as does the reference to MBA bull shit and the advice that when things go wrong you must always find a scapegoat.
You won't find any clever lighting, as it's staged in a corporate auditorium, which provides the perfect setting for this fable. Director Christine Probst makes amazing use of this, with funny PowerPoint presentations of the company's negotiation strategy, a small X that marks the spot where Norman must stand, and the tiny children's wooden chair he must sit in. Anyone who has worked in a large organisation will recognise the hierarchy and the fashion to produce to PowerPoint info-graphics.
Abbott is convincing as the eight-times married, amoral Victor, who is nicer to his office plant than to his own mother or any of his employees.
Jadin is energetic as the quivering, down-trodden Norman who works tirelessly for his boss until his girlfriend leaves him and his parents disown him. Then there is a dramatic twist. In act two Norman is no longer nervous. It's not just a change of suit; it's a complete personality change. He has succumbed to Victor's dirty dealings and now heads up a company that he could have blown the whistle on for hundreds of corporate misdemeanours.
Final plot twist
If you think that this sounds like a good but well-worn tale of corporate degradation, think again. There is a final plot twist, heavily loaded with the best repartee that sees the tables turn once more on the "Big Boys".
You can catch a performance of "Big Boys" at Arendt House, 41A Avenue JF Kennedy, Kirchberg, on November 17-18 at 8pm and November 19 at 3pm.

Tickets cost €20 for adults and €10 for students. To book or reserve, send an email to: ActorsRep.tickets@gmail.com or call: (+352) 35 63 39
For more information about the play visit the website: big boys
and to learn more about Actors Rep, go to their website: ActorsRep.lu