A portrait of Luxembourg
A portrait of Luxembourg
It may not be the Louvre, but this Luxembourgish art will make you understand the country so much better
Sculpture "Closed Society" from Marie-Josée Kerschen.
An art exhibition that took almost two years to curate will be on display for just two weeks. "100 Joër Lëtzebuerger Konscht" (100 years of Luxembourgish art) mostly brings together artworks belonging to private collectors, many of which the public may never have seen.
The exhibition marks another premiere: never before have so many Luxembourgish artists hung in a room together: 130 works of paintings, sculpture and photographs from 66 artists and 40 different collections. If you want to visit this showcase of the art Luxembourg has produced over the past century, you need to make your way to the Centre Culturel Paul Barblé in Strassen by 11 April – or view it online.
The Lëtzbuerger Artisten Center (LAC) is at pains to point out that the exhibition it has organised is not an opportunity to get to know each artist intimately. Impressionism, cubism or surrealism: all the international art styles are on show. What the show does make clear is that Luxembourg was never at the vanguard and adopted these styles often years after the avant garde did.
A red room designed to mimic a traditional gallery houses early 20th century paintings, many in oil, comprising portraits, still life and nudes. The oldest painting here dates back to 1902. Entitled "Judith" and depicting a woman in heraldic costume, it's not in the impressionist style for which Dudelange-born Dominique Lang later became famous, with is Renoir-esque depictions of the region's natural beauty. Some of the works are well known, such as Frantz Seimetz's self-portrait, or the sculptures of August Tremont and Lucien Wercollier. Hidden amongst them are some interesting treats.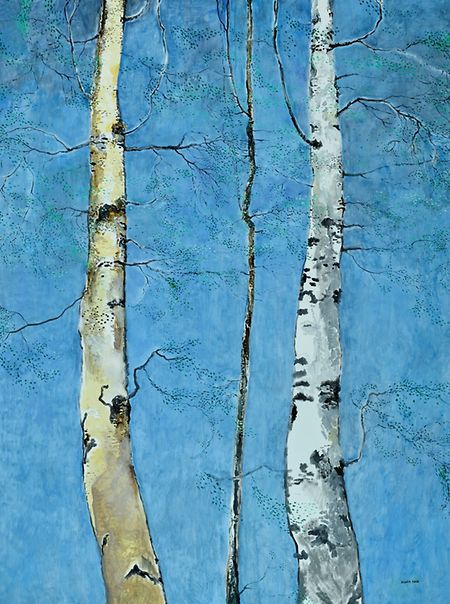 Birches, 2020, by Jean-Marie Biwer
Photo: Christof Weber
A stark magical painting of two birch trees from contemporary artist Jean-Marie Biwer reminds the viewer of the still beauty of Luxembourg's forests. Also present are Su-Mei Tse, known from her large exhibition in Mudam in 2017/18 and who has represented Luxembourg at the Venice Biennale, and Tina Gillen whose painting Gravity II will be on display there later this year.
A portrait of Luxembourg and its people
What this exhibition highlights most is the impression that this small country has left on its artists: from Jean-Pierre Beckius' sweeping impressionist views of Echternach, the Moselle and Machtum, to the way Joseph Sünnen captures the fading light on a rowboat moored in the valley of Bech-Kleinmaker.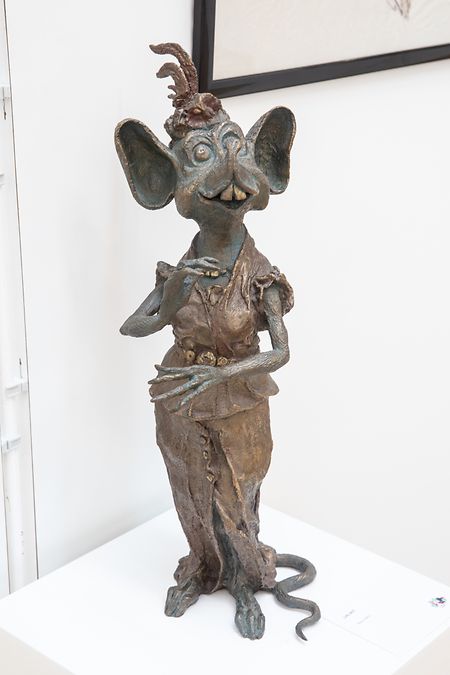 The iconic Maus-Ketty by Will Lofy.
Photo: Gerry Huberty
The snow landscapes of the south by Eugène Mousset resemble photographs, precisely depicting the fine details of the trees and shrubs, and rifts and ridges of snow in a golden light. These are all scenes a viewer can still see today. The exhibition also has a quirkier side. Will Lofy's Maus Ketty, the bronze sculpture of the country mouse from August Liesch's 1936 tale, is now an icon in the region. And Fonti Tissen's "Funeral", combines the sombre hearse and soldiers bearing the coffin, with a street filled with onlookers almost like an audience at a show. There's even a clown amongst them.
This is an exhibition that captures Luxembourg's natural beauty, its instantly recognisable towns, and a more offbeat side. A viewer will certainly get to see a good selection of art. Is it the Louvre? Well of course not. But it's well worth a visit, given that you are unlikely to see these artists all exhibited in one place, or indeed have the opportunity to gaze on some of the pieces at all ever again.
---
The Luxembourg Times has a new LinkedIn page, follow us here! Get the Luxembourg Times delivered to your inbox twice a day. Sign up for your free newsletters here.