Lily James plays a celebrated documentary maker struggling to come with her next big idea. When she decides to make one about the arranged marriage of her childhood friend, things run their predictable course in this film.
Like a banana milkshake, What's Love Got To Do With It plonks its ingredients into a blender, and mushes it until it's goopy and easily digestible. It mentions serious topics - such as arranged marriage - but the conventions of the romantic comedy genre mean that the final result is all sugar, no spice.
The film stars Lily James as Zoe, a decorated but struggling documentary filmmaker looking for the next big idea. Her childhood friend, Kaz (Shazad Latif) announces that he's letting his parents arrange a marriage for him, as per the Islamic tradition. In a lightbulb-illuminating moment, Zoe begs him to let her accompany him on the process, camera in hand.
Kaz is well integrated into British society: he smokes and drinks (even though he's a doctor) and plays football on Sundays. His decision to have his marriage arranged presents a culture clash. One the one hand, he's a monument to second-generation success in the UK. But he is also holding on to his roots.
What's Love Got To Do With It thus sets its stage as a film of contrasts - and then packages it into a shiny, inoffensive romcom.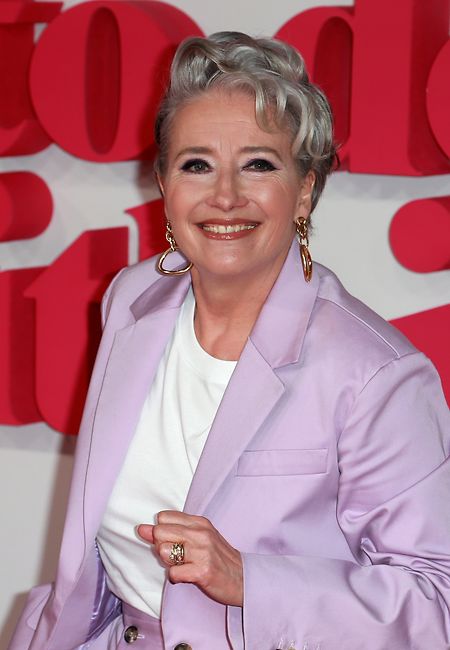 Emma Thompson draws a laugh with each of her lines
Shutterstock
Zoe tags along with Kaz and the rest of the Khan family to Pakistan, where they meet his unenthusiastic bride-to-be. They chat, things are awkward, but Kaz's mother "reassures" him that an arranged marriage is even harder for a woman - although she herself happiness in hers.
Zoe isn't convinced either. She and Kaz keep having little romcom moments: a stare that lasts too long, a laugh that's a little too loud. In a crucial moment, they reminisce about how they were each other's first kiss. You get the idea.
But at that midpoint, where things should get spicy and dramatic, is where the film chafes most against the boundaries of its own genre. What's Love Got To Do With It is very much in the tradition of classic British romcoms. After all, the poster's tag-line reads "From Working Title Films, the producers of Bridget Jones' Diary and Love Actually" - which begs the question of where good old Hugh Grant is in all of this. But this nominal strength of the film ("We made those other ones, you'll know the drill!") is what hampers it most.
Every twist and turn is played as safe as humanly possible - a narrative trend perceptible even in the plot itself. Every source of potential drama is neutralised, to get to a happy ending. And because the film's been advertised as an instant Working Title classic, you already know how it's going to end, so that every bit of conflict loses edge, and feels inconsequential.
It's a profoundly middle-of-the-road, five-outta-ten, meh it was alright kind of flick
What's Love Got To Do With It suffers from a common romcom syndrome: in the end, it feels like its romantic leads have been beating around the bush for an hour and a half. Everyone knew they were going to get together in the end.
Still - it's not a bad film. Technically adept in every respect, the dialogue satisfyingly snaps into place and makes for funny sequences and witty bits of banter. Emma Thompson, who in What's Love Got To Do With It plays only a secondary role as Zoe's mother, also shines through, with every line of hers provoking a laugh. The film can't be accused of being unpolished.
Walking out of What's Love Got To Do With It thus makes for a profoundly shrug-inducing experience. It's not a bad film, nor is it memorable. If anything, it's a profoundly middle-of-the-road, five-outta-ten, meh it was alright kind of flick that makes it hard to summon any critical thought on.
It's not on the same level as Bridget Jones or Love Actually, that's for certain. It can't be slated as a cheap imitation, either.
The most obvious factor preventing the film from shining isn't its subject matter or production value. It is the genre itself. What's Love Got To Do With It isn't just a romantic comedy, but specifically a British-flavoured one produced by Working Title, meaning it has to adhere to a fairly strict set of rules. Two people are obviously crazy about each other but won't admit it; the male lead has to be suave; the female lead has to be teetering on the edge of spinsterhood; and no matter what, the ending has to leave everyone happy.
Underneath this genre veneer, a much better film hides in plain sight, a film that's more willing to risk some parties being left unhappy by the leads getting together and one thus more capable of tackling a contentious topic. Instead, What's Love Got To Do With It is a neither-good-nor-bad, middling and toothless rom com aiming to tick all the right boxes.
---
The Luxembourg Times has a new mobile app, download here! Get the Luxembourg Times delivered to your inbox twice a day. Sign up for your free newsletters here.