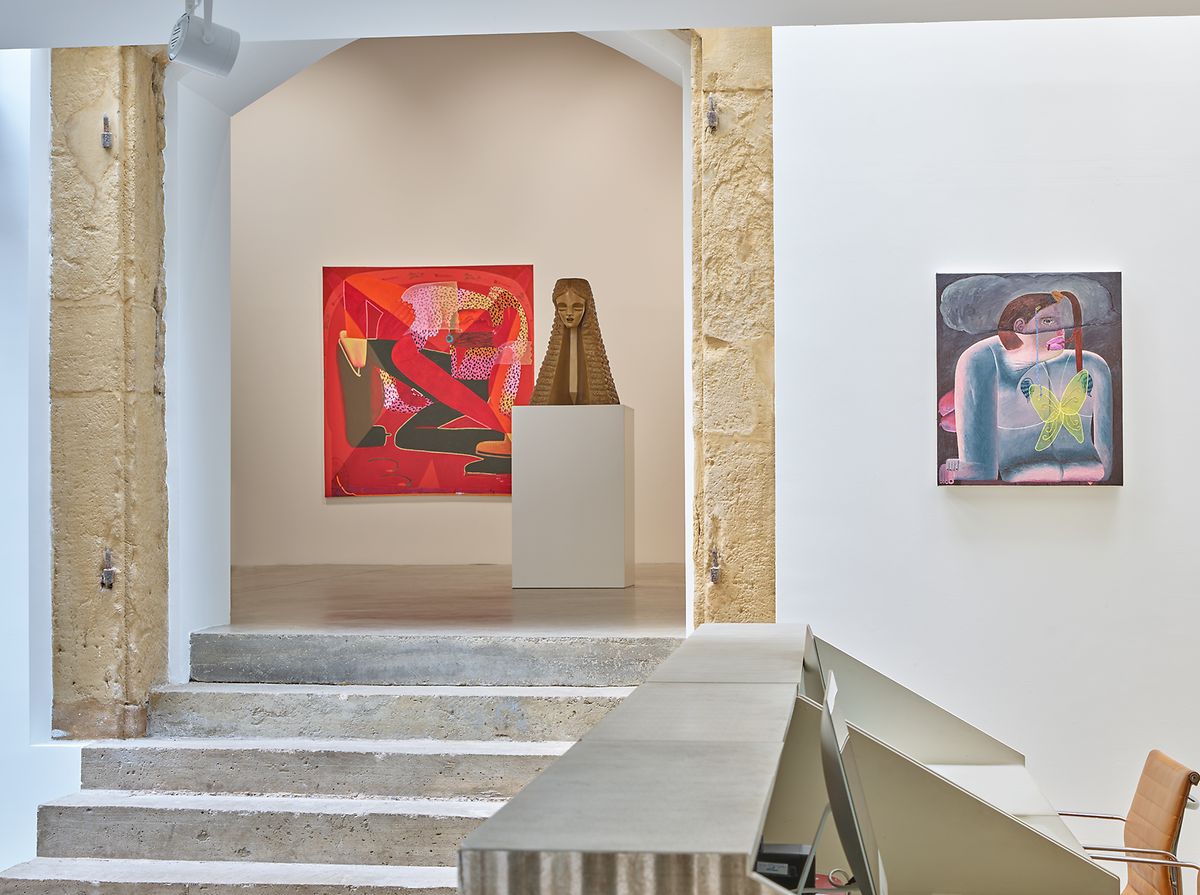 Photo: Remi Villaggi, courtesy of Zidoun-Bossuyt Gallery
American artists Celeste Rapone and Sarah Peters are the subject of the intriguing show the Zidoun Bossuyt Gallery starts their new season with. Both artists blend reality and fantasy, tradition and new ideas, change and paralysis in her own eccentric way.
Rapone's work looks as if it is about to break out of the borders of the canvas. It seems almost as if she first made sculptures and then squeezed them into paintings. A delicate blend of cubism, Dutch Golden Age painting, and 1980s art, Rapone's paintings present abstract caricatures of today's women juggling many roles and tasks.
The work is playful and imaginative, but still provokes a critical look at the modern world and fits well with the sculptures of Sarah Peters, which greet the visitor with their eyeless sockets and wavy hair.
You can only see that these sculptures represent humans by looking at them from one side. But their interpretation is fluid.
Five women and one bearded man, these enigmatic heads resemble mythological characters or ancient gods. They could be cybors, but mostly make you think of the snaked-haired Medusa of Greek mythology, who turned the men who looked her in the eyes into stone.
On top, they contain references to Assyrian antiquities, Greco-Roman tragedy masks and Egyptian funerary figures to early American folk art, but also to Constantin Brâncuși – one of the most influential sculptors of the 20th century – and early modernist figuration.
The exhibition encourages the audience to view both artists together. It is almost impossible to ignore Peters's dense bronze and plaster heads while viewing Rapone's paintings; or pretend Rapone's entangled figures are not haunting you as you are inspecting Peters's deities.
This continuous dialogue between the two artists destabilises the visitor's perception of reality. Imagine a visit to a museum that shows talismans and enigmatic paintings belonging to a native people from a newly discovered continent. A people that lived centuries ago, but through a bizarre coincidence had developed a culture similar to ours.
The artifacts you would see in that fictitious museum would create a "back to the future" feeling similar to what you feel in Zidoun-Bossuyt.
With this presentation, the gallery is making a smooth transition from its last exhibition, which showed Summer Wheat's large-scale paintings resembling medieval tapestries showing female figures.
Discovering similar references to art history in this new show is more than coincidence and a sign of strong curating.
The compelling duo show of Celeste Rapone and Sarah Peters can be seen at the gallery's space in the Grund until October 17, 2020.
---
The Luxembourg Times has a brand-new LinkedIn page, follow us here! Get the Luxembourg Times delivered to your inbox twice a day. Sign up for your free newsletters here.