The hour-long dance performance is filled with flowing, sometimes pleasantly repetitive movements
There is something very different about Xie Xin and her dancers' performance. Unlike much current European contemporary dance, it does not try to tell a specific story or expound on an intellectual idea. Instead, Xin picks a simple concept and executes the choreography brilliantly.
The hour-long dance performance at Grand Théâtre, called FROM IN, is filled with flowing, sometimes pleasantly repetitive movements.
The choreography originates in Chinese calligraphy, particularly the ideogram 人 which means "human" or "person". Xin and her dancers focus on the junction point of these two lines which go in opposite directions. It is the connection between two, and yet the point where they move in opposite directions.
Lithe, supple and fluid moves
There are up to eight dancers on the stage at some points, mostly performing in pairs, creating moves that form a ying/yang between each duo. In fact dance seems the wrong word, as one movement transforms seamlessly into another with lithe and supple twists and turns.
At some points the movements are ballet-inspired, at others it is like watching a version of martial art in slow motion, and there is a hint of traditional dance and even gymnastics. There is a recurring theme of falling and being caught. Perhaps Xin wants to highlight the trust and faith we put in love.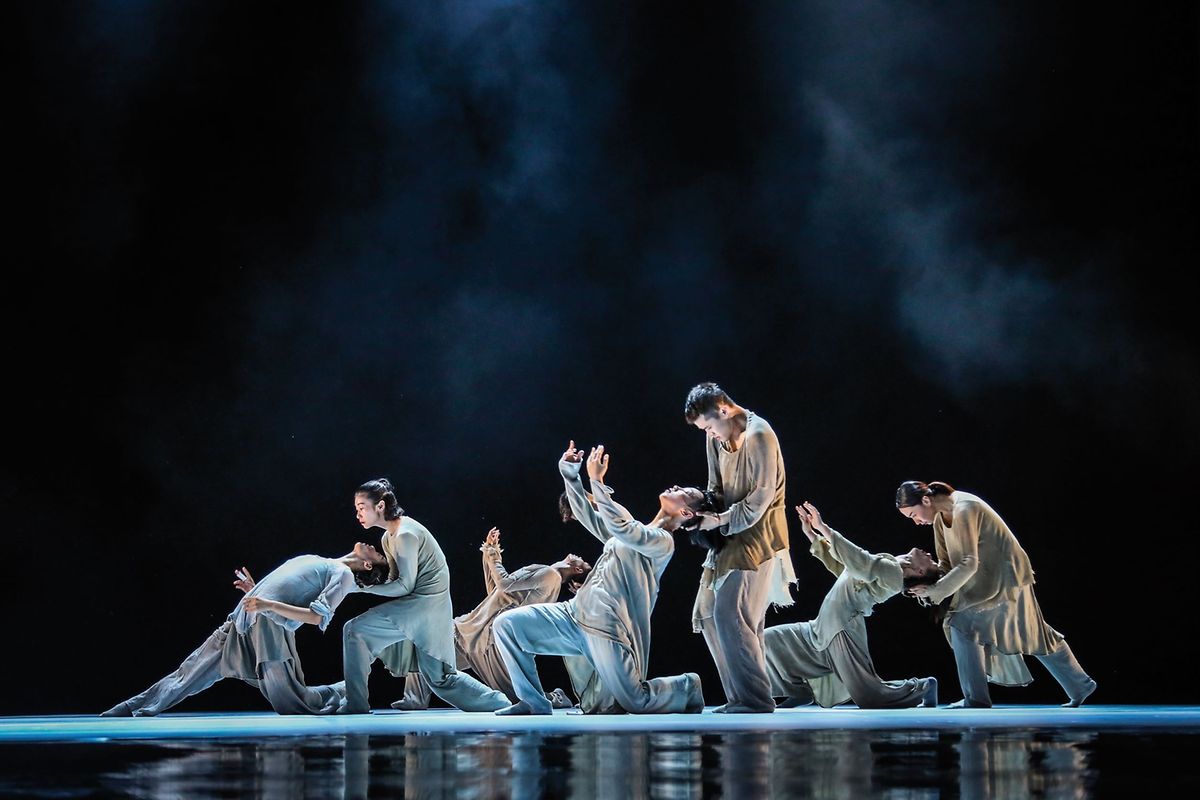 Dance moves that form a ying/yang between each duo
Photo: Huang Kaidi
At times there is only one or two people on stage and dancers appear and disappear. There is something very dreamlike in the movements, aided by the low lighting on stage and the pulsating music created by Jian Shaofeng and Yin Yi – sometimes containing the sound of water or wind chimes, sometimes crackling and harsh. The dancers wear loose silk costumes in neutral tones that make them seem like phantoms.
There are occasional jerky movements, but mostly it is a feast of swirling dance moves. It feels in direct contrast to Botis Seva's BLKDOG which was performed at the same studio venue of the Grand Théâtre in November.
Created in 2014 in Shanghai, the Xiexin Dance Theatre focuses on body research and contemporary dance awareness, which it brings together in original works. Its founder, Xin, was a performer at the Guangdong Modern Dance Company and the Shanghai Jinxing Dance Theatre before heading to Beijing.

It is clear that Xin takes her pick of contemporary dance moves and adds traditional elements from Chinese movement and dance. Her troupe pushes flexibility to the limit, creating moves that do not seem humanly possible.
FROM IN is being performed on 3 March at 20.00 at the Grand Théâtre in Luxembourg City. The performance lasts 65 minutes.
---
The Luxembourg Times has a new mobile app, download here! Get the Luxembourg Times delivered to your inbox twice a day. Sign up for your free newsletters here.
---