Rehearsal for Harold Pinter's play The Hothouse, which premiered on Wednesday
By Jenny Biver
While Nobel-prize winner Harold Pinter wrote The Hothouse in 1958, it would take another 22 years before it saw the light of day. Still one of Pinter's lesser-known pieces, the fast-paced play is chillingly prophetic, portraying corruption and abuse of power in politics.

Yet in the hands of director Anne Simon, the two-hour show is a quirky black comedy first and foremost. Set in a state-run mental institution where patients - never actually seen on stage - are reduced to numbers, Simon uses a 'huis clos' one-room only setting to dissect the inner workings of society.
"The play is … about how we agree to accept certain truths… [which] have become our reality. And, in a way, that is what theatre is about, too," Simon is quoted as saying in the press kit issued by the theatre.

The correctional facility is run by grumpy Colonel Roote (Dennis Kozeluh), who finds himself confronted with a dual disaster on Christmas Day: patient 6457 has died and patient 6459 has given birth, supposedly after being raped by a staff member. Roote seems oblivious to both incidents - "Discrepancy! I'm damn sure there's a discrepancy!" - despite having seen the pregnant woman earlier and signing the death certificate himself of the other patient himself.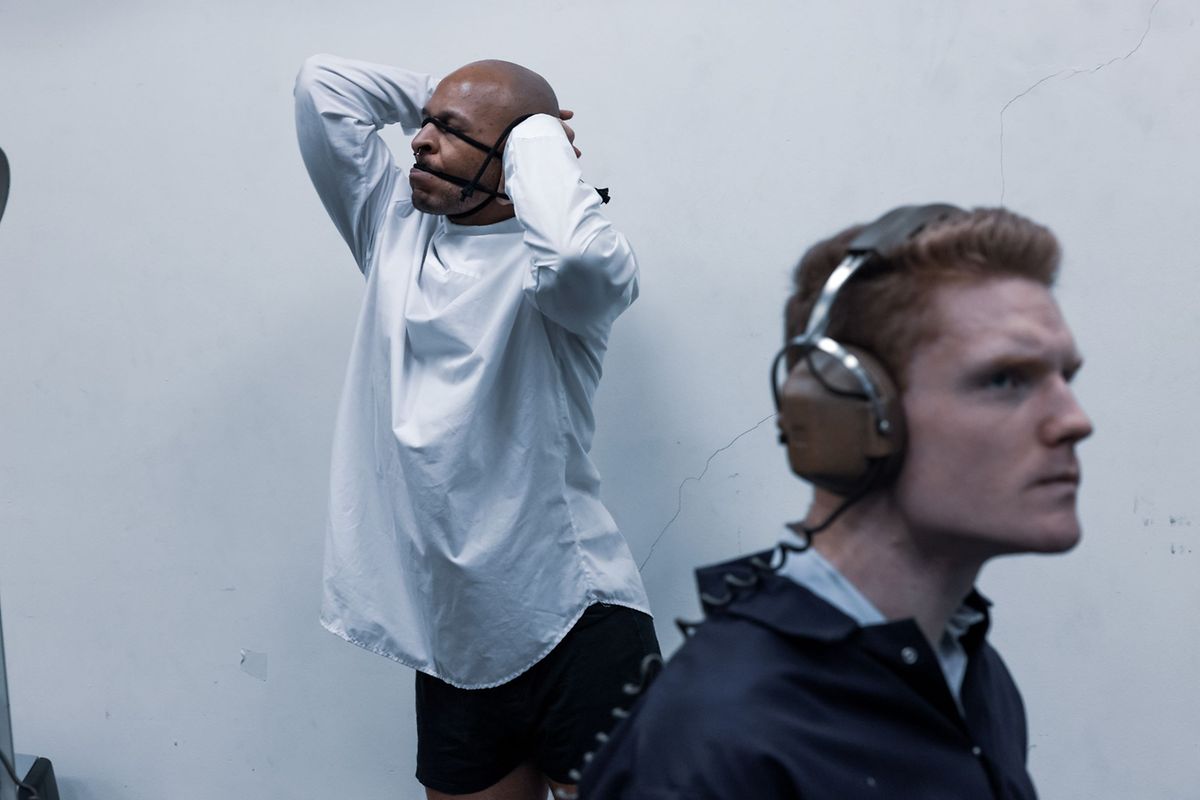 As the heat rises in this absurd microcosm, Roote finds himself cornered, both by the course of events and his scheming staff. Watching the system he blindly follows crumble before his eyes, he desperately tries to keep it going. To what end, he himself is not so sure anymore. The intimate setting of the play immerses the audience, leaving viewers exposed to the sometimes hysterical, sometimes grotesque dialogue in Anouk Schiltz's claustrophobic stage design.
The international cast manages to reach beyond their seemingly shallow characters. Roote's frequent complaints about the unbearable heat are always answered with the line "Snow's turned to slush" by Lush (Marie Jung), as she washes down her disapproval of, well, everything, with one drink after the other. There is a conniving Gibbs (Daron Yates), Roote's right hand, whose diabolical plans lurk under the surface, a seductive Miss(tress) Cutts (Céline Camara), and a clueless new recruit Lamb (Danny Boland), the ideal scapegoat.
And just like Roote, who finds himself drawn deeper into a web of lies, the audience will find it ever harder not to start questioning society. The Hothouse is – literally – a head-turning play that will make you wonder how far you are willing to go to conform. Good preparation for the moment that social distancing will finally be a thing of the past.

The Hothouse runs until 11 April. There is no intermission and the recommended age is 16+. Tickets can be reserved over email: info@luxembourgticket.lu or phone: +352 4708951
---
The Luxembourg Times has a new LinkedIn page, follow us here! Get the Luxembourg Times delivered to your inbox twice a day. Sign up for your free newsletters here.