Film festivals aren't just boatloads of film screenings. This year's Luxembourg City Film Festival also included a whole host of fun, cinema-adjacent activities like workshops, talks, exhibitions and, of course, the Crème Fraîche competition.
In a packed theatre at Kinepolis in Kirchberg the gist of the event was this: young people aged between 12 and 25 years old were given the chance to submit 90-second short films or their own script. The audience, equipped with online forms, then judged the short clips to decide on the three winners.
A panel of young judges also considered all the submitted scripts beforehand, with the winner presented with a prize at the event and given the opportunity to produce their idea alongside the national youth service (Service National de la Jeunesse).
Murder scenes, poker game
This was the 13th year for Crème Frâiche to take place and it made for a genuinely fun and good-spirited time. It's not like other, more conventional film screenings: a host, speaking perfect radio-Luxembourgish, gets the crowd going and encourages tempered raucousness. Most of the teams behind the various short films are in the audience as well and their nervously excited energy while awaiting their turn on the big screen is infectious.
As per Luxembourgish standard it made for a well-organised and well-funded bit of amateur filmmaking on the topic Who was it?.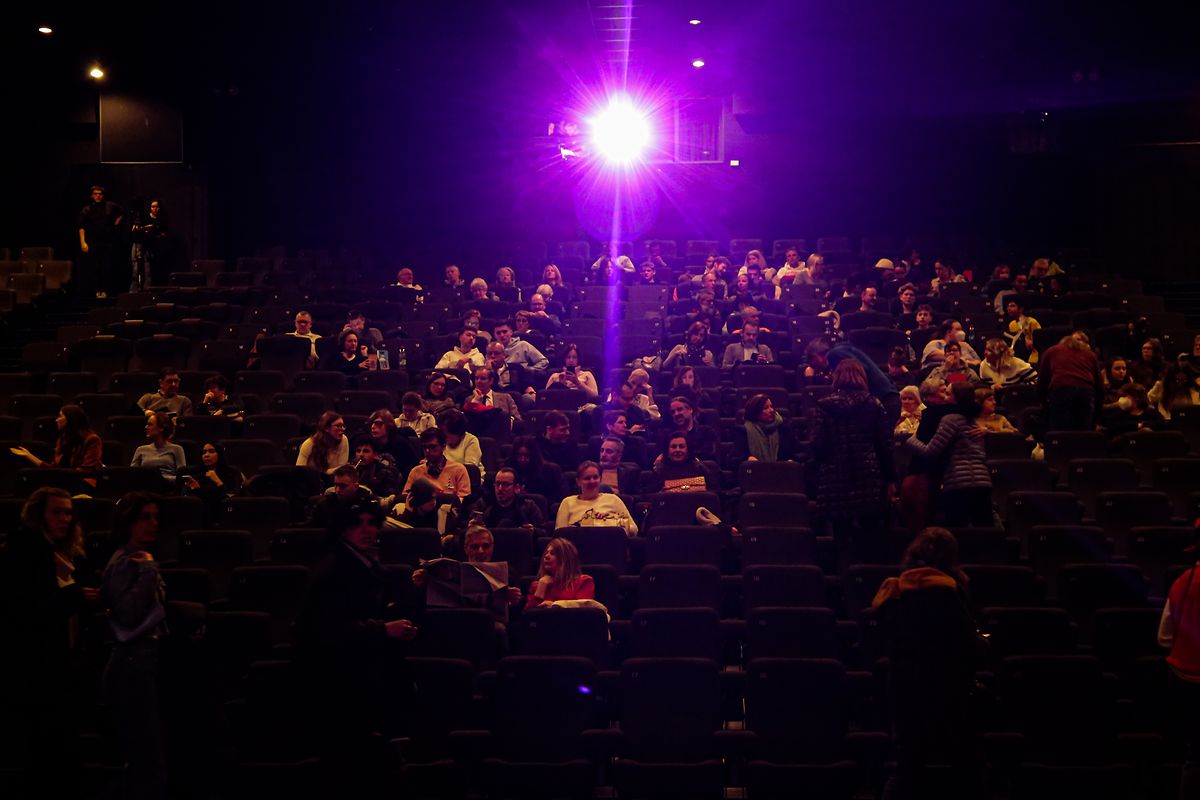 Photo: Saskia Becker, SNJ
What ensued was a swathe of very entertaining clips. Some were deadly serious neo-noire short films, complete with murder scenes, grizzled detectives standing around in a Luxembourgish forest and a surprise twist at the end.
A personal favourite of mine, very obviously filmed in someone's living room, concerned three teenage boys playing a game of poker. When the table goes all in, one of them throws a key to a Mercedes Benz in the mix. When asked if he's willing to risk losing such a nice ride he simply responds "it's my dad's!" The winner of the poker game takes the lot – plus the keys – with the two remaining teenagers wondering who the guy even was.
This year's winners showed all-round understanding of the given assignment - although the first place film, Les Gâteaux de la Discorde, certainly took the cake. Produced by Morgane Verdin-Pol and Francois Sflacin, the main character is a nice-enough-looking grandmother and most of the action takes place in a kitchen.
Without spoiling too much, it's clear that the producers understood that intrigue isn't everything. In a stroke of genius they incorporated some internet meme soundbites in their cinematic mix - and thus playing to the young audience's comedic sensibilities. The whole room laughed and it worked out in their favour. The audience, after all, were also the judges.
Language and identity struggle
After watching 21 intriguing clips, all accompanied by laughter and applause, viewers were asked to vote for their two favourites via an online questionnaire. The audience then sat back to watch two longer films by young people.
Students studying towards a qualification in cinema and audiovisual studies were first up with their project, Médéia, in which a young office worker suffers professionally and personally when a mysterious woman enters his life. Helmed by Zoé Girolamo, the team's technical abilities made for quite the contrast when compared to the clips that came before.
The short psychological thriller shifted gears by displaying some well put-together shots and a tight but cerebral plot. Médéia's lighting and cast in particular showed off the young students' finesse.
Next came the winner of last year's script competition, A Place to Be. Written by Benjamin George Coles, it was produced following its selection last year and might well strike a powerful chord with most second-generation expatriates in Luxembourg. A story about a young man born in Luxembourg but who doesn't speak the language, A Place to Be touches on themes of belonging, identity, and one of the Grand Duchy's greatest urban myths: the enigmatic designer of the Red Bridge.
---
The Luxembourg Times has a new mobile app, download here! Get the Luxembourg Times delivered to your inbox twice a day. Sign up for your free newsletters here.