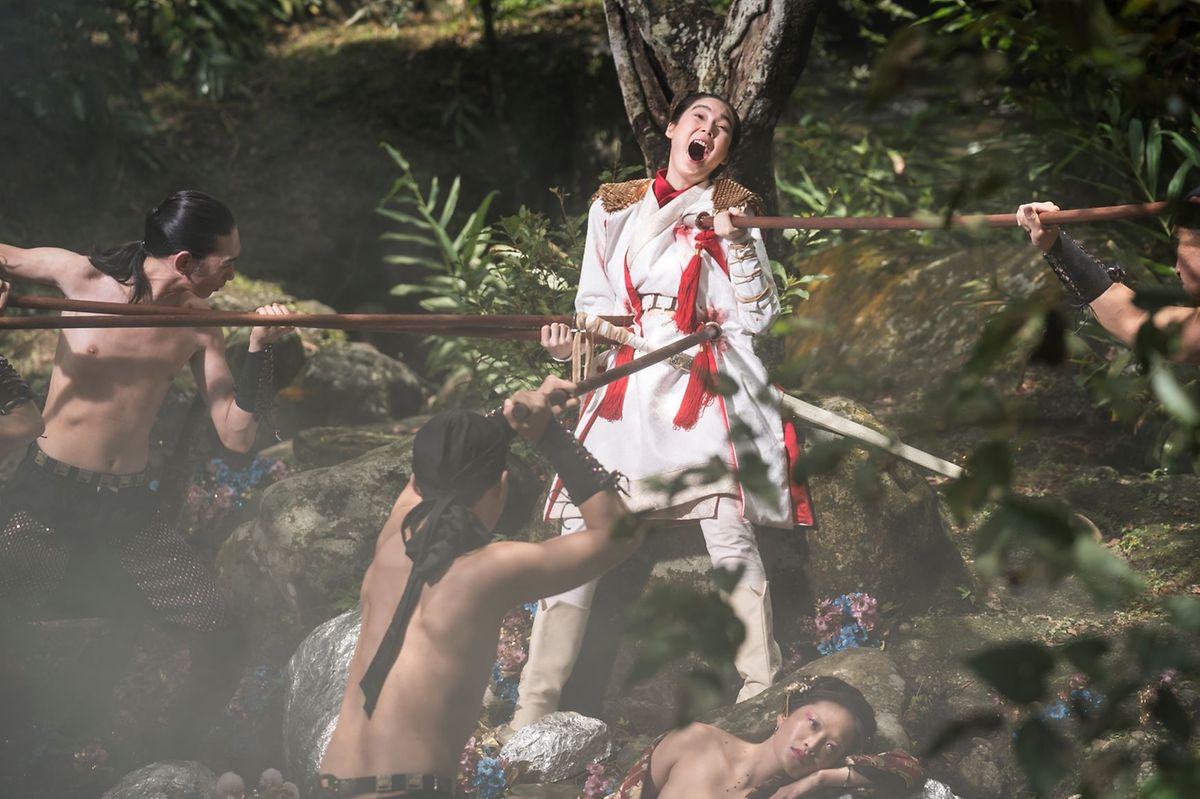 Su Hui-Yu, The Glamorous Boys of Tang Photo: Casino
Two Taiwanese artists comment on the conflation of material and spiritual desire in their country, in a new exhibition at the Casino forum of contemporary art.
In Elysium, Yao Jui-Chung and Su Hui-Yu, show how the view that worship is a way to material wealth has cast a decadent shadow in the wake of Taiwan's economic boom.
The collage of video installations is discomforting at first, but the kaleidoscopic vision of the two artists works well once you let it sink in.
Playing under the faint whimper of ambient noise, Su's installation, The Glamorous Boys of Tang (Chiu Kang-Chien, 1985), swells with images of kitschy decadence, with salacious scenes and characters bobbing in-and-out of frame.
At once a retrospective and contemporary reinvention of Taiwanese cinema, Su's piece is an alluring yet impenetrable piece.
Photos more accessible
Yao Jui-Chung's photography is much more accessible. His first project, Incarnation, a black-and-white slideshow split between three large screens, is a collection of photographs he shot over a year-and-a-half period starting in 2016.
Covering over 230 temples, cemeteries, public gardens and amusement parks, Yao's photography consists of larger-than-life religious statues spread throughout Taiwan.
During a boom in industrial and economic growth, known as the Taiwan Miracle, the country was flooded with business tycoons and corrupt politicians while its legal system gave preferential treatment to religious groups.
The latter received favourable tax treatment and land deals, leading to the misappropriation of state-owned property and the rise of over 12,000 temples throughout Taiwan.
The many gods lie in disrepair ... hovering with impotence over empty parking lots and dingy strip clubs
Yao's photography depicts these religious sites in the ebb of this economic boom. Statues of the many gods in Taiwan's innumerable pantheon lie in a state of disrepair and neglect, their imposing black-and-white figures hovering with impotence over empty parking lots, dried-out fountains and dingy strip clubs.
Incarnation is followed up by Hell Plus, a project for which Yao visited countless Taiwanese temples containing violent depictions of people suffering in the eighteen levels of hell – a religious deterrent.
Shot in colour to bring out the garish contrast of red paint draining from the white, plastered bodies of tortured statues, Yao's photography makes these temples and their poor craftsmanship appear like a kitschy collision between Hieronymus Bosch and Disneyland.
Both Yao's projects depicts what he sees as a new "terminal stage" in Taiwanese culture. Temples become amusement parks and over-blown statues the whale carcasses of a culture awash in decadence.
Yet Elysium does not despair. Instead, it sees, in Yao's words, "regeneration and metamorphosis" for Taiwan's cultural landscape.
I would not say that Elysium is as visually pleasing as it is intellectually intriguing.
Visitors should definitely pick up the exhibition's pamphlet and thoroughly read it before stepping into the Black Box theatre – at least if you know as little about the historical and cultural context as I do.
Admissions are free, and this exhibition is definitely something to check out on your next stroll through the city centre.
---
Get the Luxembourg Times delivered to your inbox twice a day. Sign up for your free newsletters here.