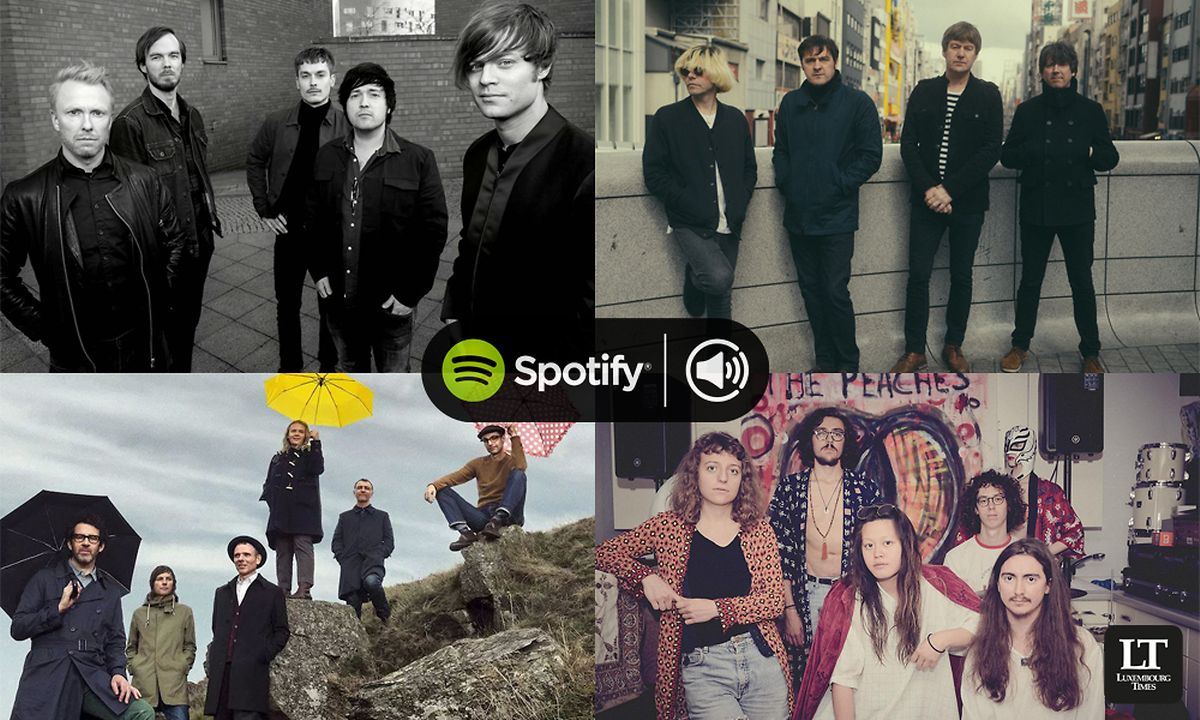 Top left - Mando Diao, top right - The Charlatans, bottom left - Belle & Sebastian, bottom right - Choppy Bumpy Peaches
This February will see another plethora of musical genres come to the Grand Duchy, from the modern piano compositions from Peter Broderick at Rotondes to the legendry trumpeter Wynton Marsalis' jazz tones.
Whilst there is always a healthy number of international bands touring through Luxembourg such as 90s favourites The Charlatans, who'll stop over for their first time at den Atelier, there will also be an album launch from one of Luxembourg's most exciting new bands, The Choppy Bumpy Peaches at Rotondes.

Above: Listen to the Luxembourg Times 20-track Spotify playlist
Forget everything you know about Hookworms. Well maybe not everything, the urgency and viscera both live and on record the Yorkshire-based five-piece prominence across two full-length LPs, 2013's Pearl Mystic and 2014 follow-up The Hum, remains. However, on their much-anticipated third record in 'Microshift', the band deliver a seismic shift in their sound, dynamic, song-writing and production. Radiant, immersive and teeming with light, but still heavy and forceful. Hear their new sound live at Rotondes on 4 February.
Peter Broderick is an American-born multi-instrumentalist and singer, now based in Ireland. Aside from collaborations with M. Ward, Laura Gibson, Dolorean, Efterklang, Nils Frahm, Greg Haines, David Allred and many more, Broderick recorded several acclaimed albums of solo material, ranging from classical music compositions and homemade folk music to piano and voice recordings, constantly experimenting with different musical genres and making his name as an essential artist in today's musical panorama. Along with some of the most prestigious comers across the world, Peter Broderick has also performed in festivals like Roskilde, Montreux Jazz Festival, Misty Fest, CTM Festival, Green Man and now's your chance to see him at Rotondes this 7 February.
Having cancelled their show last year at Rockhal, Glasgow's favourite twee indie outfit Belle & Sebastian are finally making a return to Rockhal on 11 February. In 2014, the band cut their 9th studio album 'Girls in Peacetime Want to Dance', which blends electro-glide, baroque balladry, and giant-sized Europop hooks. They deserve several accolades, each of which are rare for any band in 2017 – Belle & Sebastian are unique, unpredictable, and fiercely loved.
Taking krautrock's motorik beats and Post-Punk deconstructions and honing them into a hushed percussive incantation, The Soft Moon's self-titled debut album took shape.
The album was released in late 2010 by Captured Tracks and was praised by critics and emulated by contemporaries. While previous albums were primarily instrumental records, where Vasquez's voice was diffused amidst the music as another instrument, 'Deeper' marked the beginning of a new musical direction where vocals and lyrics became something more than a mere presence.
Think dark, brooding and post industrial sounds for this one. These epic sounds will surely totally immerse you in the very intimate surroundings of de Gudde Wëllen on 18 February.
As an artist Sam Lee traverses many worlds, challenging and pioneering folk music in as diverse places and ways. Not just an award-winning singer with two highly decorated albums to his name and a sound incomparable to his contemporaries'; his work fostering live music in the UK has been instrumental in the explosion of folk in the last decade. Sam reinvents not just the way these ancient songs should sound but how they can be sourced, exist and thrive, from conscientiously gathering them in Gypsy Traveler camps to singing them for the Hollywood big screen and for your ears on 22 February at the Philharmonie.
The jazz musicians of the Lincoln Center Orchestra (JALCO) and the trumpet player Wynton Marsalis are living legends of jazz. They are this season Artists in Residence at the Philharmonie Luxembourg. The month of February is under the sign of their unique and exciting game. With three projects - one of which is especially aimed at children - the masters of swing and blues offer to dive into the history of a genre that defines itself beyond names such as Duke Ellington, Dizzy Gillespie, Thelonious Monk or Benny Goodman, and that JALCO musicians see as a musical metaphor for democracy. A unique opportunity to meet legends at the Philharmonie over
23 & 24 February.
The Choppy Bumpy Peaches are a young Space Rock / Neo-Psychedelic band from Luxembourg. The band formed in 2014 and since then released EP in 2016 called 'Melocoton' which got them support gigs for Blues Pills at Atelier Den, Gringo Star and (SANDY) Alex G. Combining influences from the great era of Psychedelic and Space Rock like Pink Floyd with modern eastern Krautrock bands like Kikagaku Moyo, the Peaches created their own vision of Space Rock with their new LP. A live performance by the band will take you on a cosmic ride of heavy psychedelic guitar riffs to Indian summer vibes, all while floating in a lush atmosphere this 24 February at Rotondes for their album launch night.
Founded in the late 80s The Charlatans were able to establish themselves as Brit-Pop took over the charts in the 90s. Best known for their single, 'The Only One I Know' The Charlatans reached the top of the British album charts with three of their LPs in the 90s. Now back with their best album in 20 years The Charlatans will perform the first time ever in Luxembourg at den Atelier on 25 February .
Other notable concert in Luxembourg this February include: