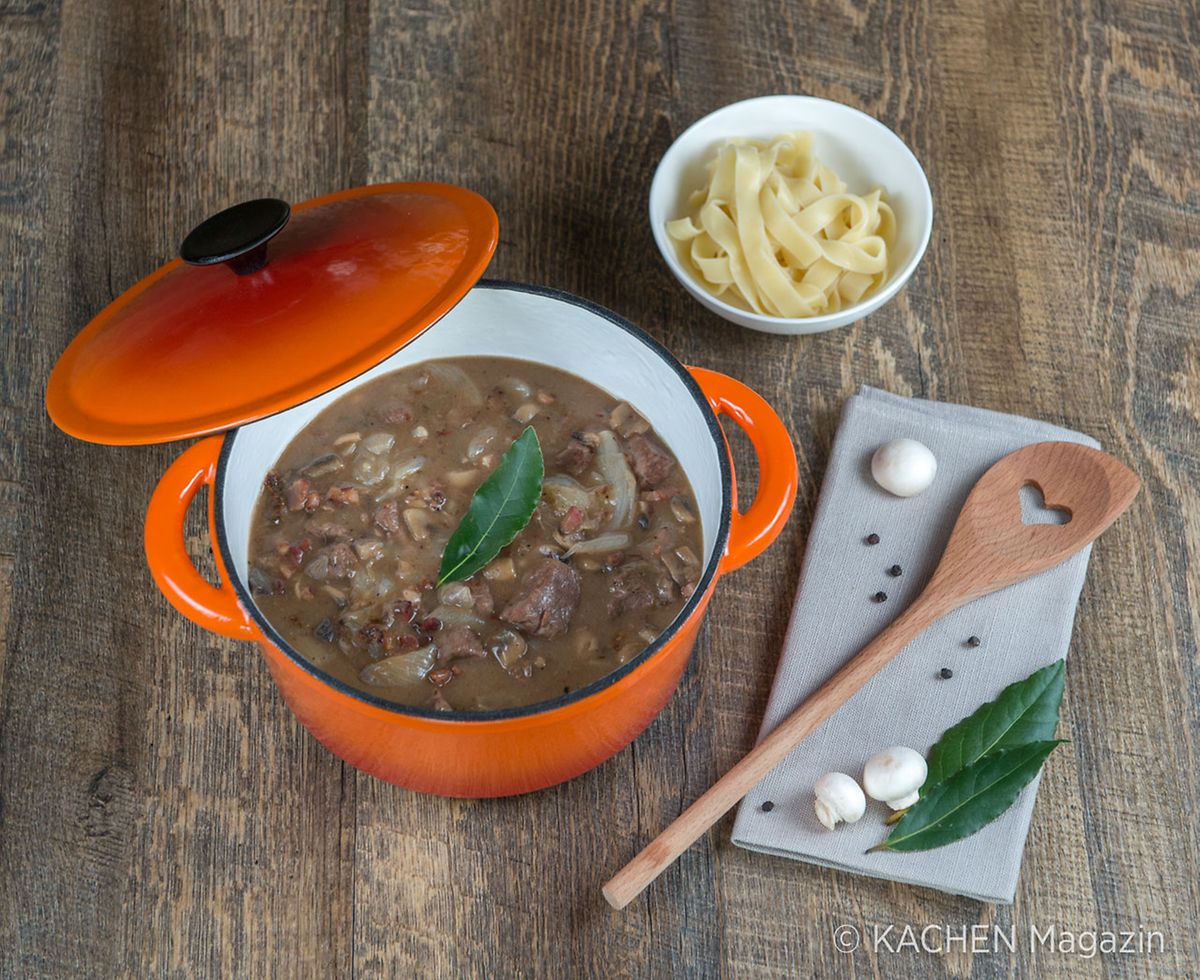 Photos: Ramunas Astrauskas
In collaboration within the food and lifestyle magazine KACHEN, the Luxembourg Times presents the recipe of the week.
10 minutes + 2 hours cooking time
Serves 6
Ingredients:
1 kg beef (topside, clod, shoulder)
65 g flour
Salt and pepper
3 thick slices of streaky bacon, diced
12 shallots
200 g mushrooms
250 ml red wine (e.g. Pinot Noir Wellenstein Foulschette 2015, Domaine Mathis Bastian)
500 ml beef stock
A few sprigs of thyme
2 bay leaves
Preparation:
1. Trim any fat and gristle from the meat and cut into 2 cm cubes. Stir the flour, salt and pepper together, then use the mixture to coat the meat.
2. Dice the bacon and fry in a casserole dish with a little oil until slightly crispy. Remove from the dish and place on kitchen paper to absorb the grease. Add the shallots to the remaining fat in the dish and fry on a medium to high heat until brown. Remove the shallots, add the meat to the casserole dish and fry gently.
3. Return the shallots and bacon to the dish with the meat. Deglaze with wine and stock. Add the mushrooms, thyme and bay leaves and bring to a simmer. Reduce the heat and leave to cook for approx. 1 ½ hours, stirring occasionally. Remove the bay leaves and thyme sprigs and serve the boeuf bourguignon with fettucine or boiled potatoes.
Recommended wine:
Pinot Noir Wellenstein Foulschette 2015, Domaine Mathis Bastian
Recipe: Bibi Wintersdorf
---
Get the Luxembourg Times delivered to your inbox twice a day. Sign up for your free newsletters here.