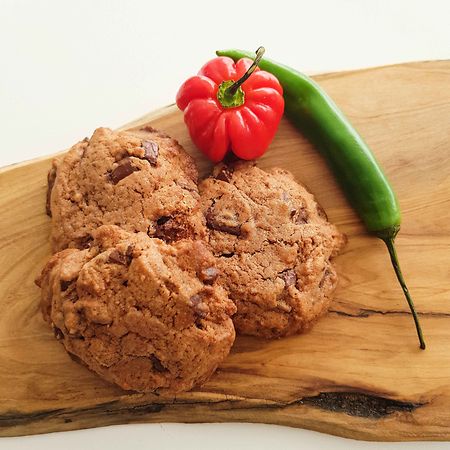 In collaboration within the food and lifestyle magazine KACHEN, the Luxembourg Times presents the recipe of the week.
Yields approx. 10 cookies - 10 minutes + 30 minutes cooling time + 10 minutes baking time
Ingredients:
115 g butter
50 g brown sugar
50 g white sugar
165 g flour
1 tbsp vanilla paste or sugar
1 pinch of salt
1 egg
30 g cocoa
1⁄2 tsp cinnamon
1⁄2 tsp cardamom
1⁄2 tsp baking powder
200 g chocolate chips with chilli
Method:
1. Whisk the softened butter and the sugar until creamy
2. Add salt, vanilla paste, and egg and mix until homogenous
3. Then add the flour, the cocoa, and the spices. Only add the chocolate chips at the very end
4. Cool the dough in the fridge for at least half an hour - this will prevent the cookies from spreading too much when baked
5. On a baking tray lined with baking parchment, distribute the cookies with a spoon and bake for 8-10 minutes (depending on their size) at 170°C
6. (For the DIY jars: All jars are suitable to be made into these sweet gifts. Add all the dry ingredients to the jar, but keep the sugar separate, as it needs to be mixed with the butter in the first step. A practical solution for this would be a coffee filter and a string.)
---
Get the Luxembourg Times delivered to your inbox twice a day. Sign up for your free newsletters here.