In collaboration within the food and lifestyle magazine KACHEN, the Luxembourg Times presents the recipe of the week.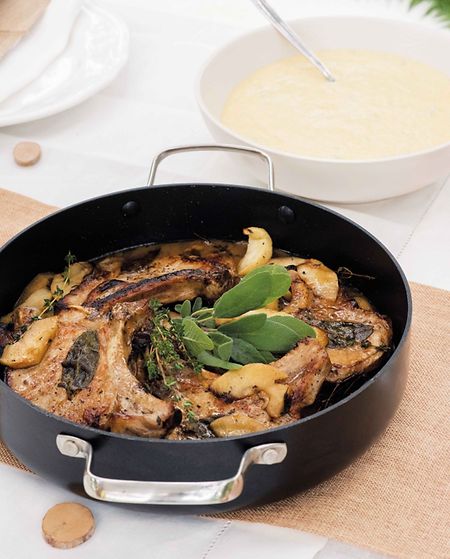 4 persons - 45 minutes
For the pork chops:
• 4 pork chops with bones (about 2-2.5 cm thick) • 2 tbsp olive oil • 2 tbsp brown sugar • 20 sage leaves • 2 apples • 1 tbsp butter
• 120 ml apple cider • 1 tbsp fresh thyme • salt and pepper
For the polenta:
• 360 ml milk • 360 ml water • 160 g polenta • 4 tbsp butter • 100 g gorgonzola • salt and pepper
For the pork chops:
1. Preheat oven to 220 ° C.
2. Rub the pork chops with olive oil, salt, pepper and sugar. Gently press 3-4 sage leaves per serving on each cutlet. Peel apples, cut into quarters, remove the core and cut into slices.
3. Heat a large oven-proof pan or a frying pan on the stove over medium heat. Fry the chops at each side for 2-3 minutes until both sides are caramelized. Add the butter and let it be slightly brown in 1 minute. Slowly pour the apple cider and add the fresh thyme.
4. Bring to a simmer, then place the apple slices around the meat.
5. Place the pan in the oven and roast for 15-20 minutes, depending on your taste. The liquid should be reduced to a sauce. If the pork is already cooked before the sauce is ready, simply remove the meat from the pan and continue to cook the sauce on the hot plate.
For the polenta:
1. Place milk and water in a saucepan and bring to a boil. Reduce the heat and slowly stir the polenta. Cover and cook for 15-20 minutes, stirring regularly.
2. Heat the butter over medium heat in a small saucepan until it becomes brown and aromatic; however, it shouldn't burn. Remove from heat.
3. Stir in the gorgonzola and half of the brown butter just before serving. Season with salt and pepper. If the polenta is slightly too thick, simply add some butter or milk.
4. Spread the polenta on the plates. Add the pork chops and garnish with apple slices and sauce. Serve with the remaining brown butter and a sage leaf.
---
Get the Luxembourg Times delivered to your inbox twice a day. Sign up for your free newsletters here.