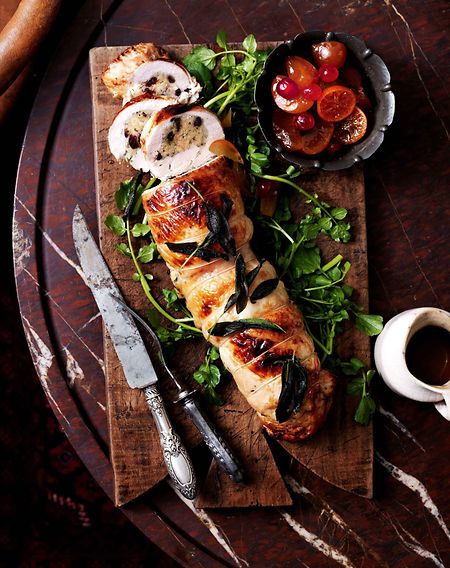 In collaboration within the food and lifestyle magazine KACHEN, the Luxembourg Times presents the recipe of the week.
Rolled Turkey Breast:
• Serves 6-8
• Preparation time 40 minutes
• 1,5 hours baking time
Ingredients:
• juice of 1 orange
• 1 cinnamon quill
• 1⁄2 cup (125 ml) maple syrup
• 2 kg boned turkey breast
• 50 g unsalted butter, melted
• 1 tbs plain flour
• 1 cup (250 ml) white wine
• 300 ml chicken stock
• watercress sprigs and mustard fruits (both optional), to serve
For the Stuffing:
• 100 g unsalted butter, chopped
• 1 onion, finely chopped
• 1 cup chopped flat-leaf parsley leaves
• 10 sage leaves, finely chopped, plus extra fried leaves to serve
• 2 1⁄2 cups (175 g) fresh breadcrumbs
• 2⁄3 cup (100 g) raisins
• 1 tbs plain flour
Preparation:
• Preheat the oven to 190 °C. For stuffing, melt butter in a frypan over medium heat.
• Cook onion, stirring, for 2-3 minutes until softened. Combine with remaining stuffing ingredients. Season and set aside to cool.
• Place orange juice, cinnamon and maple in a small pan over medium heat. Bring to a simmer, then cook for 10 minutes or until reduced by half. Set aside.
• Using a rolling pin, flatten turkey between two sheets of baking paper until 2 cm thick. Season. Place stuffing along one edge. Roll turkey breast tightly to form a log shape. Tie in 5 cm intervals with kitchen string. Brush turkey with butter and season. Place in a roasting pan and cover with foil. Roast, basting every 15 minutes with maple mixture, for 1 hour, then remove foil and roast for a further 20 minutes or until golden and cooked through. Remove turkey from pan and rest, loosely covered with foil, for 10 minutes.
• Return roasting pan over medium heat. Cook flour, stirring, for 1-2 minutes until golden. Stir through wine and stock, then cook for a further 3-4 minutes until the jus is slightly thickened. Strain into a jug. Slice the turkey and serve with fried sage, watercress and mustard fruits, if using, and jus on the side.
---
Get the Luxembourg Times delivered to your inbox twice a day. Sign up for your free newsletters here.