Michelle Yeoh became the first Asian woman to win best actress
While this year's Oscars ceremony went off without a hitch – or on-stage punches, for that matter – there nevertheless were some proverbial gut punches that would have made Will Smith jealous.
Competitions, by their very nature, always create winners and losers, but the Oscars have a reputation for producing controversial choices and bizarre results year after year. The 2023 edition was no exception.
With Everything Everywhere All At Once having swept up seven awards - including best picture and best actress - other trailblazers went wholly unawarded. Here's a non-exhaustive look at the highlights, takes and tidbits of this year's Academy Awards.
This year's big winners - and the studios behind them - tell a story of a shifting film production landscape. Everything Everywhere and The Whale (a.k.a. Brendan Fraser's 'Brenaissance') garnered the indie Studio A24 nine awards while five awards went to Netflix. It seems that streaming services and risk-taking, mid-budget studios are paving the cinematic way and leaving the older, more established studios in the dust. Netflix's All Quiet on the Western Front was another big winner this year with four wins. And who can fault that?
Everything Everywhere All At Once won seven awards
Official trailer screenshot
That being said, seeing Michelle Yeoh and Ke Huy Quan win big was a delight. Both woefully underappreciated actors even before Everything Everywhere, they also represented a huge success for Asian actors in Hollywood. Yeoh became the first Asian woman to win best actress, while Quan is the first Asian actor to win best supporting actor in 38 years.
There was some backlash to Darren Aronofsky's The Whale winning a second Oscar for best makeup. Brendan Fraser's heavy fatsuit was arguably the main character of the film, although many critics questioned why the production team didn't cast an overweight actor to play an overweight character. Like it or not, few would disagree that seeing Brendan Fraser win an Oscar after a lengthy - and involuntary - hiatus was a breath of fresh air.
But not everyone's a winner. Baz Luhrmann's biographical Elvis received eight nominations but, like Tár, netted zero Oscars. Austin Butler's uncanny impersonation of the King of Rock and Roll certainly garnered widespread admiration - and reportedly gave him a permanent Elvis accent detectable in his everyday speech. The young actor's dedication to his craft, which earned him a BAFTA and a Golden Globe, nevertheless seemed to have not been enough for the Academy.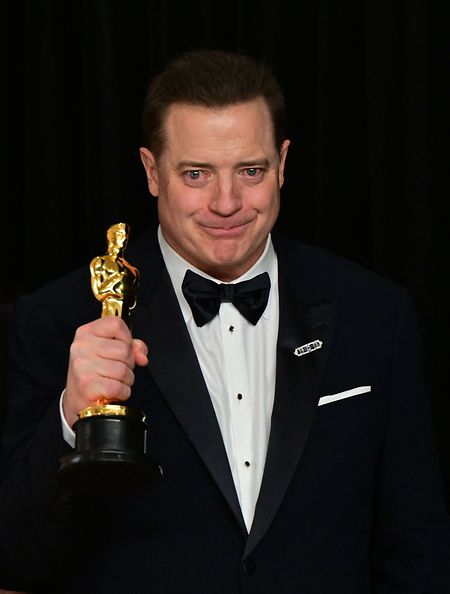 Brendan Fraser
Photo: AFP
Was Cate Blanchett snubbed? Her role in Tár has been heralded as possibly the best performance of her career so far - and the film received six nominations. But just as Austin Butler lost to Brendan Fraser, Blanchett lost to Yeoh, setting a strong example of how the current indie/streaming vanguard outperforms more traditional productions at every turn. Every award must fend off accusations of snubbery, and Everything Everywhere's wholesale sweep has certainly left many grumbling.
But the Oscars in particular also have a tendency to produce memorable hiccups in its live show and, often, downright cringeworthy moments. Nothing could have topped Will Smith's now-infamous punch from last year although that doesn't mean there weren't some strange and hard-to-watch moments last Sunday.
For one, viewers were quick to notice some glaring omissions from this year's 'In Memoriam' segment commemorating actors and industry experts who have died. Charlbi Dean, a lead actress in the triple-Oscar-nominated Triangle of Sadness, passed away last year shortly before the release of the film. Her name, oddly, was totally absent. Other notable industry veterans were absent too, including Paul Sorvino of Goodfellas fame and Tom Sizemore, who died earlier this month.
Arguably the worst part of this year's show was the incessant haranguing of Malala Yousafzai. Representing the short documentary Stranger at the Gate, the Nobel Peace Prize laureate was singled out by host Jimmy Kimmel and asked whether "Harry Styles spit on Chris Pine?" She, very graciously, simply responded with: "I only talk about peace." But her grace didn't stop a guy dressed as 'Cocaine Bear' from further annoying her, leading to some terribly awkward moments.
This year's choice of winners may have proven especially contentious, but that's the way the cookie crumbles when the Academy sees a big sweep. Consider the 2004 Oscars when Lord of the Rings: Return of the King won a mind-boggling 11 Oscars. There were tons of deserving contenders that year too - and tons of critics who grumbled afterwards. Everything Everywhere is precisely that kind of once-in-a-blue-moon record breaker, with one notable difference: it was already the most awarded film of all time before this year's Oscars even took place.
---
The Luxembourg Times has a new mobile app, download here! Get the Luxembourg Times delivered to your inbox twice a day. Sign up for your free newsletters here.
---