The Gambella national park in Ethiopia is being redeveloped to grow sugar cane, palm oil and other crops. The park is the site of one of the largest mammal migrations in the world, that of the white-eared kob.
Who owns the earth that provides our food? Who controls what crops we grow and who consumes them? These are the big questions "slow journalists" Frauke Huber and Uwe H. Martin pose at the LandRush art exhibition. As a visitor, you may search for the answers yourself through a set of installations. But a word of warning, you may not like what you find...
The show is situated inside a former industrial pump house in Dudelange. From the moment you step in, ground level TV sets and huge cinema-worthy screens compete for your attention, pumping out the duo's work on a continuous loop. The combination of photography and documentary draws you into a web of personal and professional stories, mimicking the cacophony of news coverage.

The exhibition is split into three chapters: White Gold, LandRush and Dry West. Each shows the social and environmental effects of agriculture from Germany to Brazil, India to Africa, the USA and beyond. Considering themselves "art activists", Huber and Martin come up with some ugly truths. Although they acknowledge the benefits of large scale agriculture, for instance by bringing more wealth to poor areas, the viewer is left to wonder: at what cost?
"Over-exploitation of the soil and rapidly intensifying global temperatures [mean] desertification is one of the greatest threats to life on earth," a leaflet says. "Every minute of every day 23 hectares of arable land are lost to growing deserts, while 23% of the global land surface has reduced productivity due to land degradation." It is a bitter pill to swallow. For, in acknowledging these facts, we confess to being implicit in their design. Whether you buy clothes, shop for food, drink water or even just live on a piece of land: you are already more entangled in the web of global agriculture than is comfortable to admit.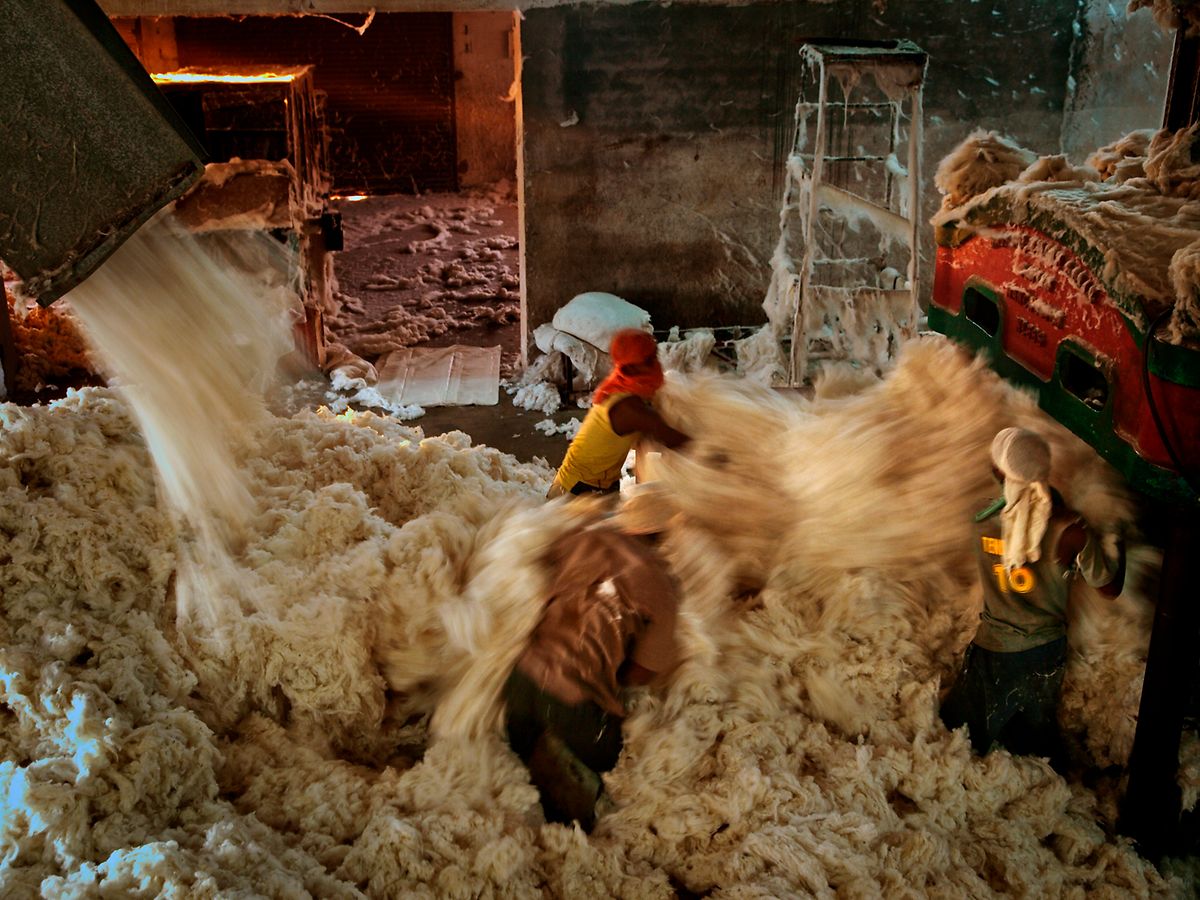 During the high cotton season, workers at a Yavatmal ginning work in India toil day and night in two shifts.
Uwe H. Martin & Frauke Huber
But it's not all doom and gloom - honest. The exhibition also offers slim but hopeful visions of a better future. Voices of activists, such as the 'Gandhi of grain', Vandana Shiva, are given a platform, championing traditional farming practices and maintaining farmers' seed sovereignty in India and beyond. Also, alternative methods such as organic cotton farming and the use of natural pesticides, like neem, are brought to the fore.

Participants are free to wander at will around the exhibition, plugging in and out of audiovisual devices using a headset. You decide how to interact: sitting and listening, reading the subtitles on screen or just observing the harrowing beauty of the images rotating in the room. Personally, I would have liked Huber and Martin to have given the opportunity for participants to record their own impressions. It would have given us consumers a chance to add our voice and another dimension to the duo's research.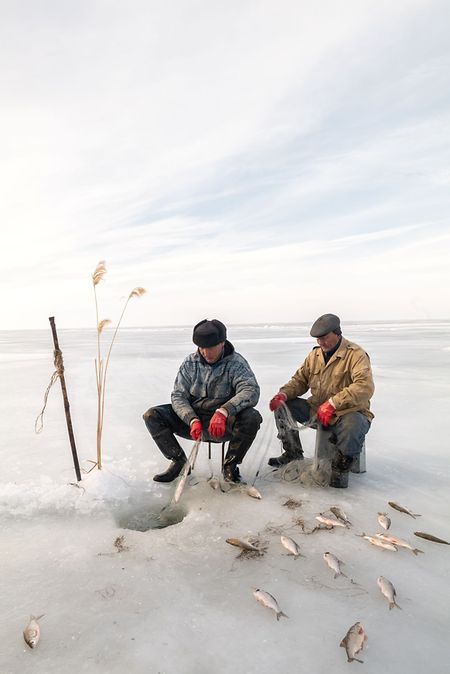 Two men managing to catch some fish in the Aral Sea. Once the world's fourth-largest lake, it is now largely a desert and the United Nations has dubbed it the worst man-made environmental disaster.
Uwe H. Martin & Frauke Huber
The real power of the exhibition lies in its ability to encourage the observer to draw their own conclusions. The exhibit places emphasis on quality and context, not the sensationalist reporting that characterises much of today's media. While there is no graphic material to speak of on display - no animal carcasses, no burning rainforests, no dead fish piled high in the desert sands left behind by the evaporated Aral sea – the seemingly unstoppable stream of testimonies hits equally hard, maybe harder. Is it subtle? Not really. Is it powerful? Absolutely.
The exhibition does not purport to offer neat answers to complex problems. Rather, it poses questions about the colonisation of indigenous peoples' lands, the modern slave trade, climate change, water rights and the corporatisation of farming - to name just a handful. Landrush is worth seeing, but if you are looking for an easy exhibition, designed to wander around quickly and emerge from with a smile on your face, then it is not for you.
LandRush is part of the European Month of Photography. It can be seen in the Centre National de l'Audiovisuel (CAN) in Dudelange until 29 August and is open from Wednesday to Sunday between 1200-1800 hrs. Reservations are advised over the weekend because of coronavirus restrictions. Free entry.

---
The Luxembourg Times has a new LinkedIn page, follow us here! Get the Luxembourg Times delivered to your inbox twice a day. Sign up for your free newsletters here.