Environmentalism is à la mode again. Riding high on its coattails is a resurgence of art that wants to raise awareness about the environment. Best known for his images and sculptures of Luxembourg landmarks, local artist Ben Carter has taken a detour into Eco-art.

The topics that Eco Art addresses are uncomfortable and - let's be honest - downright depressing, especially coming hot on the heels of the pandemic. But Carter manages to make hard-hitting issues such as plastic pollution, melting icecaps and the modern slave trade accessible in, dare I say, a fun way.
His engaging pictures show cute penguins, Warholesque masks in sardine tins and animated art-toons. But Carter admits that it is a tightrope to walk and a "balancing act to remain playful and fun."
''The Eco-artist was always in me,'' Carter stresses, ''just temporarily put on hold.'' As a student, ''all of [his] art was related to environmental and social issues.'' To the extent that he spent time travelling with the World Wildlife Fund (WWF) to illustrate one of their projects. So, what may appear as a departure from his signature work is perhaps just a return to his roots. The birth of his daughter and the beginning of the pandemic left him thinking about the legacy we are leaving our children. What initially began as a sideline to Carter's business, is now gaining momentum.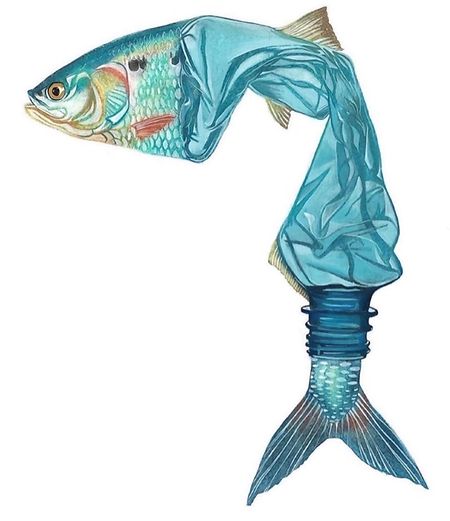 Art has retained the ability to convey a complex message in a simple way amidst the modern overload of information, Carter says. 'My art is designed to speak a visual language that not only captivates the viewer, but also translates clearly to an important message in a very short time frame.''
Carter likens his art to advertising. "Only here,'' he says "one is advertising the environmental concerns of our time.'' Greenpeace International have seized upon his work to promote their own agenda and the pressure group is planning more projects with Carter from Luxembourg.

March of the penguins
The collaboration has provided millions of people with access to Carter's work. Social media platforms are also a huge game changer, as they ''allow vast audiences at a click of a button to view your art,'' Carter says. A good substitute as the pandemic put an end to real-world exhibitions. Yet ''nothing beats face to face contact with your audience at an exhibition. This is priceless. People being able to view your art up close, touch it, and talk to you about it.''

Understandably he is excited about a community project in Luxembourg, where an Eco Wall Mural will appear. Carter will showcase his popular penguin designs to ''engage with the community … as the art evolves before them.''

Carter's last big exhibition was in New York, where he also exhibited his penguins and climate change topics in 2019. Upon his return, Carter had planned to produce an army of 3D life sized penguins with their suitcases to be scattered around Luxembourg city. Covid initially derailed these plans, but a major bank in Luxembourg got in touch with Carter about the idea recently. So ''fingers crossed'', he says, the ''penguins are finally on the march again!''
Seen to be green
While interest in Eco Art shows no signs of slowing, Carter confesses that his main business still comes from his Luxembourg landscapes. It is an observation that raises a number of questions - perhaps more uncomfortable than those the art itself poses. Art and business have always been the consummate power couple and the majority of eco artworks are bought by private collectors, including companies eager to show their environmental credentials. But paying lip-service to environmentalism is not the same as acting on it. For each piece that helps groups like Greenpeace reach their goal, a number of others will be used to "greenwash" the not-so-green activities of different organisations.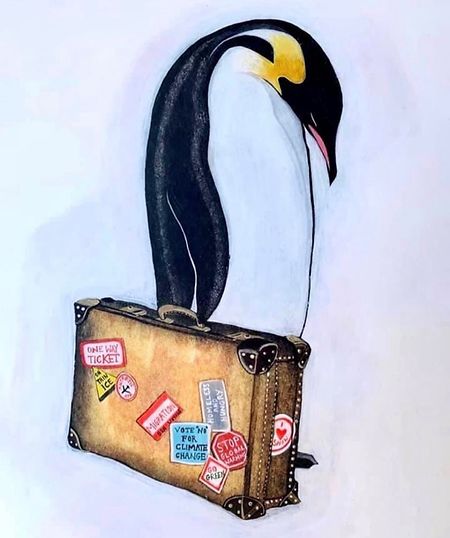 Yet should eco-artists be expected to censor buyers of their works? Purists argue it is better to protect the cause at any cost. But starting a dialogue about pollution within for instance fossil fuel companies might have equal value, given that they have the power and the money to change things. It is true there is a risk that Eco-art becomes the equivalent of the little black dress for environmentalists - only in a greener hue. Carter's goal is simple: to captivate people long enough to inspire action.

So...what's your goal?
Want more? Click on the links below:
https://www.bencarter.lu/environmental1 https://www.greenpeace.org/luxembourg/fr/

---
The Luxembourg Times has a new LinkedIn page, follow us here! Get the Luxembourg Times delivered to your inbox twice a day. Sign up for your free newsletters here.
---