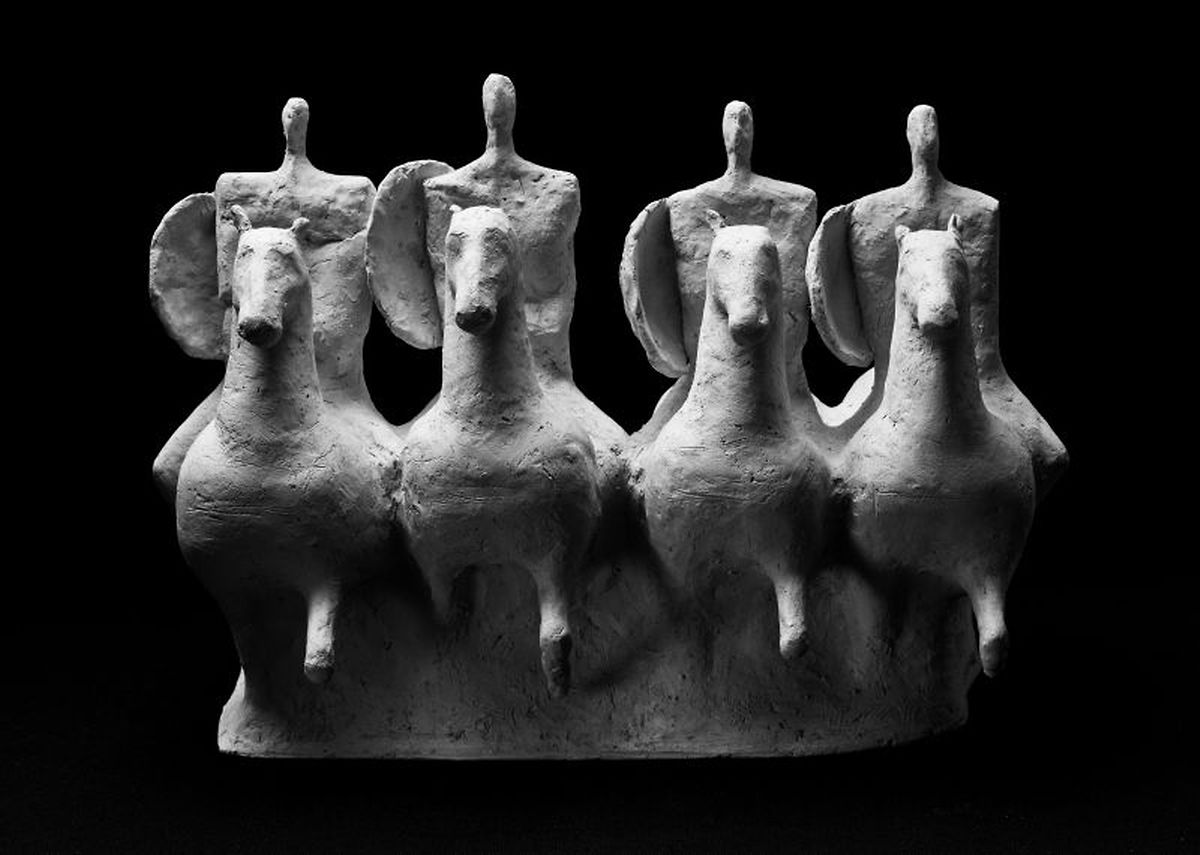 Photo: Les 2 Musées de la Ville de Luxembourg / C. Weber, 2020
The Villa Vauban presents the first posthumous exhibition of Luxembourgish artist Charles Kohl (1929-2016), highlighting the raw talent of one of the country's greatest artists.
Showing a deft hand for both painting and the plastic arts, Kohl's primary medium was sculpture. Using an array of materials – including bronze, terracotta and plaster – Kohl created a language that explored the fragility and ambivalence of the human spirit.
Born in Rodange in 1929, Kohl showed an interest in painting and sculpture at an early age and created his first sculpture, a Grecian soldier, at the age of 3. At age 10, he sculpted a bust of a German soldier which caught the eye of the Nazis, leading to an invitation to participate in an exhibition in Cologne at which Hitler himself would be present—Kohl's father, Jean, refused the invitation, citing medical reasons.
Kohl's fascination for antiquity and the figure of the soldier persisted but, in his works, particularly those of soldiers, there is a sense of pathetic heroism, a pathos of fragility that marks the surface of his sculptures.
Often depicted as fragmented bodies with missing limbs, like the vestige of some antique statue, Kohl's soldiers have the appearance of being bound in gauze – a representation that may have been inspired by his father's profession as a tailor. In this way, Kohl's sculptures appear mummified, their bodies contorted into a formlessness that feels ancient yet timeless.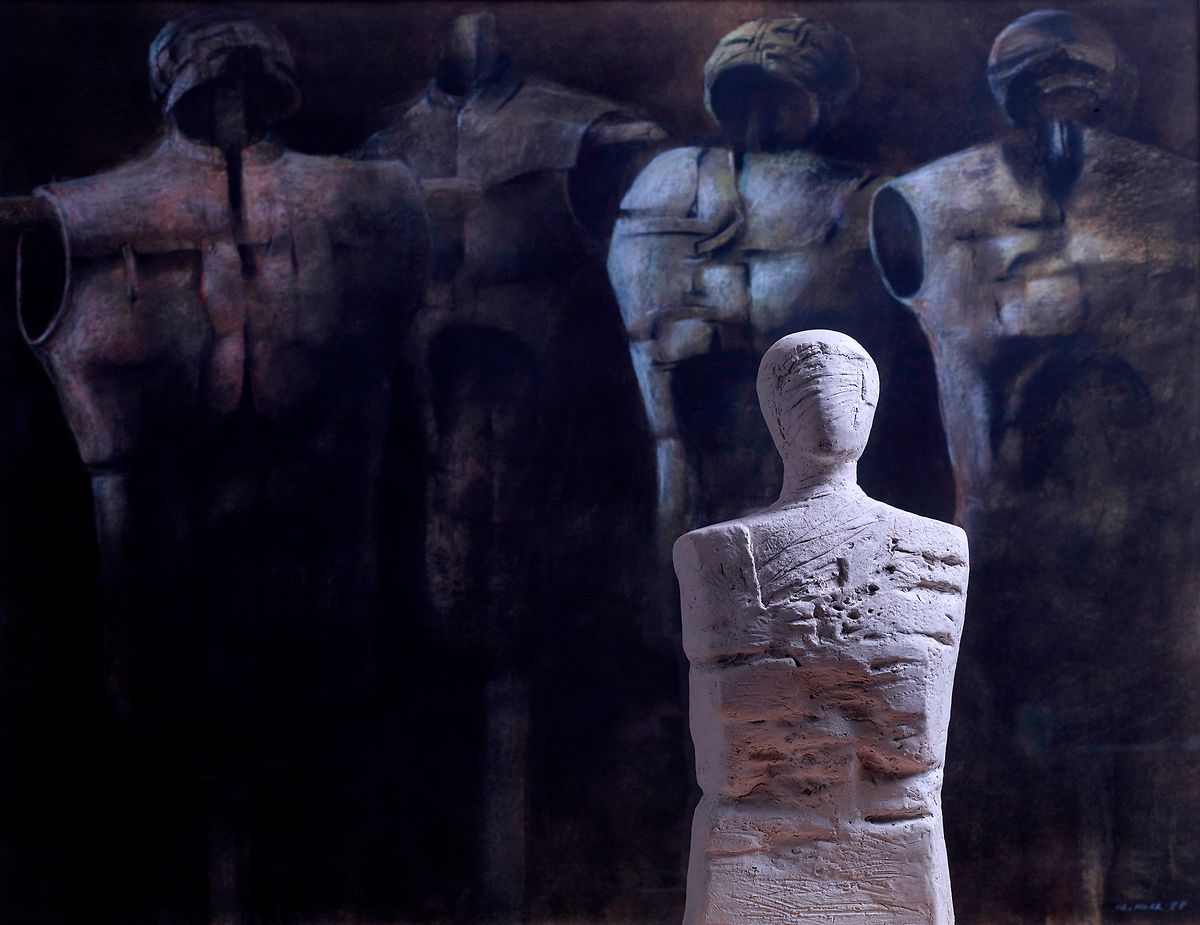 Photo: Les 2 Musées de la Ville de Luxembourg / C. Weber, 2020
Most of these soldiers carry nothing but a shield or appear as emptied husks of armor, their bronzed or plastered surface marked by subtle scratches that appear both as wounds and as a clawing cry for intimacy, as if Kohl were trying to unveil his figures from their shrouds.
This earlier work is suffused with an existentialism that reflects on his childhood years, particularly his family's experience during the Second World War.
After the War, Kohl's brother Antoine – an active resistance fighter – was released from Hinzert concentration camp, where he had been held by the Nazis. Shortly after arriving home, Antoine died of pulmonary complications, an event that marked Kohl for the rest of his life.
In 1956, Kohl worked with Émile Hulten and Claus Cito—who famously sculpted the Gëlle Fra—on the war memorial bas-reliefs for the National Resistance museum in Esch-sur-Alzette. The same year, he won the country's most prestigious distinction in the arts, the Prix Grand-Duc Adolphe.
But Villa Vauban also highlights Kohl's skill as a painter.
Like in his depiction of soldiers, Kohl's paintings bear a sense of veiled fragility, a recurring motif throughout his career which reemerged prominently in his depiction of circus performers in the '80s and '90s.
Like his soldiers, Kohl's circus performers undergo fragmentation and contortions, their figures reflecting a malleability and ambiguity of the human form that becomes increasingly assertive and poignant in Kohl's work.
The circus performers are depicted bound in hoops, entangled in rope, astride on horses and choked by plumes of fire. They are at once grotesque and dignified, standing on their pedestals like performers on a sacrificial pyre.
In many ways, they feel like the culmination of his career. Not only do they shed an existential ambivalence on the human figure and imbue an atavistic, if not timeless, aura to Kohl's use of stark terracotta and bronze, but they also reflect the onus of the artist in his job of molding and, ultimately, embodying his subjects.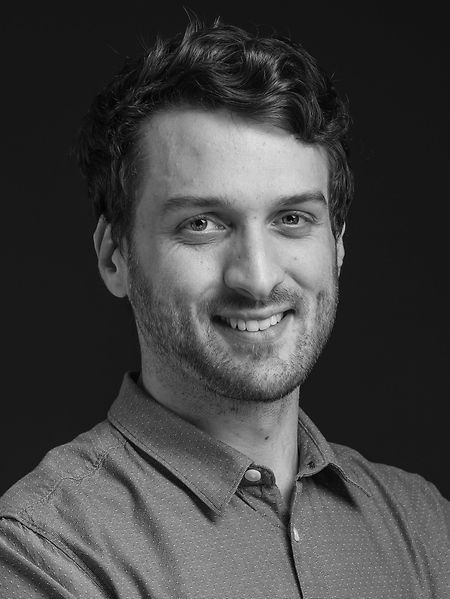 Michael Reinertz is the LuxTimes' culture critic Photo: Guy Wolff
The exhibition will be running until 17 January 2021. A virtual tour is also available online
Outside of the museum's walls, you can also find some of Kohl's works dotted across the country. These include a monument commemorating Paul Eyschen in Diekirch, a baptismal font in the Bonnevoie church, a war memorial in Contern, a sculpture for the Lycée Technique des Arts et Métiers and a series of outdoor pillars in front of the School of Business and Management (ECG) in Luxembourg.
---
Get the Luxembourg Times delivered to your inbox twice a day. Sign up for your free newsletters here.