Thinking in monochrome
Thinking in monochrome
Yasemin Elçi gives her view of "one of the world's most compelling" artists in the Mudam
Has to be seen to be fully appreciated: the spectacular life-sized 15-minute video "More Sweetly Play the Dance"
Born in Johannesburg, William Kentridge's works deal with colonialism and the aftermath of apartheid. Through animated films, drawings, prints and sculpture, he tells his captivating stories as easily in contemporary art as in opera, theatre or film. Juxtaposing harsh violence with the deeply human, the 65-year old broaches the vexing issues his country has to deal with.
Upon entering the museum, four megaphones invite you to the centre of Mudam's grand hall, showering in sunlight. They are performing the sound installation "Almost Don't Tremble" (2019) against the background of a giant tree made from paper cut-outs – called "Shadow" (2021) - which covers the entire two-story wall. But this is only a modest to the real spectacle that versatile Kentridge displays upstairs. His exhibition "More Sweetly Play the Dance" presents a wonderful chance for Luxembourgers to get to know Kentridge, one of the world's most compelling contemporary artists.
Born to Jewish parents who defended victims of apartheid, Kentridge has been making prints and drawings since the 1970s. He started to film series of charcoal drawings in the late 1980s, an experiment that would become one of his signatures, encouraged by film maker Angus Gibson, a close friend.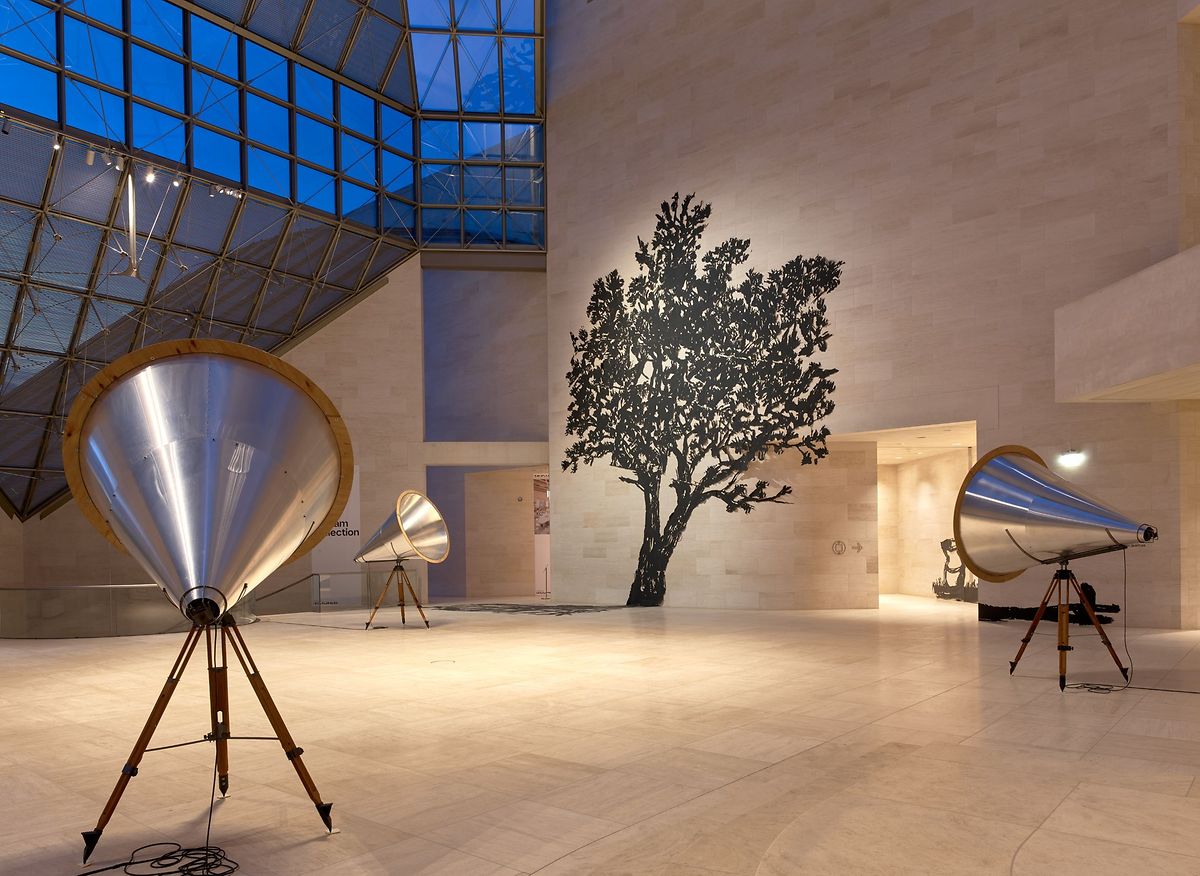 The "Almost Don't Tremble" sound installation
© Rémi Villaggi / Mudam Luxembourg
Drawing is a "non-verbal thinking process", Kentridge once told UK newspaper The Guardian. And so it makes sense that his choice for charcoal is not arbitrary. It may be a traditional material, but charcoal drawing is still a mandatory technique in most art schools. There is also a link with mining and colonialism in South Africa. And the dominating colours in the exhibition - black and white – allow an easy comparison with South Africa's racial make-up.

Despite portraying a range of media, Kentridge's work is unified. It is not a finished product. Here is an artist who believes in process, in creating, altering, erasing and then exposing his drawings as if he is leafing through memory. Challenging the undubitability of facts, Kentridge shows us the fleeting nature of existence - as well as the incompleteness and subjectivity of historical truth.
The spectacular life-sized 15-minute video "More Sweetly Play the Dance" (2015) summarizes South Africa's violent history in a joyous, ritual-like atmosphere. Accompanied by the warm harmonies of a brass band, this giant set of eight screens captivates its audience. It is an extraordinary theatrical installation about dance and slavery, immigration, disease, death and solitude. No wonder that the world's most prestigious museums and art shows have featured Kentridge's work, including MOMA and the Metropolitan Museum, the Louvre, the EYE Film Institute the Venice Biennale and Documenta X.
---
The Luxembourg Times has a new mobile app, download here! Get the Luxembourg Times delivered to your inbox twice a day. Sign up for your free newsletters here.