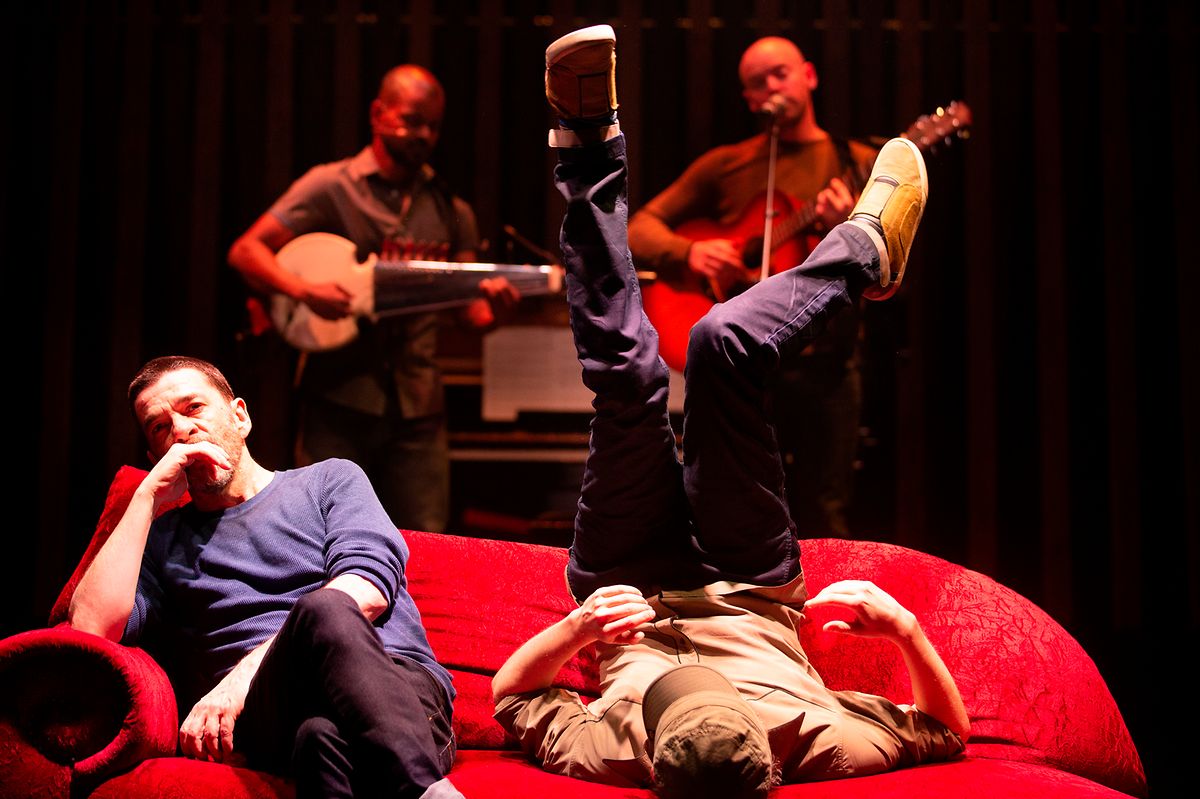 Sessions, at the Grand Théâtre in Luxembourg City Photo: Grand Théâtre
This mixed-bag of dance, music and slapstick with a tongue-in-cheek approach makes for weak satire with comedic gimmicks which detract more than they add to the scene.
Four performers explore their relationship to one another against the rhythmic backdrop of traditional Irish dance.
Drawing from a seemingly bottomless bag of talents, they play off each other with a levity that, at times, enhances and hampers the overall performance.
Whether performing pantomime using sampled recordings of choreographer Colin Dunne's delicate footwork or playing polyrhythmic patty-cake to the reel of composer Soumik Datta's 19-stringed Sadon, the collaborations onstage are tinged with comedic undertones.
Rear ends are rhythmically scratched, curse words are sung in harmonic acapella and a game of footsie ends up in an intricate four-person leg-lock.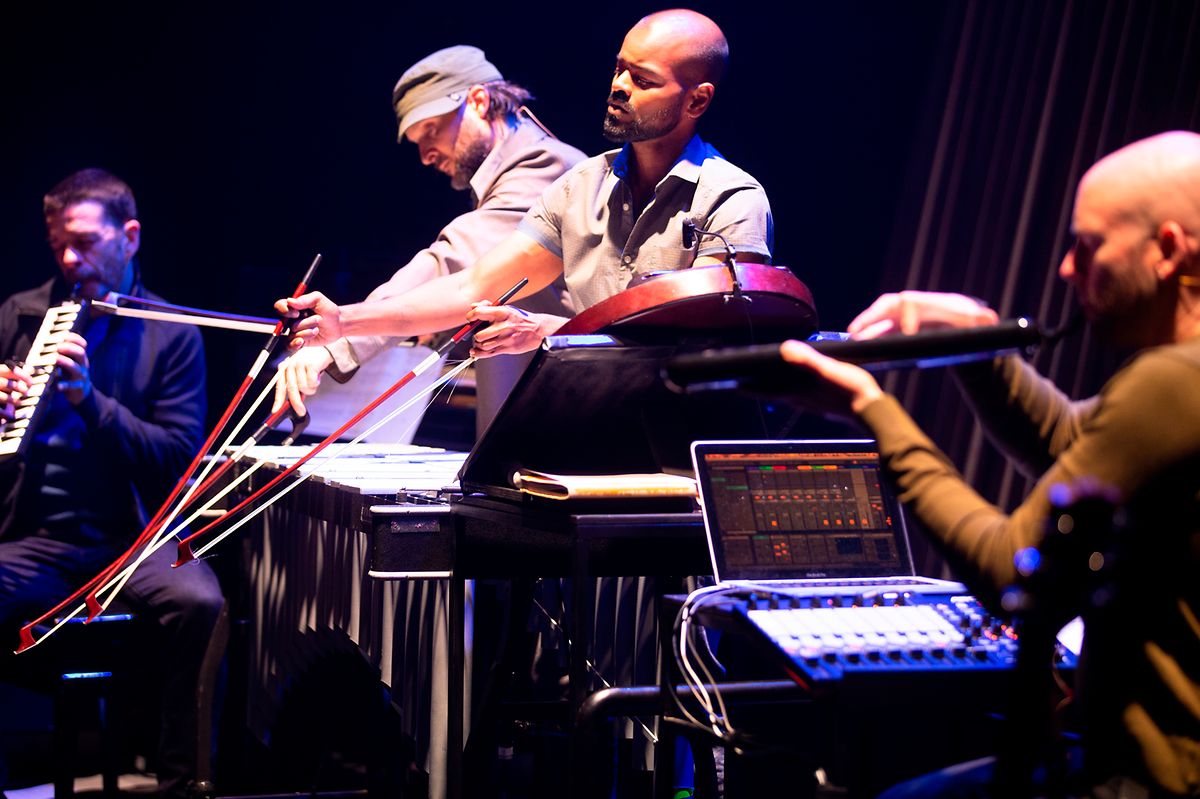 The Sarod is a 19-stringed instrument from the Indian subcontinent Photo: Grand Théâtre
And yet, while not without its entertaining moments, these gimmicks ultimately detract more than add to the talent on stage.
Furiously graceful river dancing, fluid movement and the surprising musical pairing of the Sadon and folk-inspired compositions are all buried under what ends up feeling like an hour of half-baked sketch comedy.
Perhaps even more disappointing is that, beneath all the slapstick, the performance tries to convey a genuinely heartfelt message about the dwindling connection between human beings.
While the performers do manage to treat this otherwise trite topic with a degree of ingenuity, the flippancy with which they do so ultimately feels more symbolic than revealing.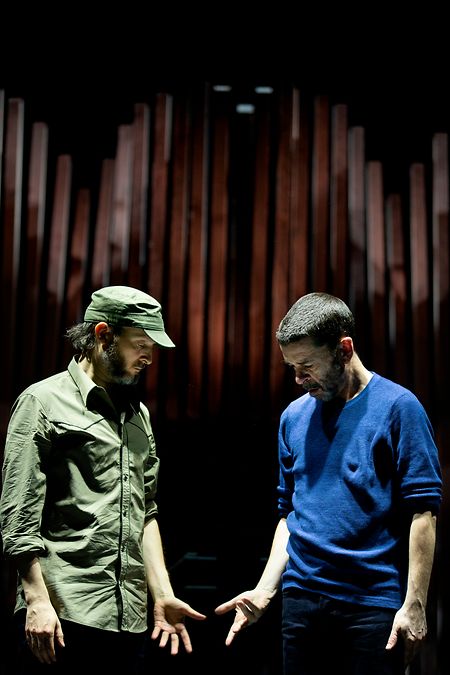 'The collaborations are tinged with comedic undertones' Photo: Grand Théâtre
At one point in the performance, two of the performers seem to unpack the issue of social estrangement on a red, chaise-longue. However, before this mock therapy session can go anywhere, the scene digresses into a Benny Hill-like sequence in which the two variably massage and beat each other.
While they might be trying to embody the root of estrangement through their own comedic digression, this is never fully fleshed out to the point that it makes for poignant satire.
In the end, the entire performance feels tongue-in-cheek to the point that, if indeed it had anything to say, it becomes entirely unintelligible in a jumble of comedy and social commentary that never truly comes together.
That being said, a degree of credit is due for the comedic route of their performance.
The show was met with raucous applause and this is largely due to their ability to use the somewhat antiquated art of physical comedy as a universal platform to convey their message to a European audience. While the message might have been somewhat trite and confused, the overall performance was entertaining nonetheless.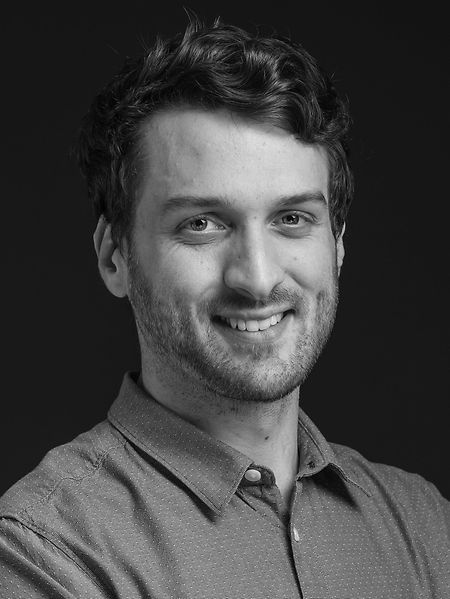 Michael Reinertz is the Luxembourg Times' culture critic Photo: Guy Wolff
---
Get the Luxembourg Times delivered to your inbox twice a day. Sign up for your free newsletters here.