What's on for International Women's Day
What's on for International Women's Day
Luxembourg streets named after famous women, films by female directors, a second women's strike, and several online debates, roundtables and workshops
Enjoy films from female directors, find out which streets in Luxembourg are named after women politicians, artists, and scientists, or join a virtual event
International Women's Day (IWD) on Monday 8 March celebrates the social, economic, cultural and political achievements of women across the globe. It also calls for action to accelerate gender parity, raise awareness about women's equality, and raise money for charities focusing on women.
While the day has been marked since 1911, it has a different theme each year. This year's edition is called "Choose to Challenge" - because from challenge comes change. Below is a list of some of the events you can take part in:
The Grund-based cultural centre will look at feminism around the world to challenge ideas about struggles led by women on other continents. In 2018, Rwanda, Iceland, Norway, Sweden, Finland, Nicaragua, New Zealand, the Philippines, Ireland and Namibia were the ten countries considered to be closest to gender parity.
A roundtable highlighting examples from Rwanda, Argentina and the Balkans will be hosted by Isabelle Schmoetten, responsible for socio-political projects at the Fraen an Gender information centre from 16.30 to 18.00.
Earlier in the day, there will be a chance to listen to music from pianist Eve Beuvens. You can watch the documentary series "Women" on the first floor of the abbey buildings, and the day's programme will finish with the live streaming of the play "Learning feminism from Rwanda".
Tickets can be booked/reserved by either emailing billetterie@neimenster.lu or calling (+352) 26 20 52 444.
Second Women's strike – in situ protest march plus digital format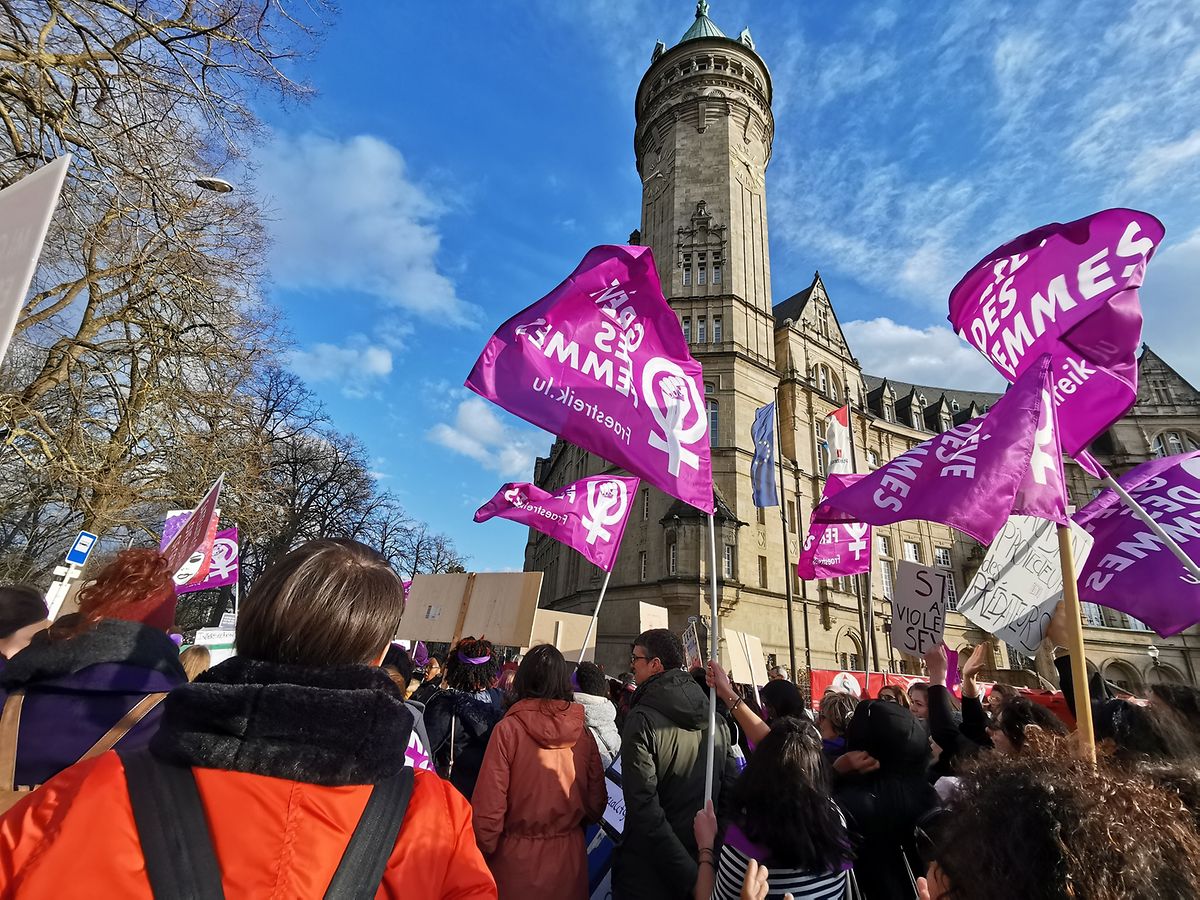 A second women's strike is planned on 8 March
Photo: DR
According to Fraen an Gender, the first women's strike last year put care work in the spotlight but not much has improved since then. There is still inequality in wages and working conditions in Luxembourg, and the situation of unpaid care work has worsened, even though this work, mainly carried out by women, has been recognised as essential during the pandemic. A collective march will take place from the Gare to Place d'Armes from 12.00 to 13.30, and there will be various events online. You can find out more here.
Films by female directors – various cinemas
Some 50% of LuxFilmFest's official competition films were directed by women this year, and you can get a taster of them on 8 March. The line-up kicks off with Rosie & Moussa at Cine Utopia, a film suitable for young audiences, that looks at a friendship that blossoms on the rooftops of Brussels. Kinepolis is screening Home Games about a young Ukrainian female football player who is also responsible for her younger half-brother and half-sister, and Birds of Passage, a gangster film set in Columbia with a distinctly female perspective.
You can catch Firecracker, a feminist coming of age drama about two best friends desperate to leave their destitute town, at Cinematheque. Evening performances starting at 18.30 at Cine Utopia include The Man who Surprised Everyone, about a man dying of cancer in a poor Siberian village, who tries to trick death by assuming the identity of a woman, and Livre d'heures, about the interdependence of two women. You can find a full list of the films, cinema locations and timings, plus book tickets here.
Celebrating Change – Challenging the Status Quo – online event
The NETWORK in partnership with the British Chamber of Commerce is running its first event for IWD. The online event will be introduced by Minister of Health, Paulette Lenert, with guest speaker Rajaa Mekouar, a private equity investor. This event promises to be an interactive workshop, kicking off at 18.30 on 8 March, with the question "How can we build on the successes of women?", discussing how women and men have successfully driven the gender equality agenda during the past few months and how they can do so for the future. You can register for the event here.
Disruptive times: opportunities and challenges for gender balance? – online event
PwC Luxembourg and AMCHAM Luxembourg, together with the Luxembourg Chamber of Commerce New York, bring their fourth IWD panel discussion. This year the topic will focus on how we deal with crisis and manage disruption. The panel will include Julie Becker, Deputy CEO of the Luxembourg Stock Exchange, Jeanne Crauser, Consulate General of Luxembourg in New York/Executive Director of Luxembourg Trade and Investment Office, Martha Crawford, Dean of the Jack Welch College of Business and Technology, Claude Marx, DG of the Financial Sector Supervisory Commission, and Francoise Thoma, CEO of BCEE. The online event will start at 16.00 Luxembourg time, 10.00 New York time, and you can register here.
The commune of Strassen is showcasing an exhibition by the National Council of Women of Luxembourg on streets with female names, that celebrates women who have distinguished themselves in various fields ranging from art to politics, science, resistance and sport. On display at the town hall until the end of March, the commune is also running a fun online quiz on the same subject on its Facebook page.
Let's talk about women's careers – webinar
LPEA, which represents private equity and venture capital in Luxembourg, invites men and women to join their webinar and discuss women's careers and the bias men and women have to overcome to get the best results for themselves and their business. Four successful women, Daniela Klasen-Martin of Crestbridge, Anja Grenner of TMF, Vanessa Camilleri of Partners Group, and Florence Forster of Linklaters will share their personal experiences and explore the importance of goal setting, self-confidence and personal branding. You can register for the webinar here.
Other events
You can join Cindy Tereba, the Director of International Affairs at the Luxembourg Chamber of Commerce for a virtual event via Zoom at 18.00, sponsored by the Luxembourg Russia Business Chamber.
---
The Luxembourg Times has a new mobile app, download here! Get the Luxembourg Times delivered to your inbox twice a day. Sign up for your free newsletters here.
---