Take away something different tonight
Take away something different tonight
The hospitality sector needs all the support it can get. So if you're sick of your own cooking and fancy something different, why not try one of these takeaway options
While restaurants remain closed, we can still support them by ordering a takeaway or delivery
With restaurants still closed for dining, many establishments are making ends meet by offering a takeaway menu or free delivery.
We're all fed up of our own cooking. So why not tuck into a pizza, a curry, some noodles or a bit of cordon bleu cooking tonight?
Keeping it local is important and helps support your commune's hospitality sector. But if you fancy something different, we list a few suggestions.
Finding local restaurants that will deliver
The Ville de Luxembourg (VDL) has a page dedicated to listing aggregator sites, restaurants, bakeries, and food speciality stores that will deliver or provide a take-away service. Most restaurants are running a select menu, so it's best to check on their websites or Facebook pages to see what is available to order.
Editus.lu also has a list of restaurants divided by region, with details of how and when you can order lunch and dinner. Geoportal, in conjunction with Editus, has created a geographic portal featuring restaurants that are open for food collection or offer delivery.
Aggregator sites
There are a few aggregator sites that allow you to search by your postcode and can tell you what take-away and delivery services are available locally, with links or details of how to order food. Some like WeDely and Group Lunch manage the order and deliver to your door, whilst others like Livraison, will tell you which restaurants will deliver to you, how long it will take, and the minimum price per order.
If we've missed an aggregator or delivery site, tell us and we'll add it.
Our selection of restaurants
If you find none of our suggestions below are located near to you, check one of the aggregator sites to see which restaurants can deliver something tasty to your doorstep.
Beim Renert - Luxembourg City
City favourite and home to some hearty Luxembourgish dishes. You can try out tripe, choucroute (sour cabbage) with pork, or some potatoes cooked with bacon. Main dishes cost €10,50.
When and how?
Order from the weekly menu, sending either an email to beimrenert@gmail.com or a WhatsApp message to 691 647 426 and you can collect your meal between 11.00 and 15.00 on weekdays. Perfect if you find yourself at the office in need of a hot lunch.
Base Camp – Helmdange
For Nepalese and Indian cuisine including vegetarian bhajis and pakoras, and vegetarian dishes featuring paneer (Indian cheese) or tandoor grilled vegetables. The house specialities list Beef Katchala (filet beef cooked in Nepalese spices, green peppers and ginger) and chicken cooked in coconut milk with cashew nuts and foie gras.
When and how?
They're open Tuesday to Sunday 12.00-14.00 and 17.00-20.00 and you can order by phone on 33 50 64 or 621 578 546 or via the Myfoods.lu portal.
Flowers Kitchen – Luxembourg City
Vegetarians can enjoy their usual dose of Flowers Kitchen superfood, which offer a changing weekly menu that includes various choices of food bowls including a falafel bowl, but also varieties such as the Greek style bowl with quinoa, zucchini, aubergine, bell peppers, chickpeas, black olives and tomatoes served with yogurt tzatziki sauce.
In addition to vegetarian quiche, Flowers has tabbouleh, tahini sauce, pita bread and salad. You can finish it off with a chocolate or carrot cake.
When and how?
You can order by telephone 28 99 6982 (11.00-13.40) and pick up from their locations in Gare and Gasperich. You can also order for home delivery on WeDely.
Bick Stuff – Clausen
Bick Stuff's Virginie and Denis Laissy offer you a taste of haute cuisine including beef roulade, prawns with leeks, fish soup, frogs legs or steak. You can order the full menu for €22 or two plates for €18, or just pick what you want from a weekly a la carte menu. You can check both menus on their Facebook page.
When and how?
You must order in advance (before 11.00 for lunchtimes and before 17.00 for evening collection) on 26 09 47 31 or at bickstuff@hotmail.com, and you can collect your meal from Tuesday to Friday between 12.00-14.00 or 18.00 to 19.30, plus Saturday evening only and Sunday lunchtime only.
Hostellerie du Grünewald – Dommeldange
Here's a place to order a meal for a treat, as you'll definitely get something you can't rustle up at home. Menus include filet mignon, lobster ravioli or salmon mille feuille.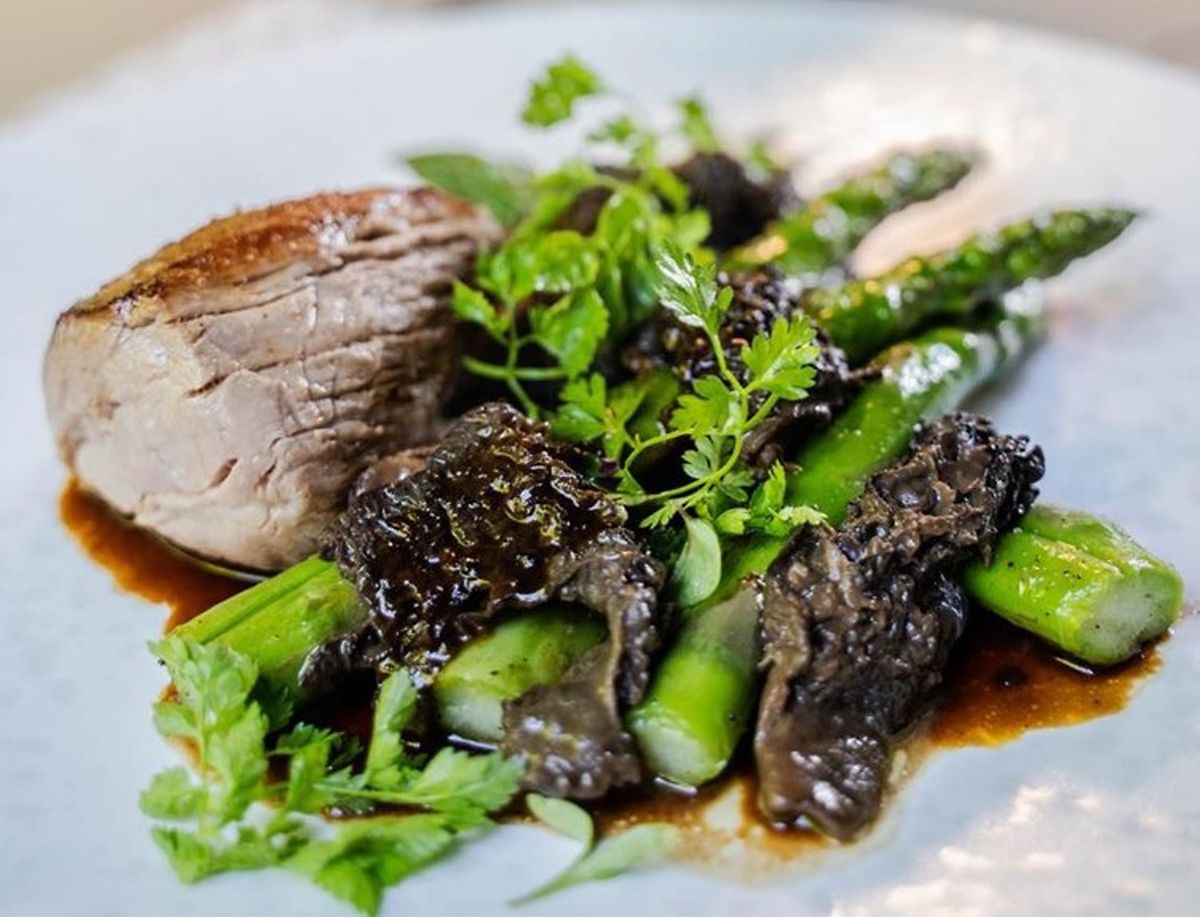 Lobster ravioli or filet mignon?
Hostellerie du Grünewald
When and how?
You can order a meal for two for €44 on Friday or Saturday or for €22 per person on a Sunday. Meals are prepared for you to heat up at home, and collection is between 16.00 and 18.00. You can order online here or by email info@hdg.lu. The menu changes so check the latest weekly one here.
Rodizio Perroquet – Schouweiler
With a main dish at €11,50 and a starter and main at €12,50 it's hardly worth bothering to cook when you can tuck into some Brazilian grilled meat or fish and a salad. Dishes include Dorada filet, strogonoff, fried fish and steaks.
When and how?
You order by telephoning 31 13 71 and you can see what's on offer every week here. They have a drive in service, or if you live within an 8 km radius they will deliver. The restaurant also offers a Plate of the Day loyalty card. If you order 10 specials of the day you get one free.
Um Schëff - Remich
If the weather calls for something warming, then Um Schëff can sort you out with some Kniddelen (Luxembourgish potato dumplings) served with cream, truffles or smoked salmon. Other dishes include veal meatballs, sausage and mash with mustard sauce, and rabbit Luxembourg-style.
When and how?
For take away or delivery contact them on 26 37 87 58. They're open 12.00 to 14.00 and 18.00 to 21.30 every day. Take away receives a 10% reduction, and their Facebook page lists weekly menus plus the towns and villages they can deliver to.
Brasserie Beim Jenny – Ettlebruck
Hearty food is available from this brasserie which offers a daily menu that includes the likes of Cordon Bleu, salmon with ratatouille, bouchée a la reine and a choice of pasta dishes. The weekday dish of the day is just €13, whilst at weekends you'll pay €15.
When and how?
Order on 661 808 040 and check out the daily menu here. Orders can be collected between 11.30 and 14.00.
Bei den Zwillingen – Junglinster
Burgers (including veggie ones), Thai scampi curry or bouchée a la reine, there are quite a few choices from this golf club restaurant, even if you can't play a game.
When and how?
You must order via SMS to 621 616 605 and if you want your food delivered (within a 10 km radius) then provide your name, address, and the date and time you want your delivery. You can pick up orders from 12.00 to 14.00 and 18.00 to 21.00 Wednesday to Sunday.
Brideler Stuff – Bridel
The lockdown hasn't stopped this 125 year-old establishment from offering a daily menu that includes fish soup, carpaccio of beef, asparagus, and numerous fish, meat and salad plates. You can also try out some Luxembourgish local favourites including Judd mat Gaardebounen (slow-cooked pork with beans) and Liewerkniddele (liver dumplings with sauerkraut). You can find the daily menu here.
When and how?
Order online for collection. Delivery costs €10 and is free for orders over €40-60 depending on which zone you are in. You can check which zones they deliver to here.
---
The Luxembourg Times has a new LinkedIn page, follow us here! Get the Luxembourg Times delivered to your inbox twice a day. Sign up for your free newsletters here.
---