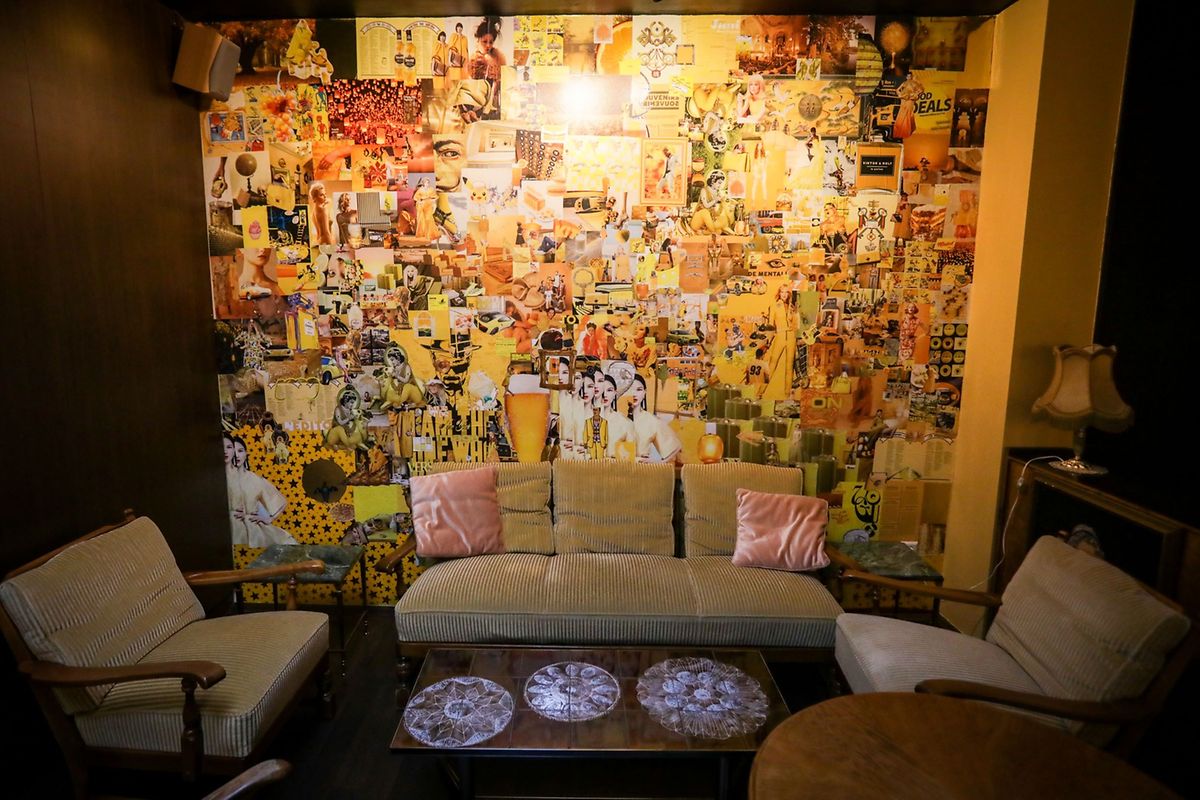 The Middle Eastern restaurant Chiche has had a peripatetic past in the capital Photo: Pierre Matgé
Travel is not an option for many of us at the moment, but food and books can still transport us to other times and places. Luxembourg Times literary critic Rose Edwards takes you on a tour from ancient Rome to modern China for her favourite bites (and books).
La Taverna is a homely, family-run Italian restaurant in the heart of Grevenmacher. The red gingham tablecloths and the wooden panelling hung with whimsical village decorations are a welcome sight at any time of year, because you know you are about to eat hearty, authentic Italian food, and lots of it. The fresh pasta and seasonal specialities warm you on the coldest of winter days, and if you can still make room for the homemade desserts, you are in for a treat.
This is also a great jumping-off point to visit the Roman remains that litter the Mosel region. The vineyards that climb the sides of the river valley have been here since Roman days, and a short drive across the river to Germany will bring you to the Temple of Mercury in the woods above Tawern, or to the reconstructed Roman Villa Borg.
For thoroughly enjoyable Roman romps steeped in humour and a sly eye for historical detail, Lindsey Davis' Falco and Albia series provide mystery, murder most horrible, and a strikingly personal imagining of the ancient world. Her books can be read as standalones, and The Iron Hand of Mars and A Body In The Bath House take place in Germany and England respectively, if you fancy a dive into Europe under Roman rule.
La Taverna, 20 Route de Thionville, 6791 Grevenmacher.
Down among the winding cobbled streets of the Grund, under the shadow of the haute ville, Bosso has you covered for schnitzels, röstis, spätzle, and apfelstrudel. Perfect after a winter walk through the rain-washed Petrusse park, or down from the old town's heights past Clausen and Neumünster Abbey, the cosy decorated interior and comforting Austro-German house specialities will warm you up nicely.
If it's too miserable for walking, these books will fit neatly in your handbag: Dream Story (Traumenovella) by the aptly-named Arther Schnitzler, a surreal, proto-Freudian novella about a husband who is shocked to discover that his wife once fantasised about another man on their honeymoon, and subsequently flees into the Viennese night, only to find himself entangled in the shadowy world of secret societies and masked orgies. (If this sounds familiar it's because it was adapted by Stanley Kubrick into the 1999 film Eyes Wide Shut.)
Or, if you like your novels about Vienna less silly and more hauntingly existential, Jenny Erpenbeck's The End of Days (Aller Tage Abend) follows the five different "lives" of a single woman as she drifts through the 20th century, dying at different points in her life only to be revived to explore another branch of possible fates.
Bosso, 7 Bisserweg, 1238 Luxembourg
For those of us who miss our trans-European train rides, Brasserie Op der Gare Kënzeg offers a nostalgic setting for an afternoon coffee and cake, or an evening meal in warmly restored surroundings. Located in the refurbished 19th century train station at Clemency, the brasserie embraces its history with wooden booths complete with luggage racks, and pictures of the building as a working station.
The old train track is now a bicycle track running beside the Belgian border, while a playground in the shape of a medieval fort provides a play space for children, and traditional Luxembourgish and Polish specialities make for satisfying fare. The pierogis deserve special mention, while gromperekichelcher and kniddelen sit alongside pasta and burger options for those who prefer more familiar cuisine.
Pair with a re-read of Agatha Christie's Murder on the Orient Express for those of you who enjoy cosy whodunnits, or try Eva Hoffman's memoir Lost in Translation: Life in a New Language (nothing to do with the Sophia Coppola movie) for a tale of what it meant to be transplanted from Soviet Poland to the USA in 1959. Hoffman's meditation on learning to live life in different languages and how to build a home for yourself when part of you always feels like a stranger will be familiar territory for many.
Brasserie Op der Gare, 1, rue de la Gare, 4966 Clemency
Sitting at the crossroads of East and West, Chiche! began life as a social enterprise, a pop-up restaurant where newly arrived refugees could gain work and language experience to help them enter the hospitality sector in Luxembourg. Now settled in Limpertsberg, Chiche! offers an array of delicious Mediterranean and Middle Eastern food served amid up-cycled furniture and decor that lends the large interior an eclectic feel.
The most fun is to come in a group of three or more, and simply order mezze for the table. For around €30 per person, you have the pleasure of seeing plate after plate brought to your table, all more delicious than the last. A sister location can be found in Esch-Alzette.
The peripatetic nature of the history that brought Chiche! into being is echoed in On the Road to Baghdad, a strange but wonderful picaresque novel by Turkish author Güneli Gün. A retelling of Turkish folklore and tales from the One Thousand and One Nights, Gün's heroine criss-crosses a Middle East of myth and history, slipping through time to learn that our fates are stranger than anything we could have predicted, and that we only have ourselves, no matter what companions we might make.
Chiche!, 20 Avenue Pasteur, 2310 Luxembourg
Restaurant Xinjiang is a very special place for me. Just off a quiet side street from Rue de Strasbourg, it is unassuming, family-run, with friendly service and the most delicious Dapanji (spicy chicken with potatoes and hand-cut noodles). Walk in past the decorative fishtank, sit yourself at a plain table, and start ordering. The spiced barbecue lamb is a street food favourite, while dried fried green beans is a classic side.
Order a Dapanji for two, or one main dish per person, to be shared with bowls of plain boiled rice. I was first brought here by friends from my days studying Chinese in London, and I have a great affection for these types of restaurants wherever I find them: the steamed up windows, the Chinese customers at ease, and the authentic tastes that cannot be faked.
The Xinjiang region of China on the eastern end of the ancient Silk Road is in the news for the oppression of the Uighur muslim population by the Chinese state. If you want a book that explores the history of that much fought-over region, Peter Hopkirk's Foreign Devils on the Silk Road unpacks the colonial struggle that saw the sacking of the Silk Road's rich art history by Europeans, and the Chinese response. I am going to add my own, nostalgic choice: The Columbia Anthology of Modern Chinese Literature, edited by Joseph S. M. Lau and Howard Goldblatt. This tome is the handbook for any students of 20th century Chinese literature. Its contents are astounding in their diversity and scope, and sure to intrigue anyone interested in Chinese history and culture.
Restaurant Xinjiang, 97 Rue Adolphe Fischer, 1521 Luxembourg
---
The Luxembourg Times has a brand-new LinkedIn page, follow us here! Get the Luxembourg Times delivered to your inbox twice a day. Sign up for your free newsletters here.