Where to go for Sunday lunch
Where to go for Sunday lunch
Fancy dining out on a Sunday? Not every restaurant is closed. Here are some of our picks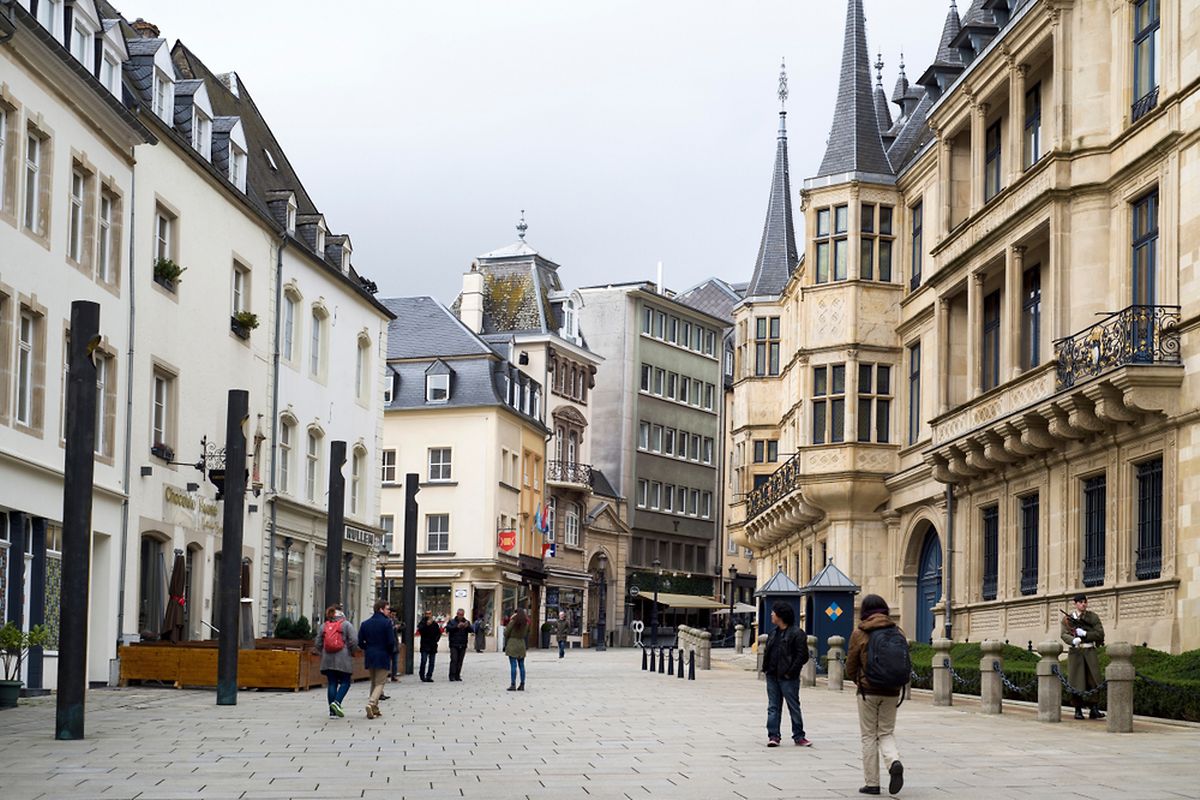 There are plenty of restaurants open in Luxembourg City on a Sunday Photo: Shutterstock
It can feel like Luxembourg closes on a Sunday afternoon, particularly the restaurants. This is precisely the time you fancy a day off from cooking and a nice afternoon out. Fear not – there are plenty of restaurants and bistros open on this day of rest, many ideally located for a city stroll, a walk in the woods or a cultural afternoon at a museum or gallery.
Le Bec Fin – Luxembourg City
No longer doing its Sunday Brunch unfortunately but still a great place to tuck into something tasty on a Sunday including a good selection of pasta and risotto, together with meat and fish dishes. Its location on Avenue Marie Thérèse makes it perfect for a city stroll after lunch.
Ikki – Luxembourg City
If you fancy a walk in the Grund, why not pop into Ikki for Sunday brunch in the upstairs restaurant? Open 12pm to 3pm, with a tempting menu offering fish, meat, salads, risotto and, of course, Sushi. In the summer months, there's an outside terrace perfect for people watching.
Juegdschlass – Bambesch
If you fancy some wild boar stew or steak tartar, look no further than this lovely little restaurant perched on the hill overlooking Bereldange. It has a small outside play area for kids and a children's menu with favourites like fish fingers and chips. Open from 11am throughout the afternoon, you can eat at a leisurely pace, visit the donkeys kept in the field nearby and take one of the marked trails to the play park.
Sieweburen – Rollingergrund
The other side of Bambesch, down in the valley at the foot of Limpertsberg/Munsbach, this lovely hotel and restaurant is open all Sunday afternoon and offers Luxembourgish cuisine including Judd Mat Gaardebounen (smoked collar of pork with broad beans). The park and small lake opposite offer hours of entertainment for children, and you can join one of the trails through the woods at the back of the restaurant.
Oscars Bar (Grund) or Oscars Diner (Gare)
Fancy a roast dinner, then fear not as Oscars Bar can dish it up to you with all the trimmings from 12pm to 7pm on a Sunday together with live sports on three screens. Reservations are advised.
Head to the diner for sports fun on the big screen and at the pool and ping pong tables or the dart board. Burgers and beer are on the menu all day.
Restaurant Chimi Churri – Kirchberg
While a number of restaurant chains in Kirchberg are open on Sundays, Chimi Churri is tucked away from the main hubbub on Rue Edward Steichen and is open for lunch from noon to 2pm and dinner from 7pm to 11pm. Named after the famous South American sauce, the big portions (even the salads) mean you will never go hungry. Choose from parillas (barbequed) meats or lighter ceviche (marinated fish) dishes. Follow lunch with a visit to the MUDAM, or, if that sounds too taxing, catch a movie at the Kinepolis.
Metropolitan - Gare (Place de Paris)
Open from 10am to 10pm non-stop, this cosy bar and restaurant offers a full English breakfast (meat and vegetarian options), American pancakes, or something more substantial from steaks to burgers and Moroccan lamb chops or Thai fishcakes. Ideal for those who like a late lazy lunch.
Come a la Maison - Gare/Hollerich
Sunday brunch is served from 11am with live music. The buffet offers cold cuts, cheese and fruit, pasta dishes and dessert. Children are welcome too. All-inclusive (not including drinks) costs €49 for adults and €22 for children over three years.
Spicy Sunday – across Luxembourg City
Many of the Indian, Bangladeshi, Nepalese and Tibetan restaurants in Luxembourg City, especially in the Gare area, are open on Sunday. Try the Taj Mahal, Restaurant Tibet, Bay of Bengal and Orchidee for lunch (usually noon-2pm) or dinner. The Star of Asia and Namaste are open in the evening.
Piri Piri (Kirchberg) and Batucada (Luxembourg City)
Fancy some succulent Portuguese cuisine, then head to Piri Piri in Kirchberg which is open on Sundays from noon to 11.30pm. Seafood, from squid to tiger prawns, features heavily on the menu but there's also a kid's option for burger and chips. For some Brazilian grilled meat and fish try Batucada on the Saint-Esprit plateau near the cathedral. You'll have to dine early though as it closes at 2pm.
La Torre – Limpertsberg
Open for lunch and again for dinner, this family-run pizzeria has a beautiful flower-filled terrace in summertime. The park across the road will entertain the children after lunch. Pizzas are thick and filling, so a long walk afterwards is recommended. It's open 11.30am to 2pm on Sundays.
Brasserie Bosso – Luxembourg City
This restaurant on Rue Munster is open all afternoon from 11.30am. The menu offers Spätzle fried in Gorgonzola and wine, Flammkueche and vegetarian dishes using family recipes passed down from generation to generation.
Brasserie Wenzel – Luxembourg City
Fancy some jazz with your lunch? Then check out the brasserie at Neimenster Abbey for Apero Jazz Sunday, which starts at 11am (lunch 12pm to 3pm). Dishes have a touch of the East, and the Abbey has plenty of space for kids to run around.
La Veranda – Howald
The Auberge La Veranda in Howald is open on Sunday, 11.45am to 2pm. Try out snails or frogs' legs or just stick to pasta and salads – the kids' menu is very reasonably priced with a great selection of ice creams for dessert.
EireLux - Howald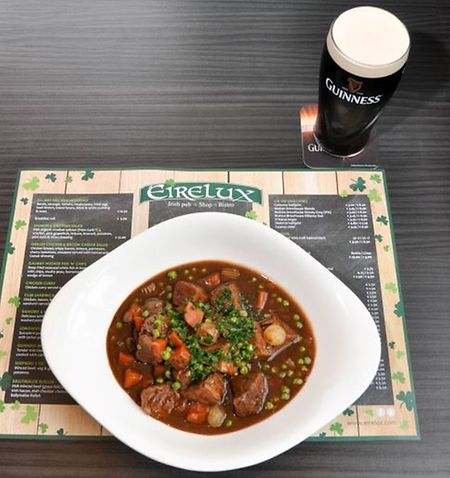 Irish stew and a pint at Eirelux Photo: Eirelux
In the same neighbourhood you'll find all the comfort food you'll need for a cold Sunday afternoon from shepherd's pie and Irish stew, to fish and chips at EireLux. Open on Sunday from 10am with last orders for food at 2.30pm, and they start serving roast dinners in January.
Pavillion Desom – Remich
On the esplanade at Remich, this riverside restaurant is open all afternoon on Sundays. Also a wine producer, you can buy a bottle or two to take home or just test out the wine paired with your choice of meal. Remich is a great Sunday destination, with plenty of cafes and pleasant walks along the riverside.
Czech Point Cafe - Rollingergrund
Allegedly the best kept secret in the neighbourhood, it's the place to come for home-cooked food and a beer. There's no formal menu, you get what's available, which could be just a starter and dessert, but reviewers rave about the food. It's open all afternoon too.
Moustache – Esch-sur-Alzette
Located on Grand Rue, this modern family-friendly restaurant is open all afternoon from noon on Sundays. In addition to a kids' menu, the main menu is vast, offering everything from burgers to brochettes, or tasting plates with food from around the world. After you've filled up, take children to feed the deer, goats and raccoons at the Escher animal park.
Beim Hunn – Vianden
Housed in a beautiful wood-beamed building, you can warm up with a shared fondue or try a horse-meat steak. Located on the main road, it's a perfect pit stop to complement a visit to the famous castle. Open 12pm to 3pm, bikers are also welcome.
Restaurant du Chateau – Clervaux
Open from 12pm to 2pm and again from 7pm, this restaurant is part of the castle complex and housed in a building dating back to 1671. A perfect place to stop after a visit to the castle's museums, you can feast on aged beef, guinea fowl or sole. A children's menu is also available.
Chez Jimmy – Heiderscheid
Traditional Ethiopian cuisine and decor make this a great stop-off for Sunday lunch if you're in the Esch-sur-Sûre area. Open from 11.30am to 2pm, you can sample a variety of lamb, beef or vegetarian dishes. The food is definitely authentic, and the restaurant is described as a "home from home" by one Ethiopian reviewer living in Luxembourg.
La Boucherie – Luxembourg City
Find yourself hungry in Place D'Armes? Why not try out La Boucherie, open from 11am on Sunday, for some reasonably priced steaks and burgers.
Taverne Yamas – Luxembourg City
Open from February from 12pm to 4pm on Sundays, this lovely Greek Tavern in the Gare district also has a big terrace that can seat 30 people. You can choose from some 80 Greek dishes including mousaka, kleftiko and souvlaki, all produced by local Greek chef, Petros Gatsoulis.
A few other places...
There isn't space to include every local establishment open on a Sunday, but readers have also recommended Gringos, Le Sud, JFK Bar & Restaurant, Aleo, and Bosque Fevi at The Seven Hotel in Esch-sur-Alzette.
---
Get the Luxembourg Times delivered to your inbox twice a day. Sign up for your free newsletters here.