Tapas from Amsterdam
Tapas from Amsterdam
From the simple to the sumptuous: the Dutch capital's overwhelming array of places to eat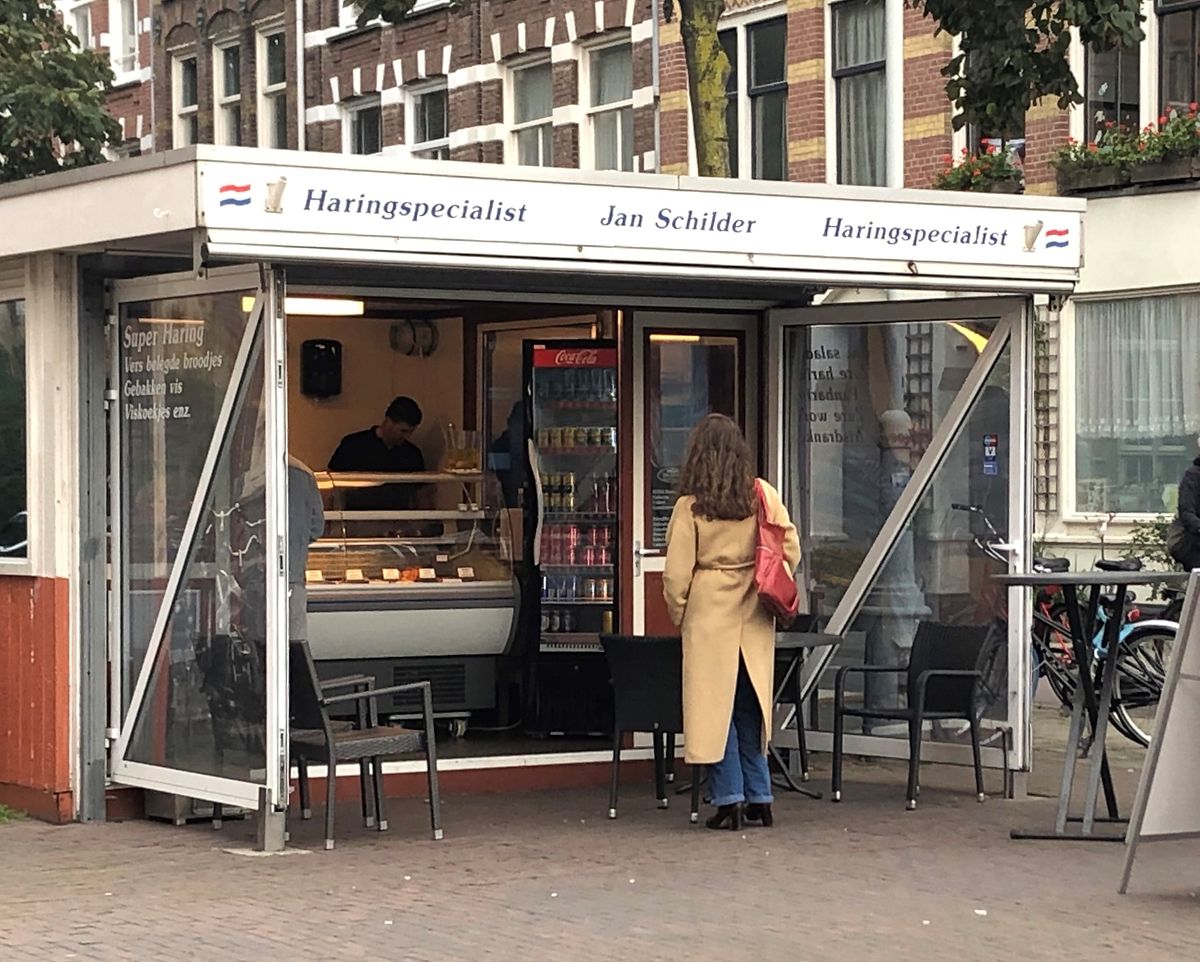 The author's favourite place to grab a quick raw herring Photo: Merel Miedema
Do you love food and need a break? Are you willing and able to wait until the global pandemic has calmed down? Then come to Amsterdam, the city where good food is easy to find. Ignore the beauty of the canals, the madness of the cyclists, the gorgeous art and cultural delights, and focus on the most important pleasure in life: good food.
For the more adventurous, I recommend renting a boat and having a picnic while enjoying a different view of the once mighty capital of the Netherlands (or call it Holland, we honestly don't mind). But for those who like firm ground underfoot and hate self-service, here are some tips. Please note that Amsterdam residents love eating out, so making reservations at sit-down restaurants is prudent.
For breakfast, brunch or lunch: Dignita Hoftuin
This lovely greenhouse-like bistro in the garden of the Hermitage (see it another day, today you're busy eating) serves a wonderfully decadent brunch. My personal favourite is the Forest Dwellers; two slices of toasted bread loaded with fried mushrooms – especially good with poached eggs.
My husband prefers their version of eggs benedict; potato cakes with poached eggs and pork belly (or salmon, if you prefer). Their fresh juices are also worth a try, but what I really love is the atmosphere; tucked away in one of those wonderful hidden green spaces in the middle of Amsterdam, Dignita Hoftuin is a little haven.
Kaffee und Kuchen: Lanskroon Bakery
When you're married to a German like I am, you better have a few addresses handy for good cake. A call-back to a time before tourism took over the city centre, Lanskroon is a truly artisanal banketbakker [there is no English word for what the French call patissier] ; if you only eat one stroopwafel during your trip to Amsterdam (not recommended) let it be here. Or try their zwartebessenkoek, a folded over pastry filled with blackcurrants - my all-time favourite sweet treat. For a full experience, sit down in the tiny café (normal-size by Amsterdam standards).
Lunch or Dinner: Dik en Cunningham
Any true epicurean needs to visit D&C, a restaurant focused on game and good wine. An example of the best side of Dutch haute cuisine, D&C will fill your belly and warm your heart. I recommend letting yourself be surprised with a chef's menu; from light and fresh-flavoured starters, to rich mains, decadent desserts, and surprising cheese platters, chef and co-owner Johan does it all. If you are stuck on which wine to choose, let yourself be helped by sommelier and co-owner Emmalou. Spending an evening here will easily be the highlight of your trip.
Snacks: Herring
As you walk through Amsterdam on your way from one watering hole to the next, you are sure to notice many viskramen; wooden cabins that provide a broodje haring [herring roll] or a portion of lekkerbek [deep-fried cod]. Photos of people stuffing their mouths with the whole thing holding it at the tail are common, but no Amsterdammer has ever been seen doing this. Just have it cut-up or on a bun with onion and pickles. Snacking is an important part of Dutch food culture, so any way you eat herring, you're experiencing the Netherlands at its most authentic.
---
The Luxembourg Times has a brand-new LinkedIn page, follow us here! Get the Luxembourg Times delivered to your inbox twice a day. Sign up for your free newsletters here.