Terraces to try out
Terraces to try out
If you long for a long lunch with a view, by a lake or river, or even on a sand-filled beach, here are a few suggestions for terraces to try out
Several Clausen terraces are open, including this sunny one at Ikki. We just need the sun to stay shining
Fancy lunch on a terrace with a lake or riverside view? Prefer somewhere covered and heated, given the current weather challenges, or perhaps somewhere with a city view?
We've listed a few terraces to try out, but of course, supporting your local restaurants and bars is important, and since we cannot list every great terrace here, you're welcome to share your local one in the comments box. Also don't forget to reserve your table in advance.
But first the rules…
Under government rules, no more than two people can be seated at one table (except for people from the same household). Tables must be spaced 1.5m apart or separated by a Perspex barrier, and food or drinks can only be consumed at the table. You can remove your mask at the table but must wear it at all other times (i.e. when visiting the bathroom).
Note: We've used Facebook pages as links so you can check if terraces are closed due to weather conditions, and view the weekly menu and details of how to reserve your table. This information is not always available on restaurant websites.
In the city
Starters with main courses for €25 and a comfy spot in their enclosed leafy terrace. Choose from lamb skewers, steak or beef Bourguignon, with meals on the terrace available every day from 12.00 to 18.00 (depending on the weather). The menu changes weekly and you can check it out here.
Also in Clausen this Osteria has an enviable waterside location. You can enjoy the delights of Mosconi's former chef, from 12.00 to 18.00. You don't need to worry if the weather isn't great, as this place has a heated, covered terrace. Start with warm Tuscan focaccia and tomato stew, or tuck into crispy suckling pig, rabbit with green asparagus, and fried courgette flowers.
Ikki's enclosed terrace with more intimate tables is ideal for a date
Pedro Sampayo Ribeiro
Ikki – Clausen
A beautiful wood and bamboo terrace with some inviting garden sofas and that hint of privacy make Ikki the ideal place for a terrace date. You can tuck into steak and chips or sushi and noodles. Nice touches like candelabra, an antique wall clock and some antlers make this terrace feel quite different from the rest.
Another covered and heated terrace, this brasserie offers Italian food from eggs benedict to lamb chops and lobster, plus home-made pizza in traditional and more exotic flavours (pumpkin, pecorino and gorgonzola). Reviewers rave about the pizza base's white fluffy dough, and the desserts are considered big enough to share. Octopus is also on the menu.
Batucada – Plateau de St Esprit
This Brazilian restaurant is once again serving up grilled seafood, prawns and octopus, plus a selection of carpaccios, grilled fish and meats, and its legendary banana Carlito (banana baked in Grand Marnier and rolled in a Mexican tortilla). Wooden décor, with green benches and parasols, gives it a street festival vibe, and its open from 11.30 to 17.00 daily.
The largest terrace on this central square. When terraces first opened again, this café served Luxembourgish hotdogs. However you can snaffle up some great French fare from Toulouse cassoulet to shellfish bisque or just grab an alfresco coffee from Monday to Sunday 9.00 to 18.00.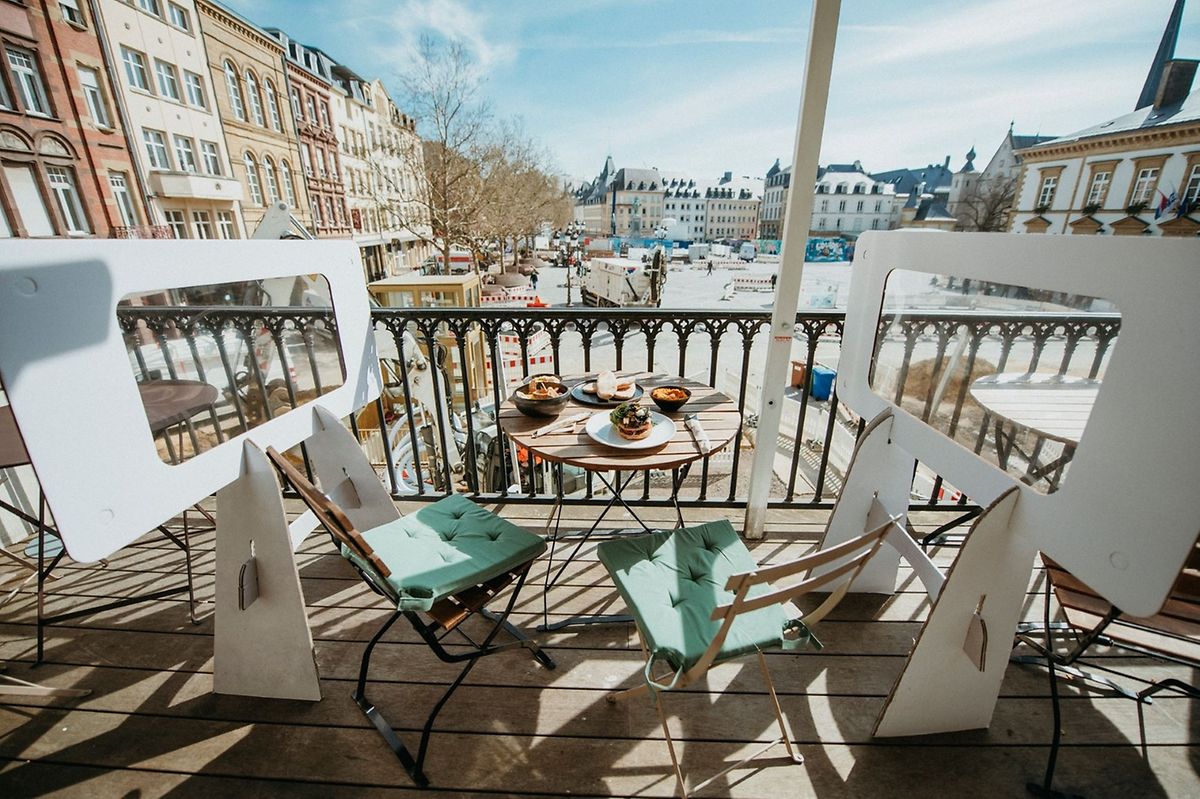 The view from the Beet terrace across Place Guillaume II
Photo:(c) annakatina.com
Beet – Place Guillaume II
Beet boasts a second-floor wooden terrace (and a rooftop one) with wonderful city views, where you can soak in the sunbeams (when they are out) or take shade under a parasol in relative tranquillity. Plant-based and proud, the restaurant serves up great vegan dishes from falafel bowls to aubergine lasagne or spicy hummus, plus some great desserts. It's open from 11.30 to 18.00. Their venue in Belval also has a lovely terrace, open Tuesday to Thursday 11.30 to 15.00 and Friday until 18.00.
Open 7 days a week from 11.30 to 17.00 you can eat lunch, nibble on a cheese platter, or suck up some sushi at Come à la Maison's wooden roadside terrace. Try the truffle sharing platter of cold meats and cheeses, or the grilled octopus comes with hummus and chips, whilst the tuna is served with house pesto.
More Italian fare, including several home-made pasta varieties served with different sauces, pizza and panini, can be consumed on the leafy terrace at Mani d'Oro.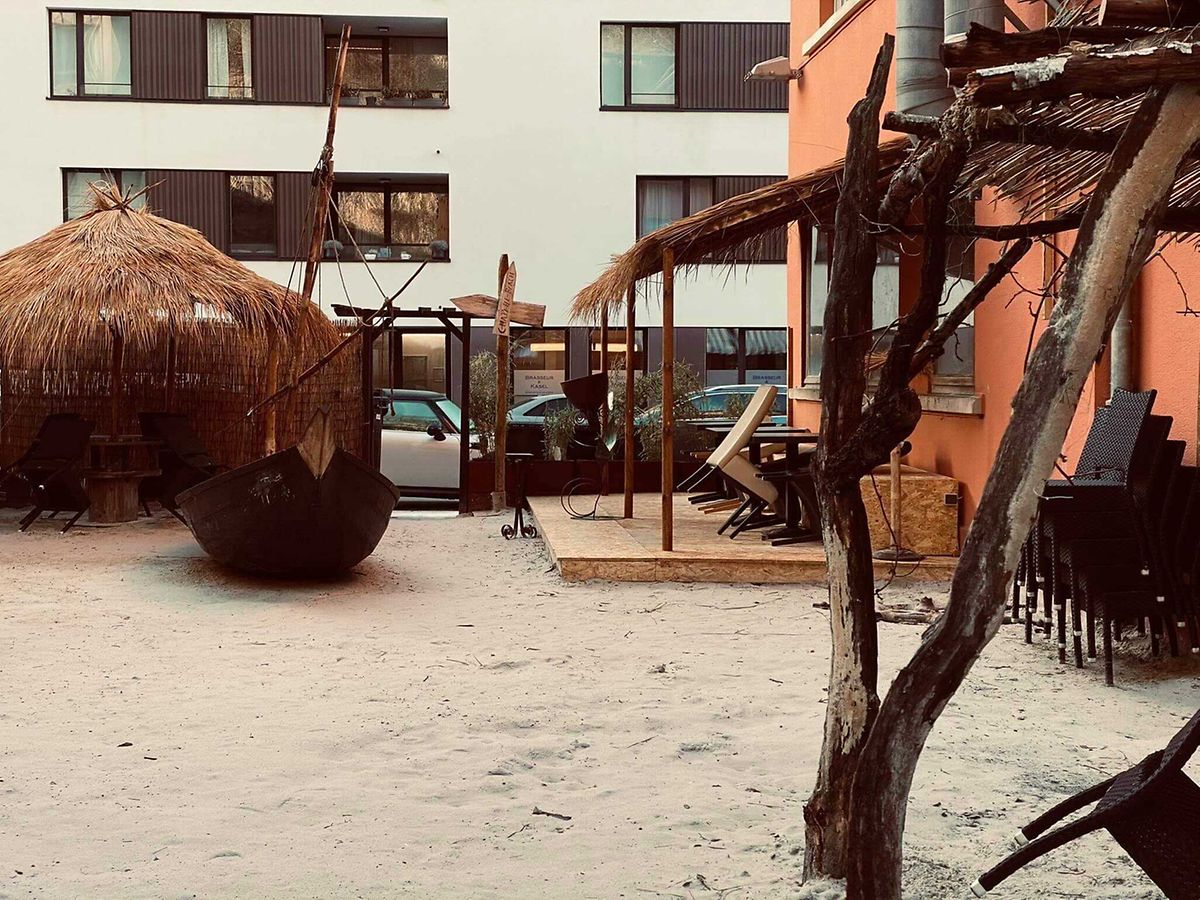 La Chapelle has gone all out to give you that summer beach vibe, complete with a sand-covered floor.
Photo: La Chapelle
Head to the beach for some sand between your toes, a shipwrecked boat, and breakfast or burgers, fish and chips, or a sharing platter. Open from 9.00 to 18.00.
This welcoming terracotta terrace is light and airy, but if you prefer they also have a more intimate glasshouse. It's open Wednesday to Sunday from 12.00 to 18.00 with lunch sittings at 12.00 to 14.30 and 14.30 to 16.30. Start with samosas or scallops, and follow up with Angus steak or roasted turbot.
The Place de l'Europe location (in case you fancy a bit of culture at the MUDAM contemporary art gallery), is a great space for people watching. Glass tables, parasols and yellow chairs give it a modern feel that blends in with its surroundings, which include the architectural icon of the Philharmonie building. Offering a great three-course lunch menu, the terrace will only be open if the weather allows.
You can reserve a spot for Sunday brunch at Buvette
Photo: Buvette
Open from 12.00 to 18.00 Monday to Saturday and 10.00 to 18.00 on Sundays, which is the only time you can reserve a table for brunch. Main dishes always include a vegetarian, meat and fish option and a starter and main will set you back €15. You can't reserve a table (except on Sunday) so it's a first come, first served set up.
Outside the city
Retro leather sofas on a vast terrace give this a "Friends" feel, plus with daily menus (starter and main) for just €14 this is possibly one of the cheapest outdoor eats you'll find. The weekly menu includes steak with Roquefort sauce, lasagne, and Bream fillet, plus some tempting dessert platters and nifty cocktails.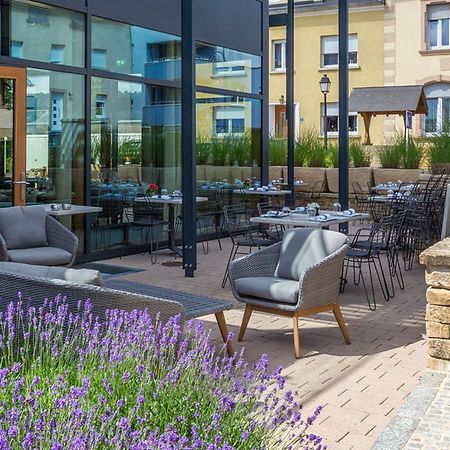 Grab a charcuterie board for two or a three-course meal at this Hobscheid terrace
Photo: Aal Schoul
While away a few hours on comfy grey chairs surrounded by the scent of lavender. The adapted menu is available from 10.00 to 18.00, Tuesday to Sunday, and offers snails in garlic, beef tartare with truffle, asparagus, fish, and a children's menu with three choices, plus a charcuterie board for four at €24. Open Tuesday to Sunday 10.00 to 18.00 (weather permitting).
If you want a choice of good veggie options and locally sourced food, then this venue, attached to the cultural centre, serves up a weekly menu which this week includes salmon with orange and ginger, or tortellini with spinach and ricotta in a tomato and basil sauce. Enjoy lunch on the covered terrace from 11.30 to 14.00 every day except Sunday.
With its terrace open on Wednesday to Sunday from 11.30 to 18.00 (weather permitting) you can tuck into some great fish, meat and vegetarian gourmand dishes. Tables are set in a leafy garden under the shade of trees.
A new terrace strewn with wicker chairs and cosy tables very well-spaced apart, plus a beautiful view. Tuck into tasty Italian fare including fresh pasta, risotto and salads. You can find out how to reserve a table, and take a look at the full menu here. Open from 11.30 to 14.00.
In the park
Pavillon@ Merl, Pavillon Am Brill – Mamer, Lakeside Echternach
With the flowers starting to bloom, there's nothing quite like a bit of park life to make you feel that spring is truly here. The Pavillon de Parc Merl is open 11.30 to 17.30 and offers a selection of tartes flambées, chips and nuggets.
The Pavillon Am Brill at the park in Mamer offers up delicatessen platters and ice cream, whilst Lakeside Echternach invites you to rest up under a white parasol on a comfy white sofa and tuck into scallops, risotto, roast beef or a burger. Open Tuesday to Sunday from 11.00 to 18.00 with great views of the lake (open subject to weather conditions).
---
The Luxembourg Times has a new mobile app, download here! Get the Luxembourg Times delivered to your inbox twice a day. Sign up for your free newsletters here.
---