It's almost the weekend, and perhaps time for a cocktail - except all the bars are closed.
But don't worry - the Luxembourg Times has you covered. Some of the Grand Duchy's most experienced bartenders sent us their recipes and you can try them out at home - even if you have to use a sports water bottle as a shaker.
A Tailor at home – Tailors concept
A light drink to enjoy in the sunshine, flavoured by rosemary syrup that is easy to make at home too.
Ingredients
40ml Mataroa Gin,
10ml Rosemary syrup,
20ml fresh lime juice,
Top-up with Prosecco.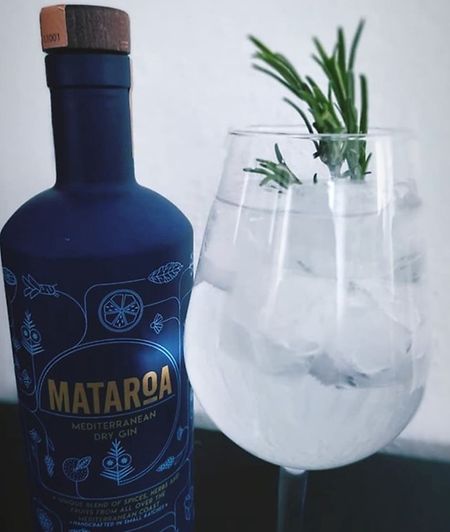 A Tailor at home Photo: Tailors Concept
Method: Fill a wine glass with ice. Pour in the gin, rosemary syrup, lime juice and Prosecco and stir it well. Enjoy your drink!
If you don't have rosemary syrup you can make your own. Put 500 grams of granulated natural sugar and 500ml of water in pan on a medium-high heat. Bring to the boil until the sugar is completely dissolved. Pour the mixture into a heat-proof glass jar and add 20 grams of rosemary. Let it steep for a few hours, then strain the syrup. Keep it in the fridge in an air-tight container and it will last for up to a week.
Corpse Reviver No.2 – Octans
A refreshing but boozy cocktail from bar manager Lee Gagliardi, with ingredients that you should be able to get at your local supermarket.
Ingredients
3cl Tanqueray London dry gin,
3cl Cointreau,
3cl Lillet Blanc,
3cl of Lemon juice (one lemon should produce 4.5cl of juice),
Absinthe spray (if you have it, Ricard will do).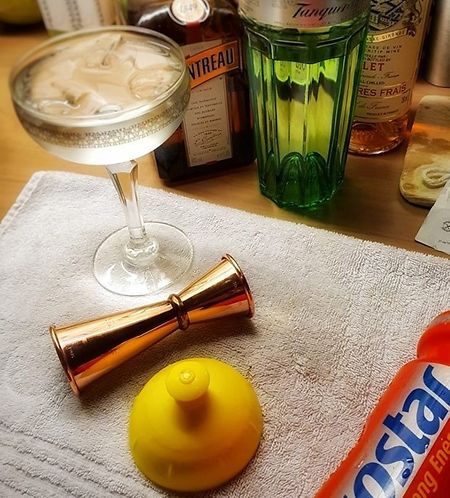 Use an egg cup or shot glass for a measure Photo: Octans
Method: If you don't have the proper mixology tools, you can use a sports water bottle as a mixer or any bottle that has a wide opening which can be closed to shake the contents. A jigger can be substituted for a measuring cup, or a shot glass which on average has a content of about 3cl. Even an egg cup!
Shake all the ingredients with ice and strain into a Coupette glass pre-sprayed with Absinthe spray. If you don't have that, you can use a little Ricard pastis to moisten the glass – take a drop or two and swirl it over the inside of the glass.
Machu Picchu – LLAMA
If you can't go on holiday to a far-flung destination, then David at Llama will take you there in spirit. He's chosen the Incan mountain-top ruins of the Peruvian Andes as an inspiration.
Ingredients (pesto for 10 cocktails)
15 basil leaves,
10cl liquid sugar,
Juice of a lemon,
5cl water,
6cl gin,
Top-up with tonic-style ginger beer.
Machu Picchu Photo: LLAMA
Method: First you must prepare your delicious sweet basil pesto by mixing together the basil leaves, liquid sugar, freshly-squeezed lemon juice and water. Pour the gin and 4cl of the pesto into a shaker, and shake well. In a tumbler sized glass, strain the mixture over ice cubes and fill to the top with tonic-style ginger beer. Serve with a basil leaf and a slice of lemon for decoration.


Strawberry and hibiscus frozé - Paname
The team at Paname has come up with a super-easy cocktail to make at home that's a perfect treat for the strawberry season and has a lovely home-made hibiscus pink pepper syrup.
Ingredients
Rosé wine,
Rosé vermouth,
Fresh strawberries,
Honey (or sugar),
Dried hibiscus (should be available at your supermarket),
Pink pepper.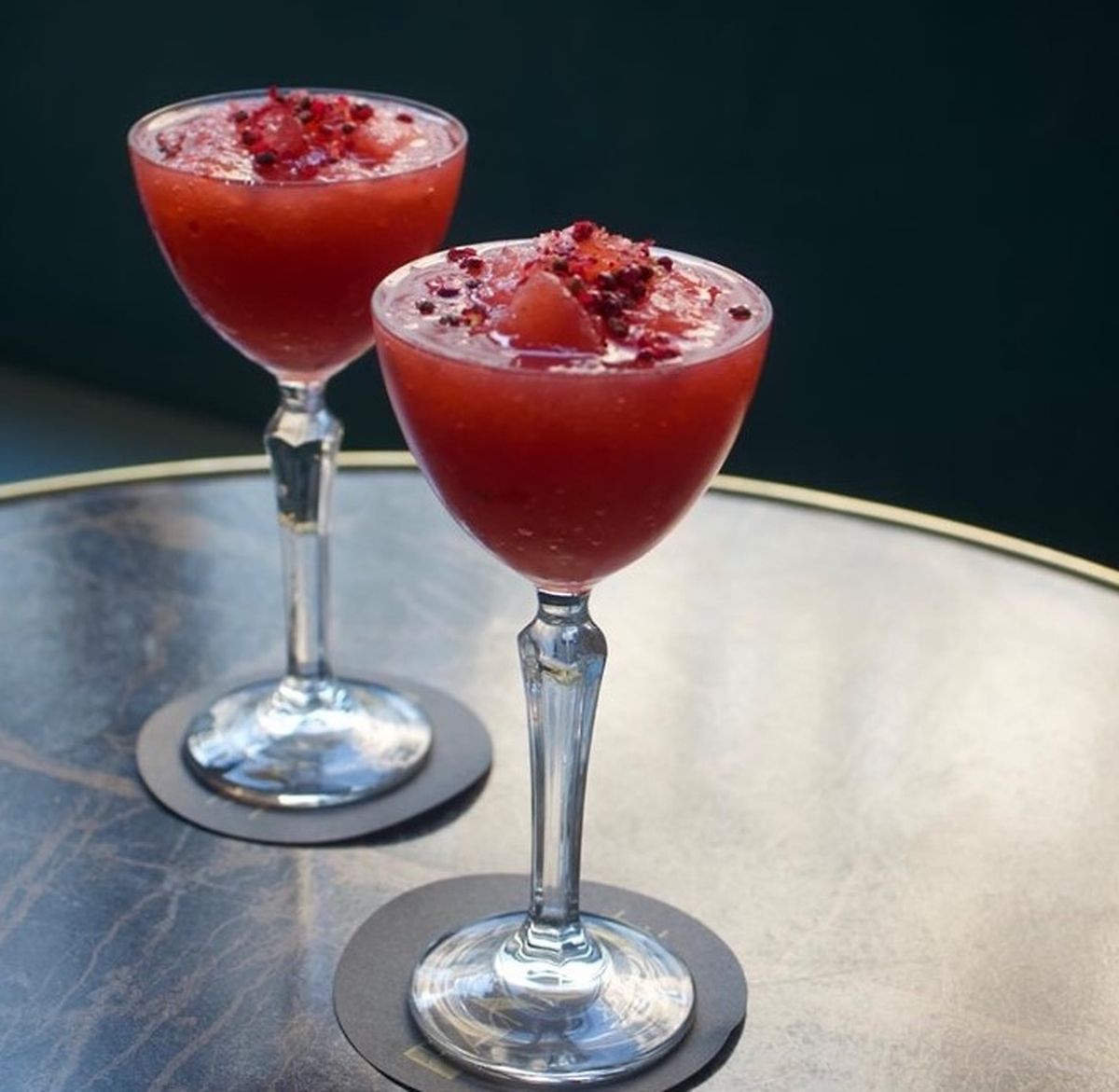 Strawberry and hibiscus frozé Photo: Paname
Method: Pour the rosé into an ice cube tray and freeze. In the meantime, prepare the syrup by adding 100g of honey with 100g of water and 10g of hibiscus together with 15g of pink pepper to a pan. Bring to boil and simmer on a medium temperature for 10 minutes. Let the mixture cool and then strain it.
For two drinks you add 70ml of vermouth, 40ml of the hibiscus pink pepper syrup, three large strawberries and 10 rosé ice cubes to a blender. Blitz until you have a slightly thick texture and if necessary, add a few more ice cubes to achieve the right texture. Serve in pre-cooled glasses with some cracked pepper on top.
If you don't like the taste of hibiscus you can use the frozé recipe with any kind of syrup or fruit and you can adapt it with a dash of gin or some extra herbs. You can also use the hibiscus pepper syrup to sweeten vermouth and tonic or just pour it on pancakes, cornflakes or whatever you fancy.
The Jungle Bird – Nasty Bar
The team at Nasty Bar bring you a refreshing and aromatic drink that was the creation of the Aviary, at the Hilton in Kuala Lumpur. An easy-to-create at home recipe for a little escapism.
Ingredients

4cl brown rum,
2cl Italian red bitter (Campari or Martini),
4cl pineapple juice,
2cl squeezed lime,
2cl cane sugar.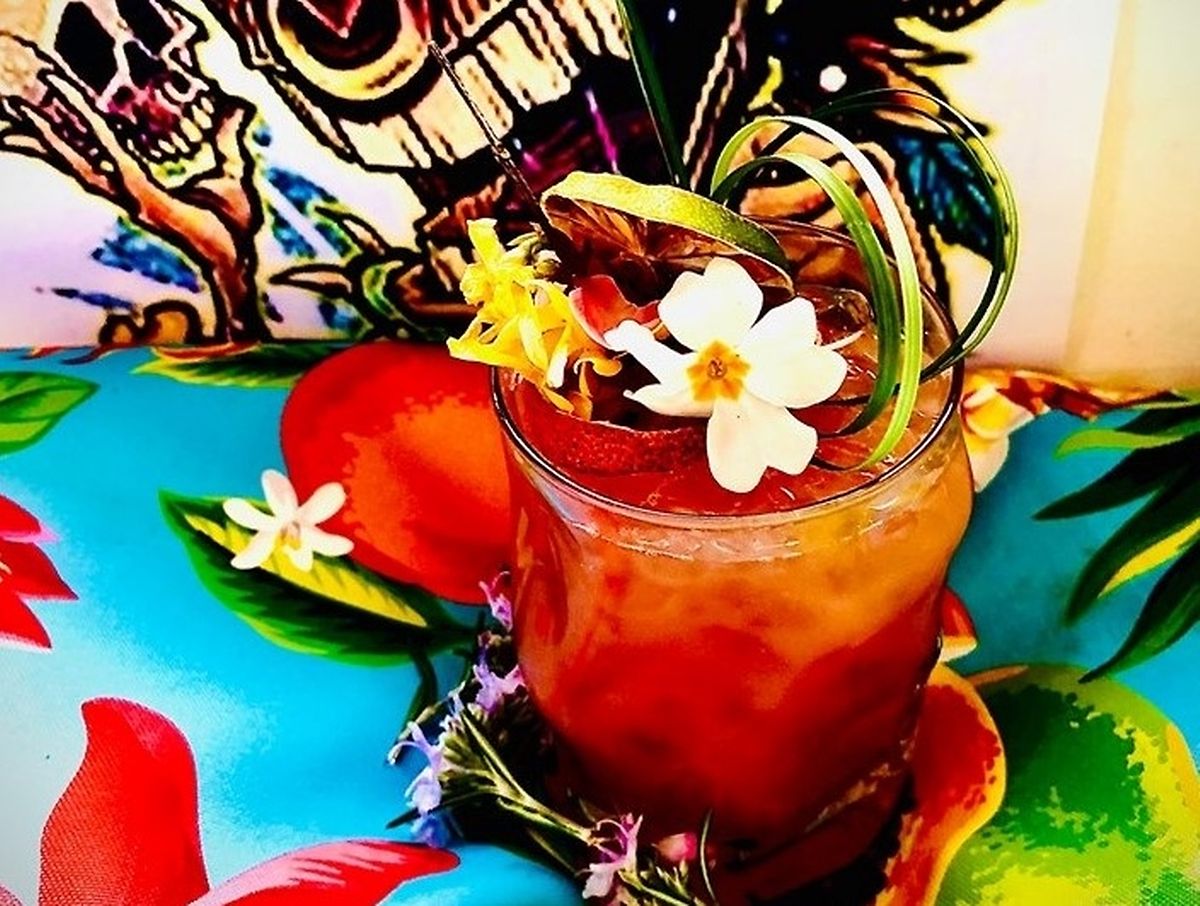 Jungle Bird Photo: Nasty Bar
Method: Mix the ingredients in a shaker or pour into the glass directly. Garnish with a cherry and a piece of pineapple and accompany it with some shrimps, prawns, crab or vegetables and a dip (1 cup mayonnaise, 1½ teaspoons curry powder, ½ teaspoon powdered mustard, 2 teaspoons lemon juice, salt and chili, blended together).

Amaretto Sour – Piano Bar
The cocktail lounge at The Royal, has chosen a classic with egg white to deliver a creamy taste.
Ingredients
½ citron lemon or lime
3 dashes of Angostura bitters
6cl of Amaretto
1 fresh egg white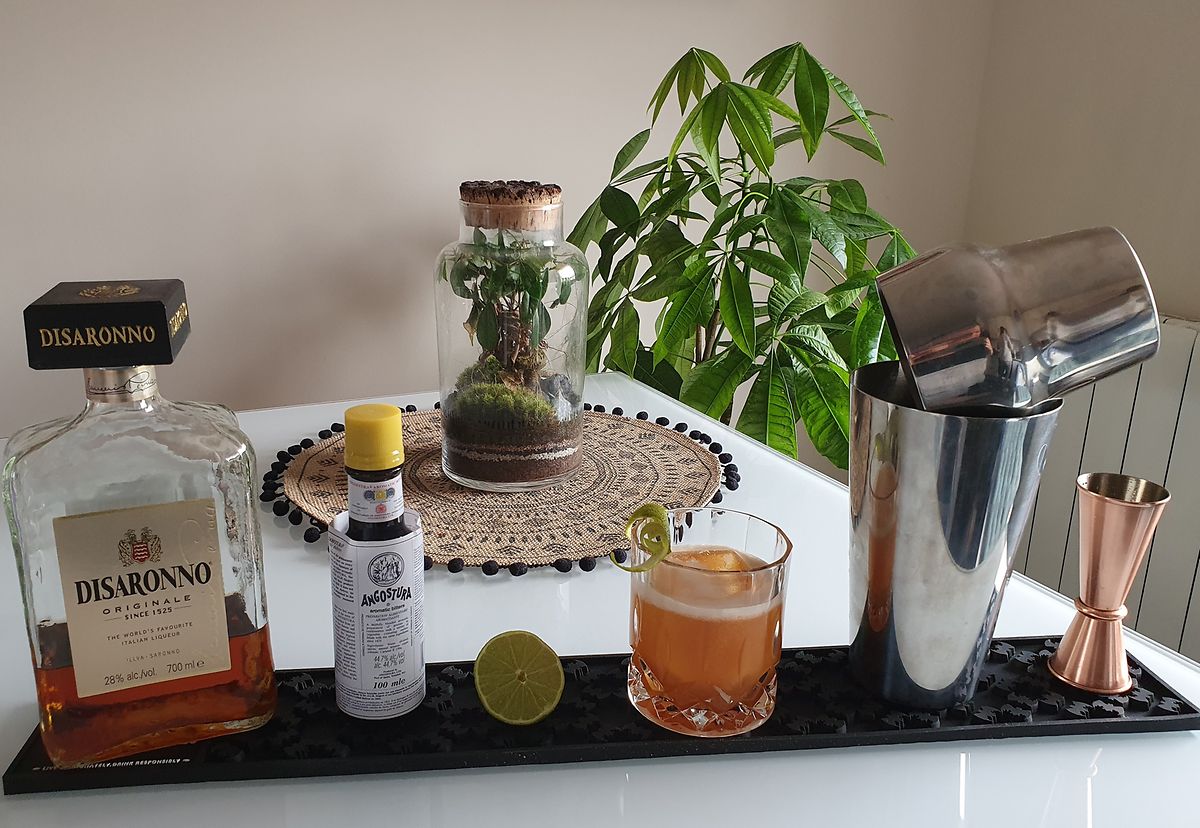 Amaretto Sour Photo: Piano Bar
Method: Squeeze the juice of half a lemon or lime and add it with the Angostura bitter, Amaretto and egg white into a shaker together with ice. If you have a proper cocktail shaker, the bartender advises that you fill the large cup with ice and the smaller one with the cocktail mix. Shake vigorously for 10 seconds to make sure the egg white emulsifies properly. Strain the cocktail into a glass (ice optional), and garnish with a twist of citrus.
---
The Luxembourg Times has a new LinkedIn page, follow us here! Get the Luxembourg Times delivered to your inbox twice a day. Sign up for your free newsletters here.
---